WASHINGTON — As he faced tough questions from lawmakers about the Ohio train derailment, Norfolk Southern CEO Alan Shaw was asked about the derailment Thursday morning of yet another one of his company's trains.
"Mr. Shaw, the news is reporting that there's just been a significant derailment in Alabama of one of your trains. I certainly hope that all of your team and anybody in the vicinity is safe and well," Sen. Sheldon Whitehouse, D-R.I., said at a congressional hearing Thursday. "You may need to look into that."
Shaw did not respond to those comments; Norfolk Southern spokesman Thomas Crosson said Shaw was already aware of the latest derailment, in Calhoun County.
"Approximately 30 cars derailed," the county's Emergency Management Agency said in a statement. "There are no injuries and no reports of leaks of hazmat."
Shaw squared off with lawmakers Thursday in his first appearance on Capitol Hill since the Feb. 3 derailment in East Palestine, Ohio, that led to a toxic chemical spill, a controlled burn and a mass evacuation in the town.
Shaw is testifying at a hearing of the Senate Environment and Public Works Committee, where senators are grilling him about cleanup efforts and a spate of recent accidents involving the rail company.
Shaw told lawmakers in his opening statement that he is "deeply sorry" for the impact on the people of East Palestine and neighboring communities and that he is "determined to make it right."
"We will clean the site safely, thoroughly and with urgency," Shaw told members. "You have my personal commitment."
The National Transportation Safety Board said this week it was launching a special investigation of Norfolk Southern Railway's organization and safety culture. It said that since December 2021, it had launched investigation teams to five significant accidents involving Norfolk Southern, one of them on Saturday, when a freight train derailed near Springfield, Ohio, and another on Tuesday, when a Norfolk Southern employee was killed in a collision.
The company announced a six-point plan Monday to begin addressing safety concerns.
Committee Chairman Tom Carper, D-Del., said Norfolk Southern appears to be cooperating with the government order and has agreed to pay for the environmental cleanup. But, Carper said, the company has not been fully forthcoming to victims in East Palestine.
"An apparent lack of transparency on the part of Norfolk Southern, at least in the early days of the response, has left some members of the community battling with mistrust and looking for answers," Carper said in his opening remarks, noting that Norfolk Southern failed to communicate to first responders that it would conduct a controlled burn on five rail cars.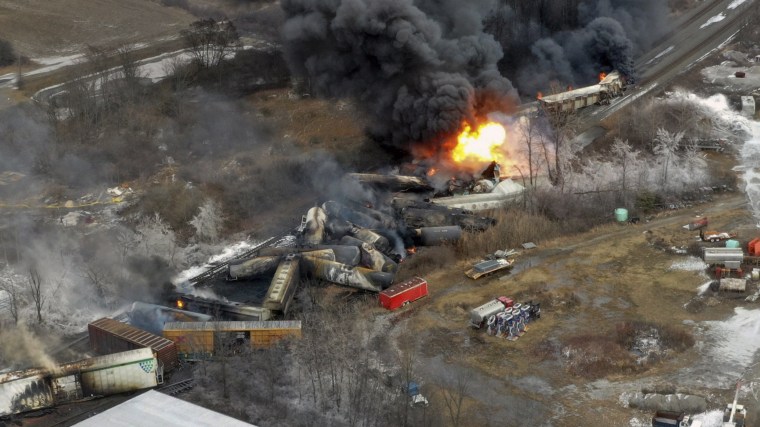 First responders "were under the impression that only one car would be vented and burned, rather than five," Carper added. "This miscommunication left first responders scrambling to ensure the public safety requirements of a much larger plume."
Shaw, who has been president and CEO of Norfolk Southern since May, appeared Thursday alongside Debra Shore, a regional administrator for the Environmental Protection Agency; Anne Vogel, the director of the Ohio Environmental Protection Agency; and local officials who could speak to the environmental impact of the derailment on the community.
The Biden administration also faced some criticism at the hearing. Sen. Shelley Moore Capito of West Virginia, the top Republican on the panel, took aim at the federal EPA in her opening statement, saying its communication about the safety of the air and water "fell short." 
"In the absence of adequate transparency to the public, that just opens up a gap for social media armchair citizen scientists and political pundits on both sides to fuel false narratives that have further undermined that public competence and the response to the derailment," Capito said.
"With each week passing, the confusion seemed to grow," she added.
Residents in East Palestine have said they are fearful and anxious about potential exposure to hazardous chemicals, with some avoiding the drinking water, despite reassurances from federal officials that the air and the water are safe.
The EPA has ordered Norfolk Southern to clean up any soil and water contamination and to pay for it.
Under questioning from Capito, Shore of the EPA said that, after a brief delay, contaminated waste will be moving to a number of EPA-approved facilities around the country as soon as Thursday. "No option is off the table," she said, not naming specific sites.
Shore said results of testing of materials sent to an Indiana facility showed "very low levels" of dioxins.
Shaw detailed Thursday how the company is working with the EPA on a long-term removal plan that will guide testing of the quality of the water, the air and the soil. And he stressed the importance of providing financial assistance to affected residents, saying the company has committed to reimbursements and investments of more than $21 million, aiding 4,400 families and first responders in East Palestine.
"All of this is just a downpayment," Shaw said. "To be clear, there are no strings attached to our assistance. If residents have a concern, we want them to come talk to us."
As of Monday, at least 18 lawsuits had been filed against the company.
The hearing began at 10 a.m. ET with an initial panel of lawmakers: Ohio's two senators, Democrat Sherrod Brown and Republican J.D. Vance, as well as Bob Casey, D-Pa., who testified before Shaw. East Palestine is on the Ohio-Pennsylvania border.
Vance pushed back against conservative criticism of the bipartisan bill he co-authored with Brown that would boost rail safety in the wake of the derailment. Critics, he said, have argued that any public safety enhancements of the rail industry violate the free market.
"That argument is farce," Vance told his Senate colleagues, noting that the rail industry has enjoyed special subsidies, legal carve-outs and what he called a "bailout" to avert a worker strike.
"You cannot claim special government privileges, you cannot ask the government to bail you out, and then resist basic public safety," Vance said.
In addition to questions about the cleanup, Shaw faced aggressive questioning from Sen. Bernie Sanders, I-Vt., about whether he would commit to hire more workers to improve rail safety and give all of his employees seven days of paid sick leave.  
"Wall Street said: 'We're not making enough money. Cut workers, cut workers, cut workers, even if it endangers safety,'" Sanders told Shaw. "My question to you … will you lead the industry in doing away with precision scheduled railroading?"
Shaw replied that since he arrived last year, Norfolk Southern had gone on a "hiring spree," adding 1,500 workers, and that he is "committed to continuing to discuss with them important quality of life issues."
"With all due respect," Sanders interjected, "you sound like a politician here, Mr. Shaw."