WASHINGTON — House and Senate lawmakers left the Capitol this week with no deal on how to avert a catastrophic debt default. But facing a deadline that's just three weeks away, some said they are beginning to see small signs of progress.
A meeting Friday between President Joe Biden and the four congressional leaders was postponed until next week to allow their top aides to make more headway before they bring back the principal negotiators, who met for the first time Tuesday.
And lawmakers and aides alike said the solution to satisfy each side's red line — Democrats insist they won't negotiate over paying debts the U.S. has already incurred, while Republicans demand spending cuts — may be parallel negotiations that pair a debt limit increase with a budget agreement.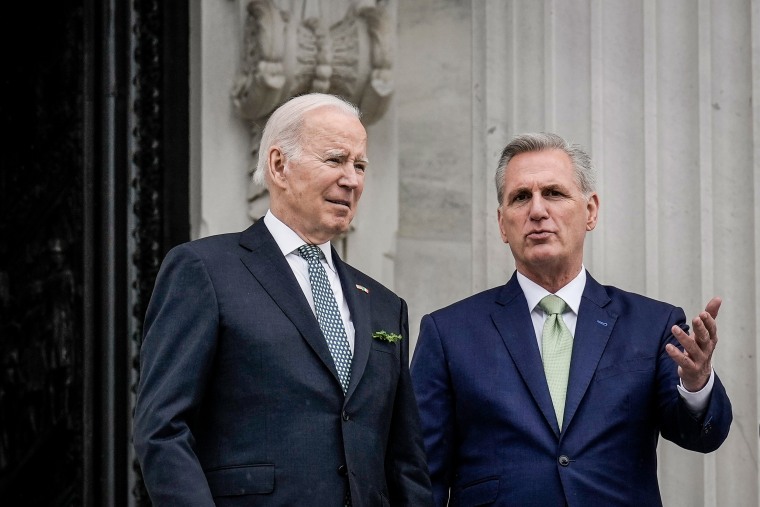 With the debt limit having been raised, avoiding economic catastrophe, the GOP could claim Democrats backed down from the no-negotiations posture and Democrats could claim some wins in the budget talks and focus on those.
A potential bipartisan deal would "take the budget negotiations and kind of blend it in with the raising of the debt ceiling," said Sen. Lindsey Graham, R-S.C., a member of the Budget Committee tasked with selecting topline spending figures for the government annually and of the Appropriations Committee, which doles out that funding. "We've eventually got to fund the government" in September, he noted.
"Maybe they can agree on some top lines that would show some fiscal restraint and raise the debt ceiling, but we'll get there," Graham said.
There's a tight timeline; the Treasury Department says the U.S. will default on its debt for the first time as soon as June 1 unless Congress raises the borrowing limit.
Speaking to reporters at a briefing Thursday, Rep. Garret Graves, R-La., spelled out four policy areas where Biden and Republicans could make a deal: recapturing unspent Covid relief funds, overhauling the permitting process for infrastructure and energy projects, establishing spending caps for coming government funding bills and expanding work requirements for participants in some safety-net programs.
"I think there's a pretty good opportunity there," said Graves, a top ally of House Speaker Kevin McCarthy, R-Calif., who helped craft the House-passed GOP debt ceiling package.
Rep. Dusty Johnson, R-S.D., called the four areas the "lowest hanging fruit" that are backed by both Republicans and "commonsense Democrats."
"The White House has said that all of these Republican asks are nonstarters. They will say they won't accept anything. We know they will," said Johnson, the chairman of the Republican Main Street Caucus, which calls itself a group of pragmatic lawmakers.
Sen. Joe Manchin of West Virginia, a centrist Democrat who holds a key swing vote, said he'd support adding permitting reform — a long-held priority of his — to a debt ceiling package.
"I'll take it anywhere I can get it. We're working to get it," he said. "This should be a bipartisan permitting reform bill."
Still, that's easier said than done. Many of the proposals face obstacles to winning the support of a divided Congress.
A wild card in the already tense standoff is former President Donald Trump, the de facto leader of the Republican Party and its front-runner for the 2024 presidential nomination, who poured fuel on the fire this week by egging on an unprecedented default unless Democrats surrender to conservative policy demands and slash spending. 
Biden and Democratic leaders who control the Senate remain adamant that Congress lift the debt ceiling with no strings attached and that any negotiations be specific to the federal budget. 
They're also seeking to put pressure on the GOP by highlighting Trump's comments on CNN downplaying a default. But McCarthy — a Trump ally who has worked to remain in his good graces — isn't budging on his refusal to extend the debt limit without conditions, even as he says he doesn't want to see the country default.
Democrats remain equally adamant.
"We're going to pass a clean debt ceiling. We are going to avoid default. And we will engage in conversations about budget and spending and the appropriate path forward. That is my earnest hope," Sen. Chris Coons, D-Del., a Biden ally who holds his old Senate seat, told NBC News on Thursday. 
"It was dangerous and irresponsible that former President Trump last night said, casually, 'Eh, just go ahead and default.'"
At CNN's town hall Wednesday, Trump implored congressional Republicans directly: "If they don't give you massive cuts, you're going to have to do a default," he said.
Moderator Kaitlan Collins told Trump that he once spoke out against using the debt limit as a negotiating wedge. "Sure, that's when I was president," Trump replied, adding that this time it's different "because now I'm not president."
Asked about the economic calamity that could result in a first-ever U.S. default, Trump said: "It could be very bad. It could be maybe nothing."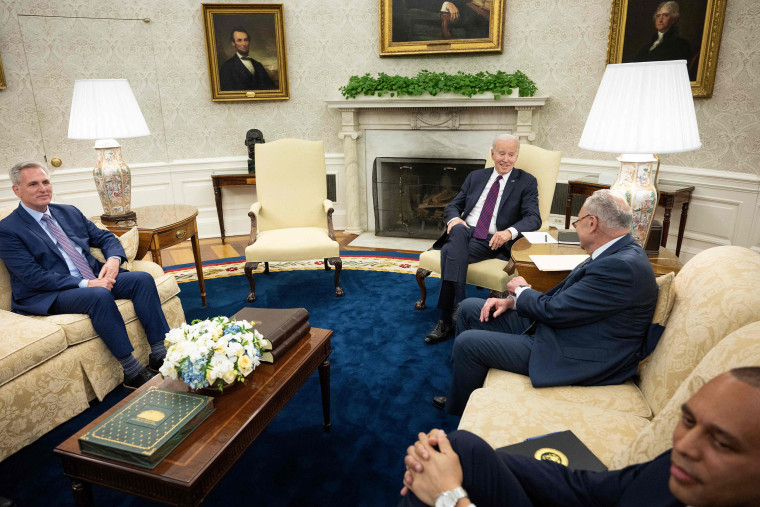 Pressed about Trump's comments encouraging default, McCarthy quickly pivoted Thursday to attacking Biden and repeatedly made the case that House Republicans are the only ones in Washington who have passed legislation to raise the debt ceiling. The McCarthy package would raise the federal borrowing limit by $1.5 trillion or through March, whichever comes first, but it would roll back key pieces of Biden's agenda.
"I've watched President Biden not want a deal and want default," McCarthy told reporters in the Capitol. House Republicans are "the only ones who've raised the debt limit."
House Budget Committee Chair Jodey Arrington, R-Texas, wouldn't say Thursday whether he agrees with Trump that defaulting on the debt could be better than the current fiscal trajectory. "We passed a proposal that would raise the debt ceiling and pay the bills," he said.
"I am encouraged that the parties are at the table and that they're talking," Arrington said in an interview. "And that's more than what we've had for almost 100 days. ... I think what changed the dynamic was Republicans put a proposal on paper and passed it out of the House."
A big challenge in any deal will be for McCarthy to keep his Republican members in line, particularly the 20 rabble-rousers who tried to block him from becoming speaker and ultimately relented after they secured a rule change under which any member can force a full House vote to force him out of the speakership when they please.
Rep. Ralph Norman, R-S.C., an ultraconservative lawmaker who pushed for a debt limit standoff, said the solution is for Senate Democrats and Biden to "accept what we sent them" and pass the House GOP bill as is.
When he was told Democrats won't pass the bill, Norman replied: "OK, then let's face the consequences. That's fine."
Rep. Chip Roy of Texas, another ultraconservative Republican who has insisted on spending cuts in a debt ceiling extension, also called on Biden to take the debt and spending cuts package Republicans passed last month.
"Look, the deal that's on the table is the deal," Roy said. "The president has an obligation to bring something back for our consideration. But if I'm being honest — to me, the price of this goes up every day."