WASHINGTON — As the Trump administration reached a deal Friday to reduce sanctions on the Chinese telecom giant ZTE, Congress has shown rare unity in working to prevent the president from giving in to the foreign-backed company in a way that would compromise national security.
And more backlash is expected from Congress to the apparent deal, which would require ZTE to pay a fine, install U.S. compliance officers and force the company to change board members, according to a person familiar with the deal and first reported by the New York Times.
Once those three requirements are completed, the company would then be able to once again access the U.S. market. Senior officials at the Commerce Department have informed Congress of the agreement, the source confirms.
The deal represents what members of both parties have been warning against — giving ZTE the ability to once again do business in the U.S.
"If the administration goes through with this reported deal, President Trump would be helping make China great again. Simply a fine and changing board members would not protect America's economic or national security, and would be a huge victory for President Xi, and a dramatic retreat by President Trump," Senate Minority Leader Chuck Schumer said in a statement.
And Sen. Marco Rubio, R-Fla., a member of the Intelligence Committee, said this "crushes U.S. companies."
"It is a great deal for ... #ZTE & #China," Rubio tweeted.
A flurry of dire warnings began on Capitol Hill after President Donald Trump tweeted in support of ZTE last week. Both Republicans and Democrats sounded the alarm and backed legislation to put guardrails around the president. Earlier this week, some Republicans even called for an emergency meeting with top administration officials.
"ZTE: Bad, bad," said Sen. Lindsey Graham, R-S.C.
The telecom company is considered by the intelligence community to be a mechanism for espionage by, in part, selling phones in the U.S. that can be tracked and enabled to steal intellectual property.
The U.S. slapped sanctions on ZTE in 2016, prohibiting the company from doing business in the U.S. for seven years, when it violated U.S. sanctions against Iran and North Korea. The Commerce Department placed additional sanctions on the company after it failed to follow through with its reorganization plan and lied to the U.S. government about it.
Trump first raised concerns on Capitol Hill when he tweeted that he's looking for a way for ZTE to "get back into business, fast" as his administration negotiates a larger trade deal, adding that the Commerce Department has been "instructed to get it done."
Trump earlier this week floated the idea of a $1.3 billion fine with the promise that ZTE will reorganize its board in exchange for ZTE being allowed to sell its phones in the U.S.
"And very, very strict security rules," Trump added on Tuesday. "And I also envision they will have to buy a big percentage of their equipment and parts from American companies."
He appears to be following through with that idea to the dismay of Congress who is acting in near unison on the issue.
Lawmakers say it's a massive mistake for Trump to allow ZTE to become a bargaining chip with the Chinese on trade and that the company represents a national security threat that should be kept far away from any negotiations.
"We all know that China is involved in stealing our intellectual property. There is no better way to do it than through ZTE, and we're going to let them be here, and slap them on the wrist with a fine? That's a dereliction of our duty here in the Congress, and it's the president's duty to protect us," Schumer said on the Senate floor this week.
And Rubio has spent the week raising alarm bells over the issue. In a 25-minute tirade on the Senate floor, he said, "we don't need a short term trade deal" if ZTE is involved.
"That's a short term deal and it might be a good headline, and you can claim that you won but, in the end it won't do anything to change this. And in fact it leaves us worse off," Rubio said.
Sending the administration a strong message, both chambers of Congress advanced amendments blocking executive actions that would help ZTE.
The House this week passed a measure in its defense authorization bill that would ban government agencies from purchasing ZTE equipment and it would prevent the Defense Department from using contractors that have business with the company. A similar measure passed through an appropriations subcommittee last week unanimously.
And added to the Senate defense authorization bill is an amendment by Sen. Chris Van Hollen, D-Md., that would prevent the government from relaxing sanctions on ZTE for at least one year.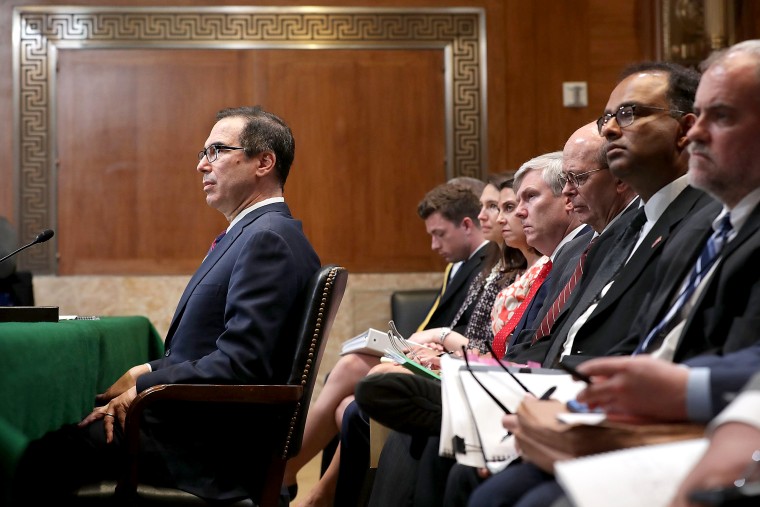 Testifying on the Hill Wednesday, Mnuchin insisted that the administration understands the national security risks posed by ZTE.
"I can assure you that whatever the Commerce Department decides, the intel community has been part of the briefings and we will make sure that we will enforce national security issues," Mnuchin said.
But lawmakers still had doubts. Concerned Republican senators — Rubio, Intelligence Committee Chairman Richard Burr, Foreign Relations Committee Chair Bob Corker and Sen. John Cornyn, R-Texas — summoned Commerce Secretary Wilber Ross and Treasury Secretary Steve Mnuchin to Capitol Hill for a classified briefing on the issue.
During the meeting, Mnuchin and Ross told the senators they are developing an "enforcement" plan.
Cornyn said that while he still has concerns about ZTE, he was more confident that after the meeting and that any fine or actions imposed on ZTE isn't part of the trade deal.
"They made it clear that this was not trading national security for economic reasons. This was purely an enforcement action for Chinese violation of sanctions," Cornyn said.
But if this agreement moves forward, it does exactly what Cornyn said he opposes: relieving ZTE of repercussions for being a bad actor.
And Rubio wasn't satisfied.
"I remain in the same position which is: ZTE violated the law. They lied and they covered it up. They did it again. We should take strong enforcement actions," he said. "I think Congress is going to do what they need to do. This is a national security issue."