WASHINGTON — Congressional leaders are hoping to muster a supplemental package to aid the war efforts in Ukraine and Israel, as well as make improvements to the U.S. immigration system, by the end of the year, according to multiple people involved in discussions.
The ambitious timeline would mean striking a deal that satisfies the funding requested by the Department of Defense to aid conflict zones, while simultaneously crafting an immigration package that not only provides resources for border security but includes a suite of policy changes to appease conservatives without alienating progressive Democrats.
The Republican-led House has already passed an aid bill for Israel, but it includes hefty cuts to the IRS and excludes humanitarian assistance — both items that the White House and Senate Democrats find untenable. The question is how the next stage of negotiations will proceed.
Senate leaders, both Republican and Democratic, believe the best path toward writing a piece of legislation that has a hope of passing both chambers and getting President Joe Biden's signature would likely need to originate in the Senate, where there is room for bipartisan negotiation.
Senate Majority Leader Chuck Schumer, D-N.Y., has made it clear that passing the supplemental aid would be a top priority for him in the period between Thanksgiving and Christmas.
"I know both sides genuinely care about approving aid to Israel and Ukraine and helping innocent civilians in Gaza," Schumer said from the Senate floor Wednesday. "So I hope we can come to an agreement even if neither side gets everything they insist on. But it — we will be working on it immediately when we get back after Thanksgiving."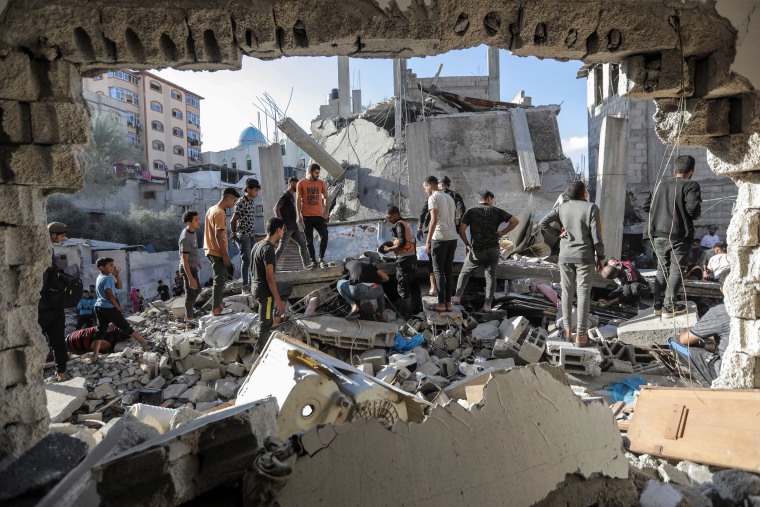 But while Senate leaders are moving forward with their process, there is a group of conservative Republicans pushing the new House speaker, Mike Johnson, to pass a GOP-led bill in the House as a starting point for bicameral negotiations.
If the effort is successful, the House bill would be far more conservative than what might emerge in the Senate and could give hard-liners in the upper chamber more leverage in their negotiations over the final package.
"Johnson can't make the Senate do the right thing," Sen. Rick Scott, R-Fla., a Johnson ally, told NBC News. "But guess what? If they do their spending bills, if they're going to be able to pass Ukraine aid with border security, if they do it with real benchmarks, I mean that makes it awfully difficult for senators to vote against it."
Johnson has not yet said how he plans to handle the negotiations. But House Foreign Affairs Chairman Michael McCaul, R-Texas, who is a strong proponent of funding for Ukraine and Israel, has been in regular contact with the speaker on the supplemental aid, and he suggested in interviews last week that he expects the Senate to act first.
McCaul recently got back from a trip to Israel with a bipartisan delegation and said Israeli leaders are pushing for help from the U.S. as soon as possible. A committee source said McCaul is regularly fielding calls from leaders in both Israel and Ukraine who are getting increasingly uneasy that critical support from the U.S. may never come.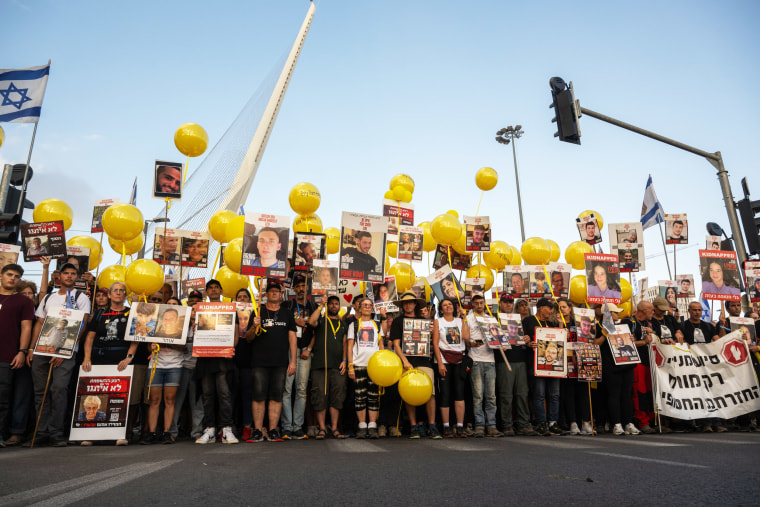 A senior Senate GOP aide also expressed skepticism that a bill that originates in the House would ultimately become law.
"It needs to be a bipartisan product if it has any chance of becoming law," the aide said. "A House product would likely only be supported by Republicans."
Four Senate sources directly connected to the negotiations told NBC News the window between Thanksgiving and Christmas is crucial, and that there is concern among both Republicans and Democrats that if the calendar slides into the New Year, the chances of getting all four planks of the plan — aid to Israel, Ukraine and the Indo-Pacific, and for border security — over the finish line reduces dramatically.
"My best guess is Israel is passed as stand-alone, and Ukraine done in tandem with progress on border," said one GOP lawmaker who supports the contours of the administration's aid request. "On the positive side, I believe the speaker wants results on Israel, Ukraine and border."
Congress passed a short-term spending plan last week to avoid a government shutdown but punted the broader and more challenging discussions over the long-term budget to mid-January.
If negotiations over the supplemental aid get caught up in those budget talks, it could make the process much more difficult. Add to the mix the ramp-up of the 2024 presidential election cycle, and the chances of striking a grand bargain could be elusive.
If talks drag into the new year, Johnson may try to attach only Israel aid to whatever funding bill Congress takes up to meet the first of the two spending deadlines — which would make the passage of Ukraine aid that much more unlikely, the Senate sources said.
There is no appetite among House Republicans to allow Schumer to steamroll the House with all of those priorities attached to a new funding package.
Some progressives, including Sen. Bernie Sanders of Vermont, have said any aid to Israel should be contingent on the IDF's easing its bombing of Gaza and other conditions.
Sen. Richard Blumenthal, D-Conn., said in an interview Sunday on "Meet the Press" that he would oppose conditioning aid to Israel.
"I don't know how the United States Congress, which has yet to pass a budget, can impose conditions for combat on an ally that is trying to defend itself," he said, adding that he "would be very loath to impose conditions that would in effect straitjacket or handcuff the IDF in this very, very excruciatingly difficult challenge."