The Republican congressman from Louisiana who filmed a video inside a former gas chamber at the Auschwitz death camp apologized Wednesday for making the tape after he was condemned by Jewish groups for insensitivity.
"I filmed the Auschwitz message with great humility. My intent was to offer a reverent homage to those who were murdered in Auschwitz and to remind the world that evil exists, that free nations must remember, and stand strong," freshman Rep. Clay Higgins, R-La., said in a statement.
"My message has caused pain to some whom I love and respect. For that, my own heart feels sorrow. Out of respect to any who may feel that my video posting was wrong or caused pain, I have retracted my video...and my sincere apology for any unintended pain is extended," added Higgins.
Earlier Wednesday, the Anti-Defamation League and the Anne Frank Center for Mutual Respect criticized Higgins' five-minute video, which he filmed last week from inside a gas chamber at the Auschwitz-Birkenau Memorial and Museum.
"As a site for reflection, one that often evokes deep personal pain for survivors and their families, Auschwitz should never be politicized or used as a platform for giving personal views," ADL CEO Jonathan Greenblatt said in a statement to NBC News.
"The museum at Auschwitz-Birkenau lies on sacred ground. It is a burial site and a memorial to the estimated 1.1 million prisoners who were exterminated or tortured inside the camp's walls. It is a permanent testament to the brutality of the Nazi regime, and a reminder of why the world should never turn away when forces of hatred and prejudice lead to genocide," Greenblatt added.
"We hope Congressman Higgins will realize the pain and hurt he has caused, and that, in doing so, he will remove his video from circulation," Greenblatt said.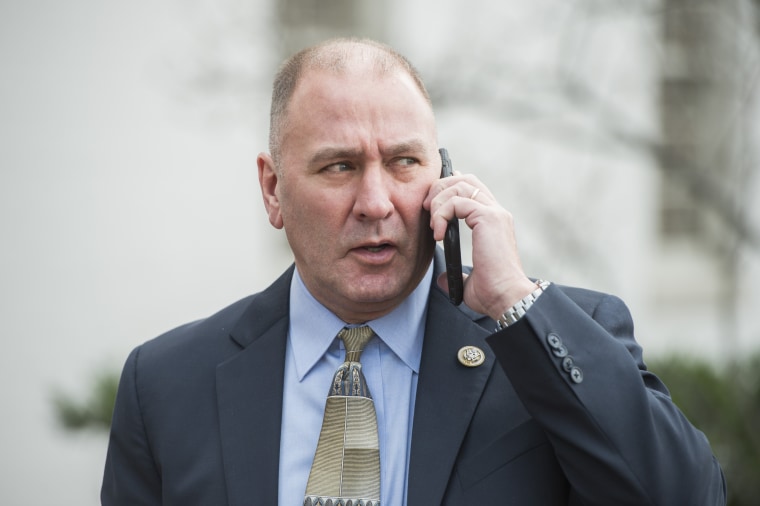 Steven Goldstein, the executive director of the Anne Frank Center for Mutual Respect, blasted the video as "disgusting beyond description" and demanded Higgins "get sensitivity training or get a new job."
"Auschwitz is not a television studio," Goldstein added. "It is the site of genocide and tragedy for the Jewish people that you have disrespected."
The video was posted to YouTube by Lee Johnson Media which describes itself as "a Conservative Podcast looking at America of Today," according to NOLA.com. The video was later removed.
Officials at the museum, in southern Poland, also took issue with Higgins' video.
"Everyone has the right to personal reflections. However, inside a former gas chamber, there should be mournful silence. It's not a stage," the museum's main account tweeted Tuesday, along with a link to the congressman's video.
Officials also tweeted an image of a plaque at the museum that reminds visitors they "are in a building where the SS murdered thousands of people" and asks them to "maintain silence" and "show respect for their memory."
Related: Tough-Talking Sheriff Turned GOP Congressman on Suspected Islamic Terrorists: 'Kill Them All'
In his video, Higgins, a former police officer, warned that the horrors perpetrated by Nazi Germany should serve as a reminder for the U.S. to fight terrorism more aggressively.
"The world's a smaller place now than it was in World War II," Higgins says on the video. "The United States is more accessible to terror like this, horror like this."
"Cyanide pellets activated when they hit oxygen. After about 20 minutes, everyone was dead and then slave labor would go into the room and drag the bodies of those poor souls out and bring them and incinerate them," Higgins adds at another point. "This is why homeland security must be squared away, why our military must be invincible."
"It's hard to walk away from gas chambers and ovens without a very sober feeling of commitment, unwavering commitment, to make damn sure that the United States of America is protected from the evils of the world," Higgins says at the video's conclusion, as images of the American and Israeli flags appear.
Somber violin music is heard throughout the duration of the video, although it is unclear whether Higgins added it.
Higgins' latest clip, however, was only his latest to create controversy.
Last month, he drew substantial negative attention for a Facebook post in which he argued the U.S. should "kill them all," when it comes to Islamic terrorists.
"Every conceivable measure should be engaged to hunt them down. Hunt them, identify them, and kill them. Kill them all. For the sake of all that is good and righteous. Kill them all," he posted on June 5.
Following that post, Higgins, who took office in January and serves on the House Homeland Security Committee, told NBC News in a statement that his video was "about prioritizing national security and protecting American lives" and was aimed at "radicalized Islamic jihadists" who "take advantage of the politically correct madness that consumes the West."
CORRECTION (July 5, 2017: 3:39 p.m. ET): An earlier version of this article incorrectly described the internet posting of a video that showed Rep. Clay Higgins in a gas chamber in Auschwitz. The video was posted to YouTube by Lee Johnson Media, which describes itself as "a Conservative Podcast looking at America of Today." It was not posted by Higgins himself. (The video was later removed.)