WASHINGTON — With the lifting of Title 42, House conservatives are making the case that the situation at the border is an emergency and mounting an eleventh-hour push to include the recently passed Republican border bill in debt ceiling talks.
A GOP aide said that conservatives believe Republicans are already making a compromise by negotiating over spending caps and that there should be room for further negotiation given the significance of the border issue. The source described the group as "making a lot of noise about it."
On Thursday morning, members of the conservative Republican Study Committee sent a letter to congressional leadership, President Joe Biden and the negotiators for both sides, including Rep. Garret Graves, R-La.; Shalanda Young, the head of the Office of Management and Budget; and White House senior aide Steve Ricchetti, calling for the border to be included in negotiations. Rep. Chip Roy, R-Texas, a signatory, said last week that should be on the table.
What remains unclear is whether their insistence that the border be included in talks could grow into enough opposition to sink a deal — or imperil Kevin McCarthy's position as speaker.
McCarthy, R-Calif., has managed to keep his caucus on board, but he risks a revolt at any time. Should he try to pass a debt deal that relies on Democratic votes to clear the House, it will raise questions about whether the far-right faction of his caucus revolts. But if he hopes to pass it with only Republican votes, then he may have to concede to efforts to begin including issues like the border.
In order to become speaker, McCarthy agreed to some rules changes, including allowing just one member of the House to force a vote to remove him.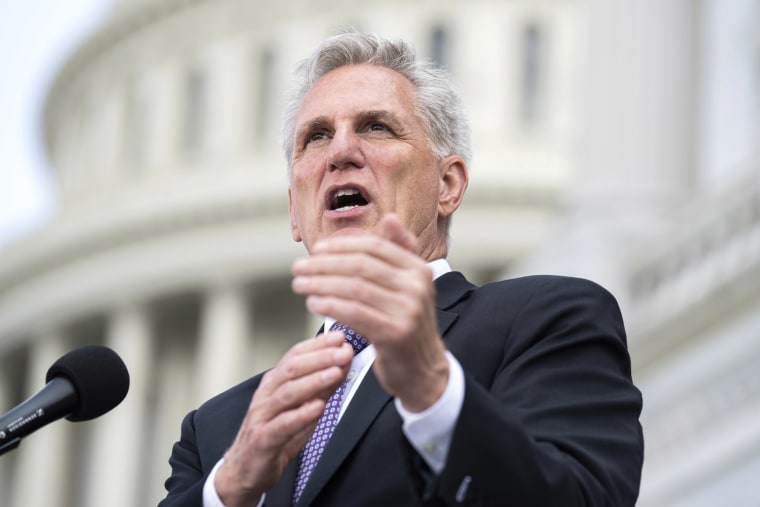 An insistence on adding the GOP border legislation would complicate already fraught negotiations over how to avert a debt default. The White House has threatened to veto the border measure. House Democrats unanimously voted against it, blasting it as the "Child Deportation Act" and calling it an "extreme MAGA" bill. It has no prospects of clearing the Democratic-controlled Senate.
Rep. Marjorie Taylor Greene, R-Ga., a key McCarthy ally and Freedom Caucus member, said she's not demanding that the GOP border bill be included in a debt deal but said it should be discussed as part of the bipartisan talks.
"It's not a red line for me — it's just something that I think should be involved in the negotiations, and quite a few other Republican members have said the same thing," Greene said in an interview Thursday.
"The situation at our border and basically our national security crisis has become such a major issue … and with 300 Americans being murdered every single day with fentanyl … I think it's so bad I introduced articles of impeachment against Secretary Mayorkas and President Biden," she said, referring to Homeland Security Secretary Alejandro Mayorkas.
McCarthy sounded optimistic Thursday that negotiators are headed to a deal.
"We haven't agreed to anything yet, but I see the path that we could come to an agreement," he said.
Conservative Republicans are already concerned that McCarthy isn't going to push hard enough on spending cuts.
A source who has spoken to people in the negotiation said the biggest points being debated are budget caps — including whether to limit spending to the 2022 or 2023 levels — followed by work requirements for federal aid programs. The source described the border push as largely a negotiation tactic to put pressure on Democrats.
There is pressure on McCarthy from conservatives to hold a firm line on budget caps and not cave in to Biden, exposing a tension in the Republican caucus that has been kept at bay since he was able to win the speaker's gavel in January.
An outside adviser says McCarthy thinks "that a deal isn't hard to put together" on spending caps, unspent Covid funds and changes to the environmental permitting rules.
But there are concerns that McCarthy may be willing to make concessions to strike a deal with Biden that doesn't make deep enough cuts in spending, which a Republican hard-liner privately said conservatives will need to fight.
Some Republican hard-liners warn that they won't make compromises from the House bill and predict the Democratic-led Senate will back down.
On Thursday, the Freedom Caucus issued a statement saying the House-passed debt bill represents the formal position of the bloc of roughly 30 hard-right conservatives. The group called on McCarthy and Senate Republicans to use "every leverage and tool at their disposal to ensure the Limit, Save, Grow Act is signed into law."
"This is the bill," said Rep. Bob Good, R-Va., a Freedom Caucus member. "The Senate and the White House have no choice, literally. What if the House doesn't do anything? What's gonna happen: The Senate's gonna pass the bill; the White House is gonna sign it. Why would we do anything else?
"What choice would they have?" Good continued. "The Senate will cave and pass our bill."
CORRECTION (May 18, 2023, 6:06 p.m. ET): A previous version of this article misspelled the first name of a Republican representative. He is Garret Graves, not Garrett.