WASHINGTON — Amid several last-minute twists, CIA Director Mike Pompeo was reported favorably to serve as the next secretary of state by the Senate Foreign Relations Committee in a Monday evening vote.
Following the announcement by Sen. Rand Paul, R-Ky., moments before the panel was scheduled to vote that he had reversed his opposition to Pompeo's nomination, the committee voted 11-9 along party lines, with Sen. Chris Coons, D-Del., voting present. The rest of the Democrats on the committee opposed Pompeo's nomination.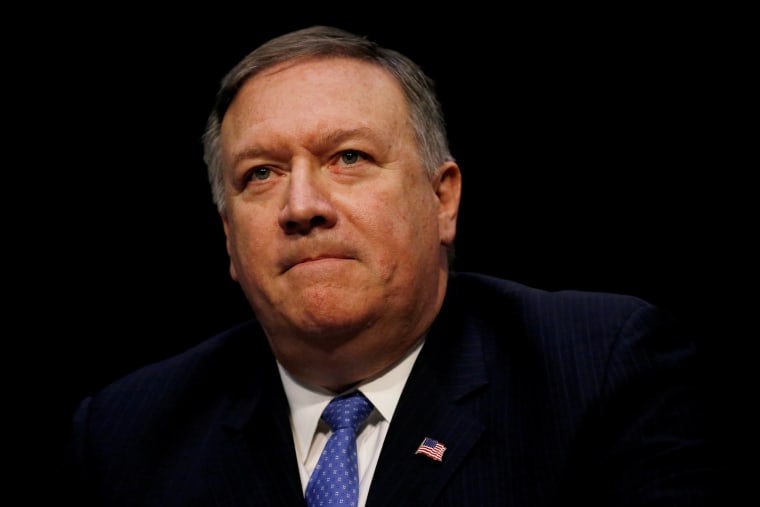 Republicans also ran into an obstacle after it became clear that one of their members, Sen. Johnny Isakson, R-Georgia, would not be physically back in the Capitol until late at night because he was delivering a eulogy at the funeral of a close friend in Atlanta. Even though Isakson voted by proxy, senators had to be physically present for the vote to advance to the floor. After a brief delay, Coons changed his "no" vote on Pompeo's nomination to present so that it could be reported out of committee favorably.
Senate Majority Leader Mitch McConnell, R-Ky., is likely to bring up Pompeo's nomination for a floor vote later in the week, Republican and Democratic leadership aides have said. Paul's backing and support from several red state Democrats make Pompeo's confirmation almost certain.
Paul had opposed Pompeo's confirmation since President Trump picked him in March to replace Rex Tillerson as the nation's top diplomat. But on Monday, the Kentucky senator said in a series of tweets that he had received assurances that Pompeo agrees with President Donald Trump's belief that the Iraq war was a "mistake."
"Having received assurances from President Trump and Director Pompeo that he agrees with the President on these important issues, I have decided to support his nomination to be our next Secretary of State," Paul tweeted.
At the White House, Trump said, "I heard Rand Paul went yes...he's a good man. I said he'd never let us down. He's a good man."
Earlier in the day, two vulnerable Senate Democrats facing tough re-election bids — Joe Manchin of West Virginia and Joe Donnelly of Indiana — said they planned to vote for Pompeo should the nomination reach the Senate floor. Along with the previously announced backing of Sen. Heidi Heitkamp, D-N.D., also up for re-election this year, their support would make Pompeo's confirmation almost certain.
Hours before the committee vote Monday, President Donald Trump slammed Democrats for that position. "Hard to believe Obstructionists May vote against Mike Pompeo for Secretary of State ..." he tweeted.
The president did not mention Paul, and White House legislative affairs director Marc Short told reporters Monday morning that the administration believed there was "a good chance" that the Kentucky senator would change his position and vote for Pompeo later in the day.
A spokesperson for Paul told NBC News that there were "no changes at this time" to the senator's plans to vote against the nomination.
Most Republican senators are rallying behind Pompeo and urging Democrats to confirm him, especially as the Senate prepares to consider two other critical Trump nominations: Gina Haspel's already-troubled bid to be the next CIA director, and Ronny Jackson's to head the Department of Veterans Affairs.
Amid tough committee questioning of Pompeo last week, the White House looked to burnish his credentials by highlighting the revelation that he had met in secret with North Korean leader Kim Jong Un in advance of a potential summit between him and Trump.
"I realize my Democratic friends in many cases feel like that in supporting Pompeo, it's a proxy for support of the Trump administration policies, which many of them abhor. I understand that," Sen. Bob Corker, R-Tenn., chairman of the Foreign Relations Committee said last week on the Senate floor.
The Trump factor hasn't been the only sticking point for Democrats, who have argued that Pompeo's previous statements regarding Muslims and LGBT rights and his hawkish views should disqualify him from serving in a key diplomatic role.
"I believe our nation's top diplomat must be forthright, and, more critically, his past sentiments do not reflect our nation's values, and are not acceptable for our nation's top diplomat. The American people deserve better," Sen. Bob Menendez, D-N.J., ranking member on Foreign Relations, said in remarks last week announcing his opposition to Pompeo. He also expressed frustration that Pompeo had not previously mentioned his visit to North Korea in conversations with him.
In Pompeo's recent confirmation hearing, he dismissed the criticism that he has hawkish tendencies, and the charge that he had made anti-Muslim statements.
"My record is exquisite with respect to treating each and every faith with the dignity that they deserved," he said, adding that he has worked closely with Muslim leaders and Muslim countries and would continue to do so as secretary of state.
The Senate previously confirmed Pompeo, a former member of the House, as CIA director in January 2017 in a 66-32 vote, with 14 Senate Democrats backing him, including Joe Manchin; Heidi Heitkamp; Joe Donnelly; Dianne Feinstein of California; Maggie Hassan of New Hampshire; Heidi Heitkamp of North Dakota; Tim Kaine of Virgnia; Amy Klobuchar of Minnesota; Joe Manchin of West Virginia; Claire McCaskill of Missouri; Jack Reed of Rhode Island; Brian Schatz of Hawaii; Chuck Schumer of New York; Jeanne Shaheen of New Hampshire; Mark Warner of Virginia; and Sheldon Whitehouse of Rhode Island. Angus King of Maine, an independent who caucuses with Democrats, also voted for Pompeo.
Of those, Heitkamp, Donnelly and Manchin have so far said they plan to support Pompeo. Seven of the 14 Democrats who supported Pompeo's 2017 confirmation as CIA director have said they won't support Pompeo as secretary of state and four have not yet revealed their position.
Pompeo went on a goodwill tour ahead of his nomination hearings, reaching out to several senators and all living former secretaries of state, including Hillary Clinton, John Kerry and Henry Kissinger.
In West Virginia on Friday, Manchin praised Pompeo's tenure as CIA director, calling him "extremely competent, qualified, but also straightforward." At the time, he said he hadn't made a final decision, however, on whether to back him as secretary of state.
"I'm very open-minded about Mike," he told NBC's Ali Vitali. "I haven't made that final commitment, but I'm very open-minded towards him and we've had great discussions. We're going to have another one next week."