WASHINGTON — House Democratic leaders appeared to have failed to wrangle enough support Friday to pass the $550 billion infrastructure package after intraparty fighting delayed a planned vote — further stalling one of President Joe Biden's top legislative priorities.
House Democrats huddled behind closed doors at the Capitol in caucus meeting since Thursday morning to haggle over the $550 billion infrastructure deal and the $3.5 trillion social spending plan but emerged without a resolution.
Both measures have the support of Democrats and remain likely to pass in some form. But the size of the social safety net bill remains a sticking point among Democrats, with moderates pushing for a pared-down version while progressives insist that the bill's price tag will boost an economy upended by the pandemic.
Late Friday, Democratic House leadership conceded they would not hold an infrastructure vote before heading home for the weekend. Instead, lawmakers voted on a short-term extension of existing road projects.
Biden attempted to soothe tensions among the moderate and progressive wings of the party and make a case for his legislative agenda by attending the caucus meeting Friday afternoon. But he sided with progressives, and lawmakers left without a deal.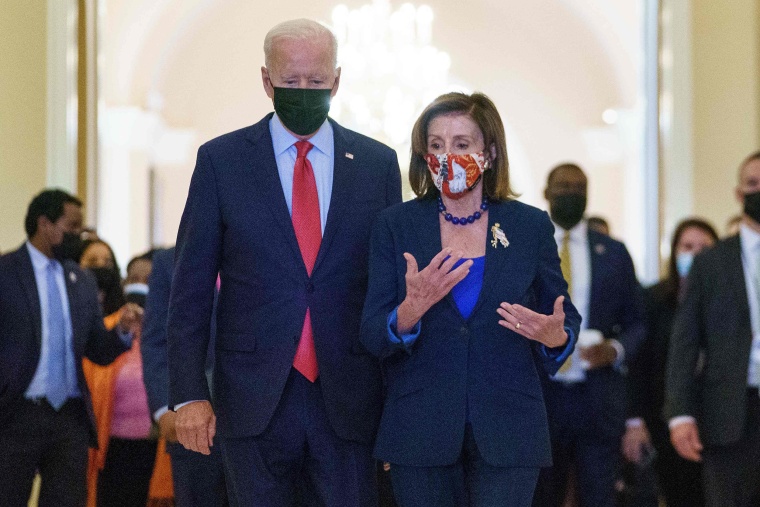 Biden, however, told reporters when exiting the meeting his agenda will pass, including his desire to have both measures approved together.
"It doesn't matter when," he said. "Doesn't matter whether it's in six minutes, six days, or six weeks. We're going to get it done."
Biden's decision to go to the Capitol signaled his increasing pressure to get members of his party on the same page. House Speaker Nancy Pelosi had been confident that the infrastructure measure could pass earlier this week, but failed to do so by her self-imposed Sept. 27 deadline.
The White House tried to downplay expectations about Biden's meeting with lawmakers, suggesting that passage of the infrastructure bill shouldn't be expected afterward. A senior administration official told NBC News that the president will say there is "more work to do" and will "make his case for his agenda."
White House press secretary Jen Psaki declined to predict when a vote on the infrastructure bill would be held, saying it is up to Pelosi. But, she said, the president is adamant about getting the legislation passed.
"He is going over there to make the case for his legislative agenda," Psaki said. "He wants to speak directly to members, answer their questions and make the case for why we should all work together to give the American people more breathing room."
The House, however, will vote on a short-term extension of a transportation bill to keep highway funds flowing for existing projects that expired on Thursday.
Despite no immediate vote on the infrastructure package, applause could be heard by those standing outside in the hallway. As lawmakers exited, several said the president's message was party unity and tried to make a persuasive case to link the infrastructure bill and the social spending bill.
Rep. Sheila Jackson Lee, D-Texas, told reporters after the meeting that "the president has not wavered" from his desire to pass both bills in tandem.
"He's ready to work with the Senate, he's ready to work with a range of members," she said. "We are still working and pushing."
The president's remarks, however, were a signal to lawmakers that they would not vote on the infrastructure legislation on Friday.
The House did vote 365-51 on the transportation bill extension to keep highway funds flowing for existing projects that expired on Thursday. The Senate had failed to pass the bill by voice vote Friday evening and plans to return Saturday to try again.
In a letter to Democrats, Pelosi said "more time is needed" to come to a compromise on passing both bills. She lauded Biden and said that the party will continue to negotiate to pass the president's agenda.
"While great progress has been made in the negotiations to develop a House, Senate and White House agreement on the Build Back Better Act, more time is needed to complete the task," Pelosi wrote.
She added, "Clearly, the bipartisan infrastructure bill will pass once we have agreement on the [social safety net] bill."
The infrastructure bill, while wildly popular among Democrats, has stalled because of fighting between factions of the Democratically controlled Congress, pitting progressives against moderates and the House against the Senate.
House leaders have been trying to broker a deal that will get all Democrats on board and move the Senate-passed infrastructure bill to Biden for his signature. The package is one of his top legislative priorities.
But those efforts keep running into roadblocks.
Two moderate Senate Democrats — Joe Manchin, of West Virginia, and Kyrsten Sinema, of Arizona — have made clear, however, that the price tag is too expensive. Progressives have grown frustrated with the two senators.
Biden told Democratic lawmakers during the afternoon meeting that negotiations on the social safety bill have lower the price tag, ranging between $1.9 and $2.3 trillion, according to multiple sources who attended the meeting. The president emphasized that a topline number would have to be within that range, sources told NBC News.
This range, however, would significantly slash the $3.5 trillion in spending that the White House and progressives desired. In addition, Manchin has said he would not be inclined to support anything over $1.5 trillion for the social spending bill.
Biden admitted in the meeting that he does not have the votes to get the infrastructure bill across the finish line, and therefore cannot pass the social spending bill.
Rep. Pramila Jayapal, D-Wash., chairwoman of the Congressional Progressive Caucus, has promised that more than half of her group's 95 members would vote against the infrastructure bill if it comes up before the safety net bill.
Progressives want the two pieces of legislation to move in tandem in the House, while moderates have demanded a vote on the infrastructure bill before talks on the reconciliation bill are finalized.
After an hourlong meeting with the progressive caucus, Jayapal told reporters that a vote on the infrastructure bill would not happen on Friday. She also said her members are not ready to commit to any range of the overall price tag of the safety net bill but are instead focusing on the policy priorities that must be included in any pared-down bill.
"We will take as long as it takes," she said. "If it takes a couple of days, that's great. If it takes a couple of weeks, that's great. We will get this done."
Rep. Josh Gottheimer, D-N.J., a co-chair of the bipartisan Problem Solvers Caucus, was seen entering Pelosi's office late Thursday and exiting about 35 minutes later with White House adviser Brian Deese.
"It ain't over yet! This is just one long legislative day — we literally aren't adjourning. Negotiations are still ongoing, and we're continuing to work. As I said earlier: grabbing some Gatorade and Red Bull," Gottheimer tweeted once it became clear that a vote on the infrastructure bill was delayed.
When the Senate passed the infrastructure bill in early August, 19 Republicans joined all Democrats in favor of the measure.
Sen. Mitt Romney, R-Utah, who was one of the 19 in favor, criticized House Democrats on Friday for delaying the vote on the infrastructure bill, calling it a "purely political decision."
"It is unacceptable that a major piece of bipartisan legislation, which is vital to our economy and necessary to keep important transportation programs going, is being held hostage by the most extreme House Democrats for a completely unrelated and still unwritten piece of legislation," he said in a statement. "What a profound disappointment, and how unfortunate to put politics over what is good for our country."