WASHINGTON — Senate Minority Leader Chuck Schumer's office announced Friday that he plans to introduce legislation to decriminalize pot at the federal level.
"The legislation is long overdue," the New York Democrat said in an earlier interview on VICE News. "I've seen too many people's lives ruined because they had small amounts of marijuana and served time in jail. Ultimately, it is the right thing to do."
The announcement, which came on 4/20 (slang for marijuana use), was the first time the Democratic leader has publicly advocated for removing weed from the list of Schedule 1 substances under the Controlled Substances Act, a category that includes drugs such as heroin that are considered to have no medicinal value, great potential danger and a severe risk of abuse.
The move has been repeatedly proposed in recent years by both Democratic and Republican members of Congress, though Schumer would be the first congressional leader to sponsor such a measure.
The bill would not restrict the federal government's ability to prevent trafficking from states where marijuana is legal to states where it isn't.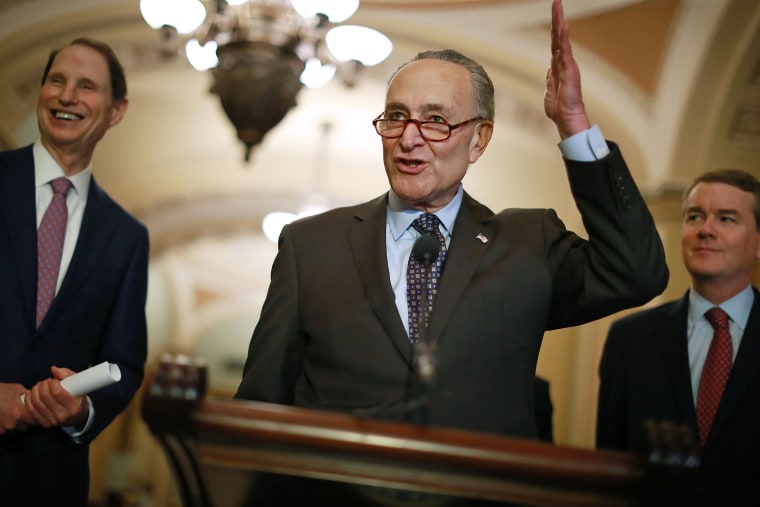 Schumer's election-year announcement comes as politicians at every level are weighing or embracing the concept of marijuana legalization in ever-greater numbers.
Those developments reflect the growing public support for marijuana legalization: Sixty percent of Americans say they support the idea, according to a NBC News/Wall Street Journal survey released in January. Young voters are especially likely to back the shift.
A growing list of states — including Alaska, California, Colorado, Oregon, Massachusetts, Nevada, Vermont and Washington, along with Washington, D.C. — have all moved to legalize pot for recreational use.
And over the past week alone, several current and former Hill lawmakers grabbed headlines over their advocacy of a change in the federal government's approach to marijuana policy.
Former Speaker John Boehner, R-Ohio, who in 2011 said that he was "unalterably opposed" to the legalization of pot, said last week that his position on the issue had "evolved" and that he now supported de-scheduling marijuana and was joining the board of a cannabis company.
Sen. Cory Gardner, R-Colo. — who had held up Trump judicial nominees in exchange for guarantees that his state's nascent pot industry would not be targeted in the federal crackdown advocated by Attorney General Jeff Sessions, a staunch opponent of legalization — said that the president had given him the assurance "that he will support a federalism-based legislative solution" that would protect the rights of individual states to decide their approach to marijuana policy.
And Sens. Orrin Hatch, R-Utah and Kamala Harris, D-Calif., sent a letter to Sessions urging the Drug Enforcement Administration to stop blocking research into medical marijuana.
Hatch's office tweeted on Thursday that, "purely coincidentally," it had decided to use 4/20 to talk about marijuana: "We'll get in the weeds to hash out some of the most potent arguments as to why it might be the budding answer doctors have long strained to find for countless chronic conditions."