Democrats expressed cautious optimism and Republicans voiced frustration Friday night after the Supreme Court allowed the abortion pill mifepristone to remain widely available.
The court blocked a decision that had thrown nationwide access to abortion medication into jeopardy earlier this month, but in doing so sent the case back to an appeals court. With the legal battle set to resume there next month, Democrats on Friday highlighted the fight that lies ahead.
Senate Majority Leader Chuck Schumer, D-N.Y., who led congressional Democrats in filing an amicus brief aimed at keeping the original ruling from taking effect, tweeted, "The fight continues and we won't back down."
Sen. Patty Murray, D-Wash., offered similar sentiments on Twitter, calling the Supreme Court's action "good news," while cautioning that "this fight is far from over."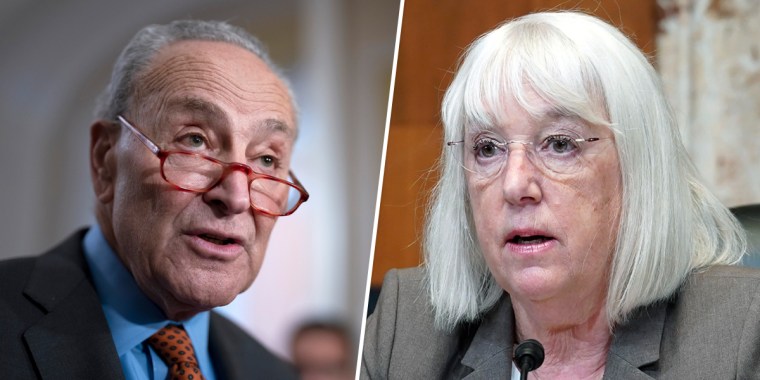 Murray, a member of the Senate Veterans' Affairs Committee, had blasted Republicans earlier this week over a measure that sought to stop abortion services provided by the Department of Veterans Affairs. The GOP bill failed to advance in a procedural vote Wednesday.
Sen. Tammy Duckworth, D-Ill., who had joined Murray in condemning the Republican measure, commented on Friday's order saying that "anything short of preserving access" to the FDA-approved drug would set a "dangerous new precedent where one rogue judge could strip away access to a safe and effective medication for millions of Americans."
Sen. Richard Blumenthal, D-Conn., a member of the Senate Judiciary Committee who reintroduced legislation in March to codify abortion rights after it failed to pass the Senate last year, was cautiously optimistic about the court's order.
"We can exhale for now—access to medication abortion remains legal, but the danger to women's health care is unabated," he tweeted.
On the other side of the aisle, some Republicans cast doubt on the safety of the drug mifepristone, suggesting it contained "real risks."
"I will continue to do everything in my ability to protect women, girls and unborn children from the real risks of DIY-chemical abortion pills," said Sen. James Lankford, R-Okla.
Sen. Cindy Hyde-Smith, R- Miss., said on Twitter that "we will continue the fight as the case continues to hold the @US_FDA accountable for endangering moms & babies through chemical abortion drugs."
Rep. Michelle Fischbach, R-Minn., co-chair of the House Pro-Life Caucus, also framed her frustration as a concern over women's safety.
"The abortion pill can cause complications and adverse events. This is widely known. We need to protect women and girls from the dangers of this drug," Fischbach wrote on Twitter.
Sen. Steve Daines, R-Mont., chair of the National Republican Senatorial Committee, called the Supreme Court's decision "a setback in the fight for life."
"But I will continue working to protect babies and moms from the danger & tragedy of DIY abortion drugs," Daines tweeted.
The top Republicans in each chamber — Senate Minority Leader Mitch McConnell and House Speaker Kevin McCarthy — did not issue statements on Friday night. Their offices did not immediately respond to requests for comment.
Congressional Republicans have struggled to coalesce around a unified message on abortion after electoral defeats in the wake of the Supreme Court overturning Roe v. Wade last year. The same challenges are also affecting GOP presidential hopefuls, many of whom haven't solidified their positions on abortion bans and access to medications like mifepristone.
The Biden administration, which filed a request in a federal appeals court last week to block the ruling, welcomed the Supreme Court's order, with the president saying Kacsmaryk's decision "would have undermined FDA's medical judgment and put women's health at risk."
"I will continue to fight politically-driven attacks on women's health. But let's be clear — the American people must continue to use their vote as their voice, and elect a Congress who will pass a law restoring the protections of Roe v Wade," Biden said in a statement.
Vice President Kamala Harris, who has served as the White House's top messenger amid the legal battle over the abortion drug, called mifepristone "essential medication," and said the administration was committed to "defending the FDA's ability to approve safe and effective drugs."