DUBUQUE, Iowa — If Democrats are planning to ride an anti-Trump wave to a takeover of the House in 2018, they can't just rely on seats where voters resisted Donald Trump in 2016. They also face the major task of winning back those rural and blue-collar whites who defected to the president.
That path runs through places like Dubuque County, Iowa, where a 28-year-old Democratic state representative, Abby Finkenauer, is running for Congress against a GOP incumbent, Rep. Rod Blum.
When she was growing up, the area was known for two things.
One was its large Catholic population. Like Finkenauer, many residents here are descendants of German and Irish immigrants who settled along the Mississippi River in the 19th century. The second was its work ethic. Like Finkenauer's father, a longtime welder, many were active union members.
For decades, that combination made Dubuque a Democratic stronghold. President Barack Obama won the county by double-digit margins in each of his elections while easily carrying the state.
"I grew up hearing about people being Kennedy Democrats and now people talk about being Joe Biden Democrats," Finkenauer said at a picnic table outside her father's house in rural Sherrill, which sits on a hill overlooking the Wisconsin border.
But there were cracks along the way. In 2010, a Republican won a county supervisor position for the first time in more than five decades. In 2014, Blum, a businessman, captured an open seat in Congress in another upset, while aligning himself with the Tea Party.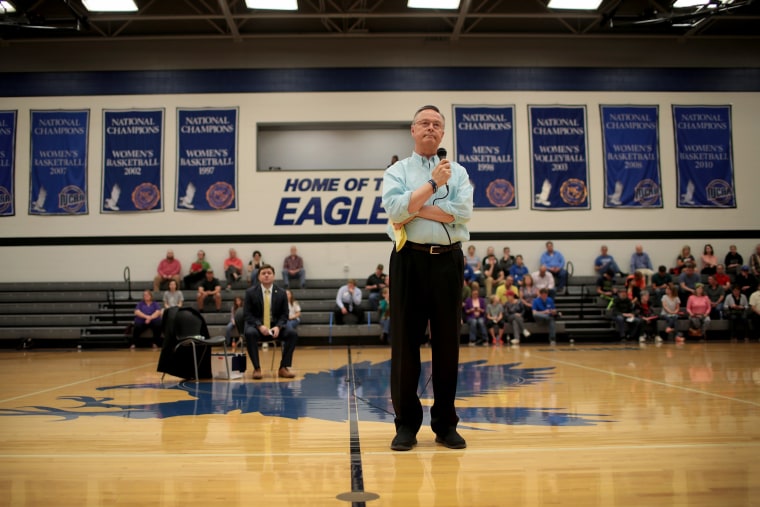 "I think the district has an independent streak," Blum told NBC News. "They tend to vote the person rather than the party."
The losses unnerved Democrats, but some comforted themselves by blaming flawed individual campaigns. After all, Democrats still outnumbered Republicans in the area.
But on Nov. 8, 2016, the shift became impossible to ignore. For the first time since President Dwight D. Eisenhower, the Republican presidential ticket had come out on top in the county as part of a statewide 16-point swing from 2012.
Blum, dismissed by some as an "accidental congressman" who got lucky 2014, handily won re-election as well.
There was no escaping it anymore. Dubuque had become Trump country.
Making waves in 2018
As Democrats look to the horizon in 2018, they think they see a distant tsunami forming in their favor.
Trump has dreadful approval ratings; Democrats are dominating generic ballot tests, which ask voters which party they want to control Congress; and presidents almost always lose a slew of seats in their first midterm elections.
The last time a president went into his first midterm election as unpopular as Trump is now was in 1946, when Harry Truman lost 55 House seats. The Senate may be out of reach but Democrats say they can almost feel the House Speaker's gavel in their hands.
Democrats are most bullish on winning Trump-phobic professionals in rapidly diversifying suburbs like Orange County, California, a cradle of conservatism that went blue for the first time last year.
But they'd still be unlikely to flip the 24 needed to regain the House unless they can take back places like Dubuque and the surrounding district.
"It's going to be seats like (Iowa's 1st district) that are very important to winning a House majority," said Kyle Kondik, managing editor of the politics forecaster Crystal Ball.
Democrats have a national structural disadvantage, driven by a combination of gerrymandering and the clustering of their voters in cities. That means they'll have to compete on even tougher terrain than they did ahead of their 2006 wave, which netted 30 seats in the House and a new majority.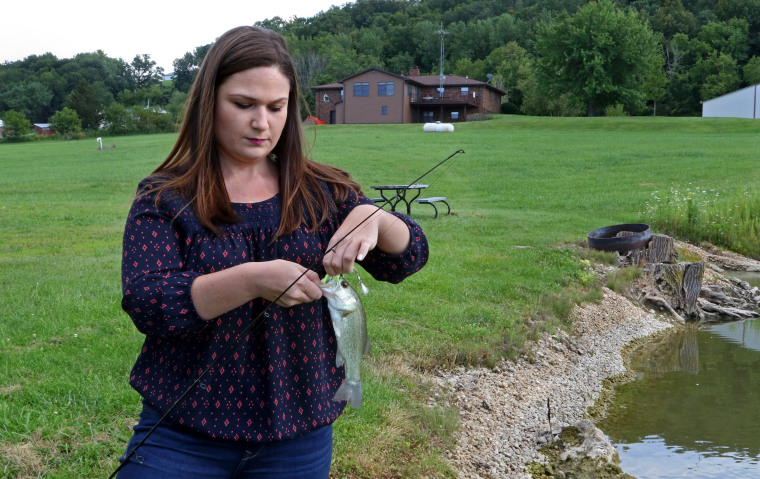 "I've been banging a drum since the election that there's no path back to a Democratic majority just through these sunbelt, suburban districts," said Ian Russell, a Michigan political operative who was a top official at the Democratic Congressional Campaign Committee. "This is an existential dilemma for party."
The national political weather map
If there is a Democratic wave on Nov. 6, 2018, it might start in Maine's 2nd district, the country's northern and easternmost congressional seat, whose rural white voters broke with decades of Democratic loyalty in favor of Trump. It would continue with Democrats holding their own in New Hampshire and Connecticut, as they picked up a few seats in upstate New York and New Jersey and outperformed Clinton in central Pennsylvania and the political battlegrounds around Philadelphia.
Moving South and West, a roar would erupt among Democrats if Virginia's 10th swung their way, which would bode well for affluent suburbs everywhere. And if they really have repaired their image with working-class whites, the wave might roll through Ohio's Canton-based 7th district on its way to Southern Illinois' 12th and Iowa's 1st and 3rd before hooking into multiple districts in Michigan and Minnesota.
Further south, it might steam through the area around Charlotte, North Carolina, and continue to a handful of Miami-area districts before gaining more strength around Dallas and Houston and rural Hispanic districts along the Rio Grande before crashing through Arizona and then cresting in California.
Like Dubuque, many of these targets are northeast and midwestern districts that have strayed from their Democratic roots. But Democrats won't be the only ones playing that territory. Many of the 36 seats Republicans plan to target are in the same band, and GOP leaders are confident they can make further gains with Trump at the helm.
The Iowa implosion
A few weeks after Trump's shocking victory, Pat Rynard, a veteran Democratic operative who edits the politics site Iowa Starting Line, pored over precinct maps to figure out what wrong. Sure, Iowa had gone Republican in 2016, but what the heck happened to turn Dubuque red?
It wasn't just one group of voters that had defected — it seemed like almost everyone found a reason to flee from the Democrats.
In the blue-collar neighborhoods surrounding the John Deere factory, Democratic margins plummeted. Over at Loras College, normally reliable young voters turned to third parties in large numbers or failed to show up at all. Outside the city, voters in rural communities turned out in droves and voted Trump by wide margins.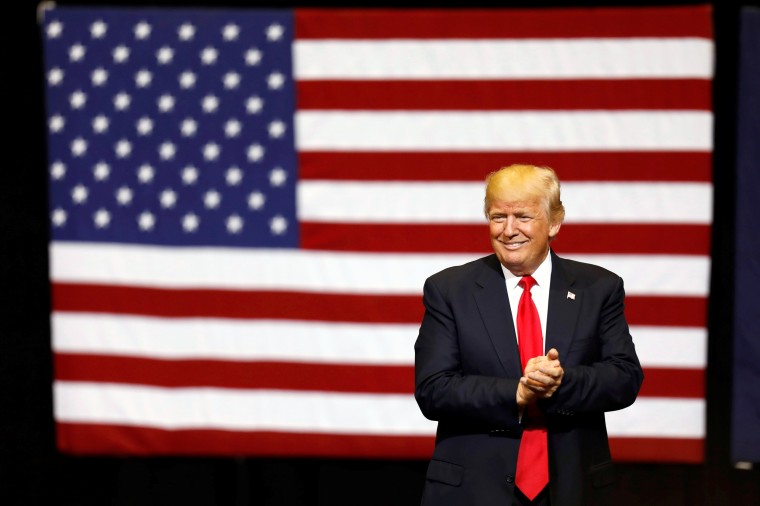 The same trends that flipped Dubuque had hit Democrats across the state and in crucial swing states.
"I think in 2018, we find out if Iowa will be a red state for the next couple of decades," Rynard said.
At a meeting of Dubuque County Democrats last week, members still sounded shaken by the November results as they listened to local candidates over bratwurst at the local UAW hall.
Attendees fretted about lingering wounds from the contest between Bernie Sanders and Hillary Clinton, who fought a close race in Iowa that exposed broader divisions within the state party. Others, especially older members, were worried that whatever the party had to offer voters on the economy might not overcome the right's growing success on issues like crime and immigration.
"They have to stick to basics, like Bill Clinton did: Jobs and fairness for all," said Craig Reber, a retired local activist wearing a "Sorry About Steve King" shirt (a reference to the ultra-conservative Iowa congressman).
How to build a wave
The conversations going on in Dubuque's union halls about what went wrong in November are happening among Democrats across the country. Since the election, few things have preoccupied campaign strategists more than the problem of the white working class.
The party's recent messaging suggests the issue is a top priority. Senate Minority Leader Chuck Schumer and House Minority Leader Nancy Pelosi recently rolled out a "Better Deal" message that's heavy on the kind of economic populism that helped Sanders and Trump win white working-class voters.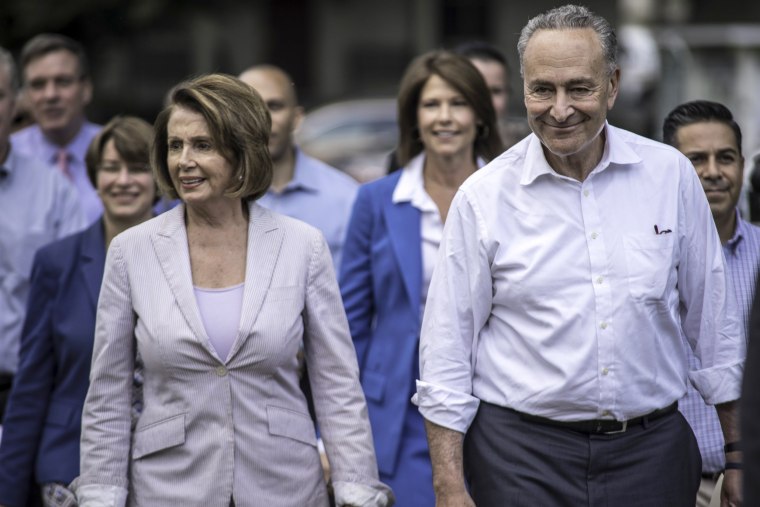 But some Democrats worry their increasingly urbanized party, led by San Francisco's Pelosi, New York City's Schumer, and Democratic National Committee Chairman Tom Perez, who hails from the Washington, D.C., suburbs, has a blind spot to the experience of rural and working-class voters.
"I don't think people in the beltway are realizing just how toxic the Democratic party brand is in so many parts of the country," Rep. Tim Ryan, D-Ohio, who has has challenged Pelosi's leadership, said after Democrats lost the Georgia special election.
If they can make inroads with Trump voters, though, the benefits could be enormous. Democrats are expanding the battlefield to a record 80 targeted districts next year, hoping to play the field and catch some breaks, potentially in unexpected places.
"It's all about getting those people out there on surfboards," said Dave Gold, a Democratic strategist who has worked to train Democratic candidates. "Otherwise, the wave comes and crashes on the shore and nothing comes of it."
In an important prerequisite for any wave, candidate recruitment is strong. So far, 209 Democrats had each raised at least $5,000 by the end of June, compared to average of just 43 at similar points in the previous four election cycles, according to a Brookings Institution analysis. Even ahead of Democrats' 2006 wave, just 48 candidates had reached that fundraising threshold.
Democrats have focused on candidates who break the party's mold, turning often to veterans with more experience in business than politics. Ohio's 7th congressional district, around Canton, will be a tough reach, but the party is excited about Ken Harbaugh, a former Navy pilot who until June was president and COO of Team Rubicon, which enlists veterans to respond to natural disasters all over the world.
In illinois's 12th congressional district, which covers the southern tip of the state, Democrats finally succeeded in coaxing Brendan Kelly, a district attorney who has prosecuted corrupt politicians in both parties, to take the plunge. And in Kentucky's 6th, which had a tradition of electing Democrats since the Civil War before Rep. Andy Barr won 2012, Amy McGrath grabbed headlines and saw a fundraising windfall with an announcement video highlighting her experience as the first female Marine to fly in an F-18 jet in combat.
"There's no reason to think a place that has ancestrally voted Democrat for more than a decade can't be flipped back in a wave," said Jeffrey Blehar, an elections analyst at Decision Desk HQ.
Stirrings in Iowa
As even many Democrats were willing to concede, Blum didn't stumble into Congress. In many ways, his success in the district anticipated the Trump's popularity.
"I told Trump, 'I was you before you came here,' I was kind of a mini-Trump," Blum said.
Like Trump, Blum was a businessman. He grew up in Dubuque, went to college and graduate school in town, and became a successful software executive. When he launched his campaign, he sold himself as an outsider who would take on Washington's political class with no regard for party.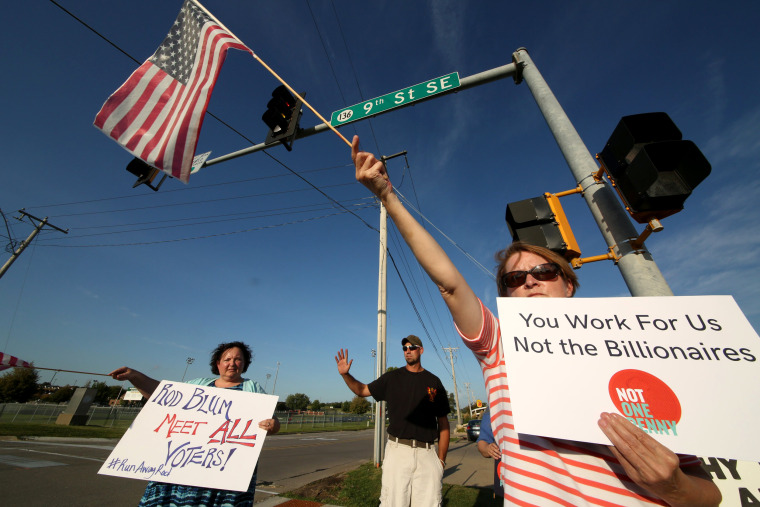 Asked to name his proudest moments in Congress, Blum cites his push for term limits and a variety of bills curbing benefits for lawmakers, from pensions to flights to cars. He's quick to note that used his first vote as a freshman to oppose John Boehner as Speaker.
"That took some courage," he said. "That hurt my fundraising, but it was a principled vote."
Winning back rural and blue-collar white voters may be a nice idea in theory, but in practice it also means running against dozens of incumbents who know their district and have built their own personas to match it.
But Blum's policies are very different than his opponents, which could give them an opening. He's a member of the conservative House Freedom Caucus and dismisses Democratic proposals for a higher minimum wage and single-payer health care as "redistribution."
"it's a zero-sum game, you're taking from somebody to give to somebody else," he said. "You grow the economy, it's not a zero sum game."
Whether there's a national wave building or not, there are signs that the tide might be reaching Blum's district.
Democrats have pilloried him for his vote in support of the House GOP health care bill and activists have flooded his town halls, including a particularly contentious one in Dubuque, to protest the decision. They're demanding he hold more public meetings.
Democrats are hoping that the same message that fueled his rise — taking on entrenched elites — could work against him now that his party holds power at the state and federal level alike. In Iowa, Republicans won unified control of state government and passed a collective bargaining law this year that unions bitterly opposed.
"There is going to be no disconnect in 2018, because they control everything," Finkenauer said. "Not one thing those Republicans have done, that Rod Blum has done in the U.S. House, has made anyone that I know's life better."
Democrats got a morale boost last week when Phil Miller, a veterinarian, won a special election to replace a Democratic state representative who had passed away. Much like Dubuque, it was an area that had voted for Obama twice before swinging hard right in 2016 — Trump won the district by 21 points.
In downtown Dubuque, it wasn't hard to find voters still down on both parties.
Gail Stoffel, 60, was a former "diehard Democrat" who backed Al Gore and John Edwards in prior elections. But she loathed Hillary Clinton, whom she viewed as corrupt, and saw 2016 as a "lesser of two evils" contest.
Stoffel wouldn't say how she voted, but Trump's campaign pledges not to cut Medicare and Social Security, which she depends on, resonated with her. So did his pledge to crack down on drugs, an epidemic that had claimed the life of her son.
Stoffel is skeptical that Blum wants what she does. Asked if she might identify as a Democrat again, though, Stoffel shook her head.
"Hillary did too much damage," she said.
Benjy Sarlin reported from Dubuque, Iowa, and Alex Seitz-Wald from Washington, D.C.
CORRECTION (August 21, 2017, 2:05 p.m.): An earlier version of this article incorrectly described Ken Harbaugh's role with Team Rubicon, which enlists veterans to respond to natural disasters. Harbaugh recently stepped down from his position as president and COO of the group to run for Congress; he does not currently run the group.