WASHINGTON — Democrats on the House Intelligence Committee vowed to carry on with their investigation of Russian interference in the 2016 election, accusing Republicans of prematurely shuttering the probe in a "capitulation" to the White House.
One day after the GOP announced they had completed a draft report concluding that the Trump campaign had not colluded with Russians in an effort to defeat Hillary Clinton, Democrats issued a 22-page document specifying unresolved issues they said the committee needed to continue exploring — and that they would attempt to do so even without the GOP's cooperation.
Most, but not all of the items Democrats point to address collusion, and whether the Russian government had leverage on President Trump that could affect his decision-making. The report also lists key individuals that the committee's Republicans refused to bring in for interviews, documents that should have been sought, and steps that should have been taken to compel answers from uncooperative witnesses like the attorney general, the president's son and his son-in-law.
"The work is too important to be left undone," Rep. Adam Schiff, the lead Democrat on the committee, told reporters Tuesday night. "The American people need to know whether the Russians still have something they can hold over the president's head."
Even in the earliest hours of the Republican's report circulating among members of the committee, the GOP appeared to back-pedal on some of their initial comments.
Rep. Mike Conaway of Texas, who has been running the Russia probe, told reporters he misspoke Monday when he said that he in fact believed the Russian government had sought to help Clinton in the campaign and hurt Trump. And he seemed to step back from a key claim in the report, disputing the Intelligence Community's January 2017 assessment that Russia had shown a "clear preference" for Trump in the campaign.
"Nothing that they did remotely helped Hillary Clinton," Conaway said. But asked if there was any distinction between attempting to harm Clinton and help Trump, Conaway said: "glass half full, glass half empty. You could pitch that either way."
Schiff called the GOP report "little more than another Nunes memo in long form," saying it cherry-picked intelligence while ignoring or mischaracterizing others. He said he had assumed that even despite clear differences of opinion about collusion, Democrats and Republicans could jointly validate the conclusion of intelligence agencies that Russia sought to elect Trump.
"If this is where the GOP is coming from, it represents to me the completeness of their capitulation to the White House, and that leaves little common ground," he said.
Asked if he could say definitively whether he found evidence that Trump campaign aides or allies had colluded with Russians — just as the GOP insisted it had not — Schiff said he could.
"What I cannot say, because I do not know what Bob Mueller knows, is whether that evidence rises to the level of proof beyond a reasonable doubt of conspiracy to violate U.S. election laws," he said.
Schiff has increasingly drawn attention to the question of financial leverage the Russians have on Trump. The Democratic status report says the committee had only begun to explore "credible allegations" about whether Russian oligarchs and others used Trump properties to launder money, and notes that Deutsche Bank, which has been fined before for involvement in Russian money-laundering, has been a regular source of financing for Trump's businesses.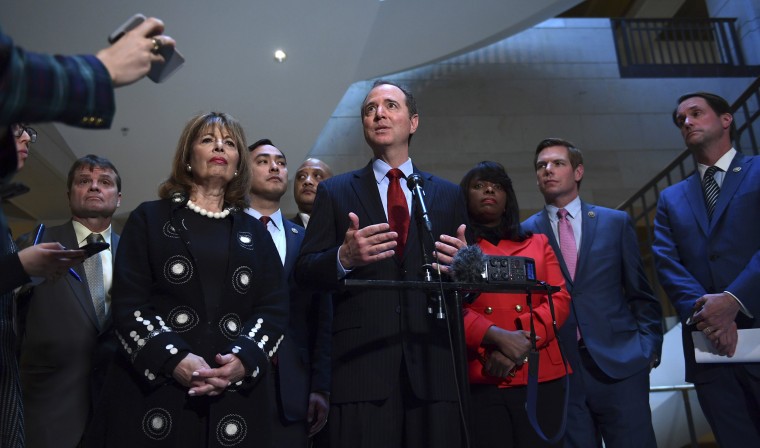 Democrats also say the committee should probe whether the president sought to obstruct justice by impeding the Mueller probe — something Republicans have maintained is outside the committee's agreed-upon scope of inquiry.
The Democrats said they have "a good faith reason to believe" that the White House has documentation of Trump's conversations with James Comey, which could corroborate the then-FBI director's accounts that the president pressured him to drop an investigation of former National Security Adviser Michael Flynn.
Among the key witnesses Democrats say the committee still needs to hear from are current and former administration officials including Trump's first chief of staf, Reince Priebus, senior policy advisor Stephen Miller, former press secretary Sean Spicer and senior counselor and former Trump campaign manager Kellyanne Conway.
The list also includes names recently brought to light in relation to the Mueller probe like George Nader, a Lebanese-American businessman who the Washington Post and New York Times reported helped orchestrate the January 2017 meeting in the Seychelles involving a known Trump associate and a Russian banker with ties to the Kremlin.
Committee Democrats say there should be new document requests, including bank records from Deutsche Bank, additional information from social media companies like Twitter, Facebook and Snapchat, and records from the Ritz Carlton Moscow related to Trump's 2013 visit for the Miss Universe pageant.
And Democrats fault Republicans for now taking further action to compel testimony from uncooperative witnesses including Donald Trump Jr., Jared Kushner, Atty. Gen. Jeff Sessions and Corey Lewandoswki.
All of these are issues that Schiff said Democrats could ultimately revisit if the party wins control of the House next year – and along with it control of the committee and subpoena power.
"If the majority in the Congress changes hands we'll have to evaluate where is the investigation at that point.," he said.