WASHINGTON — The confirmation hearing for Supreme Court nominee Brett Kavanaugh is giving Democrats their biggest public moment to make a stand against President Donald Trump's second pick for the high court. It's also a prime display of the position they find themselves in — caught between activists demanding nothing short of defeating the nomination and political reality.
On Tuesday, they did their best, launching a coordinated effort to show their opposition that disrupted the opening hours of the hearing.
Democrats asked, one after another, for the committee to be adjourned and postponed, pointing to what they say is a broken process that ignores their concerns and shields Kavanaugh from public scrutiny.
They interrupted, argued about the ground rules and drew attention to the lack of documents being made available to them. They were helped by numerous protesters who tried to interrupt by shouting throughout the morning proceedings, only to be escorted out of the room by police while the senators trudged on.
"We should not be moving forward with this hearing," Sen. Kamala Harris, D-Calif., said. "The American people deserve better than this."
Senate Judiciary Committee Chairman Chuck Grassley allowed it to go forward as he turned aside their requests to stop the hearings, defended the process and simply asked his Democratic colleagues, "how long you want to go on with this?"
After 90 minutes of protests and attempts to stall, the hearing officially got underway. It was an exhibition that had been planned by Democrats over a series of conversations and a conference call with members that was finalized over the weekend.
Despite their efforts, it all added up to another clear example of how Democrats have been outnumbered, outmaneuvered and outspent on judicial nomination fights, especially for the Supreme Court.
It also served to highlight the real quandary the party finds itself in, with nearly no real hopes of stopping the nominee and a party full of activists demanding they fight to do just that.
Norma Heredia, 22, traveled from Washington state to attend the hearings. She is concerned with Kavanaugh's views on abortion and said she expects Democrats to stop him.
"They just have to come out and be vocal," she said, adding they need to have conversations with moderate Republican Sen. Lisa Murkowski of Alaska, who is considered to be a possible GOP defection.
Megan Anderson, who traveled from Cincinnati to oppose Kavanaugh, said that if Democrats don't block him, they should be voted out. "We'll replace them come November. They need to represent my voice," she said, waiting in line to enter the hearing room.
But the political reality is not in their favor. Republicans have the majority and the votes to confirm Kavanaugh. The filibuster option for the minority party was eliminated during the confirmation process for Justice Neil Gorsuch. So, unless a Republican breaks ranks to oppose this nomination — which appears unlikely — the judge will pass the final Senate vote.
That makes it more than difficult for Democrats to satisfy those demanding they stop it.
Democrats thus far have made their fight about the process. They are angry that only a portion of documents pertaining to Kavanaugh's professional career have been made public. Of the 480,000 documents that have been made available to the committee, 322,000 are public, while the rest can only be viewed by members, and not discussed publicly.
And 42,000 of the public documents were released late Monday night, just hours before the hearing began. Sen. Dianne Feinstein, D-Calif., the ranking member of the committee, says that total still omits 93 percent of all documents relating to Kavanaugh's professional career.
Before Kavanaugh was appointed to the federal circuit court 12 years ago, he served in the White House as President George W. Bush's staff secretary, a role that helps to develop policy and communications strategy for the president. He was also one of the president's counsels and worked with investigator Ken Starr during the investigation into President Bill Clinton.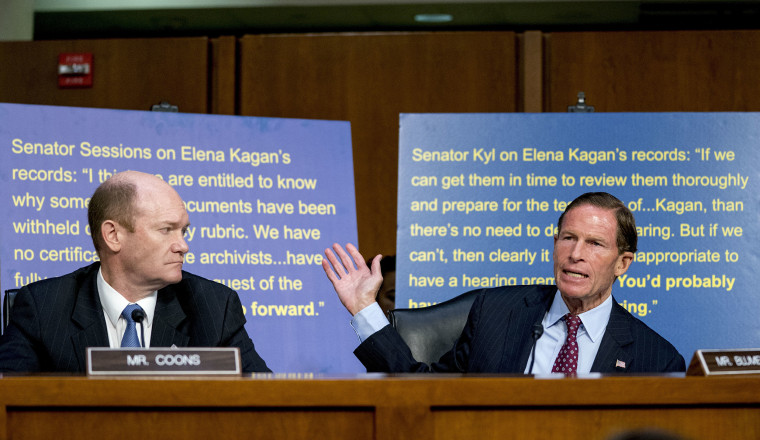 Sen. Ted Cruz, R-Texas, criticized Democrats for their focus on process.
"We heard a lot of arguments about documents. There is an old saying for trial lawyers: 'If you have the facts, pound the facts. If you have the law, pound the law. If you have neither, pound the table.' We are seeing a lot of table pounding this morning," Cruz said.
Kavanaugh's confirmation would tilt the court to the right for decades but the Senate's fight over judges has been escalating for years. When Democrats were in the majority in 2013, they eliminated the filibuster for all judges beneath the Supreme Court after being frustrated with GOP efforts to block President Barack Obama's nominees.
Then, the GOP majority refused to even consider Obama's Supreme Court nominee, Merrick Garland, in 2016, citing presidential election-year considerations. Republicans then got rid of the filibuster for Supreme Court nominees for the Gorsuch nomination.
It's the Garland episode that still has Democrats fuming. Sen. Richard Durbin, D-Ill., brought up the Republicans' "shabby" treatment of Obama's nominee in Tuesday's hearing, noting that the committee could afford to adjourn for a few days or weeks for a more thorough review of Kavanaugh's record after Republicans left a Supreme Court seat vacant for more than a year.
Still, Democrats are waging a fight in which they'd have to rely on at least one Republican to win. While they are willing to fight, they caution against unreasonable expectations.
Durbin said some of the activists' demands are "unrealistic." But he hopefully cited the late Sen. John McCain's decisive vote that blocked the repeal of the Affordable Care Act last year. McCain was the last of three GOP senators to vote against the repeal, joining Murkowski and Susan Collins of Maine.
"That McCain vote was historic because it took three, and he showed up and made the third vote at 2:30 in the morning," Durbin said. "So you really have to hope for the best and have good luck."
CORRECTION: Sept. 4, 2018, 6:35 p.m. ET): An earlier version of this article misstated the number of Republican senators who voted against repealing the Affordable Care Act last year. John McCain was not the only one to do so; Susan Collins of Maine and Lisa Murkowski of Alaska also voted against repeal.