The House Natural Resources Committee's first meeting of the year turned heated Wednesday when a Democratic member offered an amendment that would prohibit lawmakers from carrying guns in its hearing room.
Rep. Jared Huffman, D-Calif., said he was proposing the "sadly necessary" amendment because it's a "major issue of safety for members of our committee."
He noted that the Republican-controlled Rules Committee removed a provision that Democrats had put in place for the previous two-year period prohibiting firearms in hearing rooms and committees. One of the new GOP majority's first acts was to remove the magnetometers that former Speaker Nancy Pelosi, D-Calif., had installed outside the House chamber after the Jan. 6 riot.
"To be clear, members and their staff are already prohibited by law from carrying guns into the hearing rooms and conference rooms of this Capitol. Currently, under statute and Capitol Police Board regulation, members are supposed to have firearms only in their offices," Huffman said.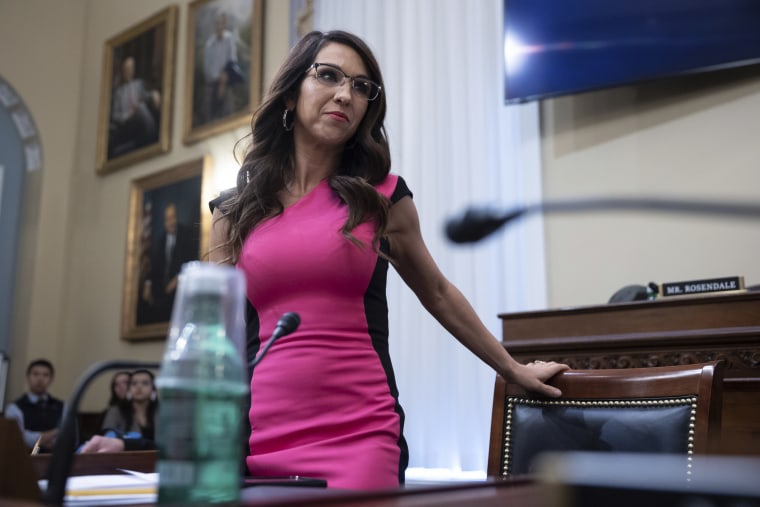 "This does not allow for carrying firearms into hearing rooms and doesn't allow for walking around the Capitol with a loaded weapon. But we know some members think these rules do not apply to them," he added.
Fellow committee member Lauren Boebert, R-Colo., who vowed in a viral 2020 video to carry a gun in the Capitol, decried Huffman's "anti-member safety amendment" as a "political stunt" before she unveiled an enlarged photo of him wearing a tinfoil hat.
"With threats against members of Congress at an all-time high, now is not the time to be stripping members of our constitutional right to defend ourselves," Boebert said before she recounted several incidents of violence in the Capitol and against lawmakers over the years.
Threats against lawmakers dipped last year for the first time in at least five years, while still hovering near historic highs, according to figures from U.S. Capitol Police.
Rep. Ruben Gallego, D-Ariz., who recently launched a Senate bid, noted Wednesday that Boebert's list of incidents against lawmakers omitted the riot on Jan. 6, 2021.
"Yes, it was awful when Ashli Babbitt was murdered," Boebert snapped back, referring to a rioter who was shot by a Capitol Police officer as she tried to get through a door leading to where members of Congress were being evacuated.
"And you don't care about the 100 police officers" who were injured in the attack, Gallego replied.
Boebert went on to say she followed House rules on the day of the Capitol attack and didn't have her gun when protesters were trying to force their way into the building.
"It was the first time in many, many years that I have been unprotected. I was disarmed, not unarmed, disarmed, because I was not allowed to possess my firearm," said Boebert, who was first elected to Congress in 2020.
Earlier Wednesday, Huffman and other Democrats wrote a letter asking congressional leadership whether any additional safety measures are being put in place for President Joe Biden's State of the Union address next week, given the relaxed rules for firearms enacted by Republicans.
At Wednesday's meeting, Huffman and fellow committee member Alexandria Ocasio-Cortez, D-N.Y., asked which other lawmakers on the Natural Resources panel planned to carry firearms into the room.
Rep. Tom McClintock, R-Calif., asked the two Democratic members whether they have "reason to believe there's a homicidal maniac amongst us."
"Who do you not trust to bring a firearm into a committee room?" McClintock asked.
Ocasio-Cortez answered, "I believe from what I've witnessed the competence of some members may be something I'm willing to question."
The Democratic amendment was defeated in a party-line vote.