WASHINGTON — Sens. Tom Udall, D-N.M., and Richard Blumenthal, D-Conn., rallied chemical exposure victims and public health advocates on Tuesday to oppose President Donald Trump's nominee to become the nation's top chemical regulator.
Michael Dourson, Trump's pick to lead the Environmental Protection Agency's chemical safety program, has sparked fierce opposition from Democrats and public health advocates for spending decades producing industry-funded research that critics say downplays the health risks of chemical substances.
"Instead of draining the swamp, [Trump] has filled it up with some of the swampiest creatures ever. And it keeps getting scarier — Michael Dourson might be the worst yet," Udall said. "Dr. Dourson has made a career of creating junk science for industry."
"We need someone who's going to be a watchdog, not a lapdog for the special-interest chemical industry and other producers of contaminants and substances that can literally kill people, or stunt the growth of children, or make people sick," Blumenthal said.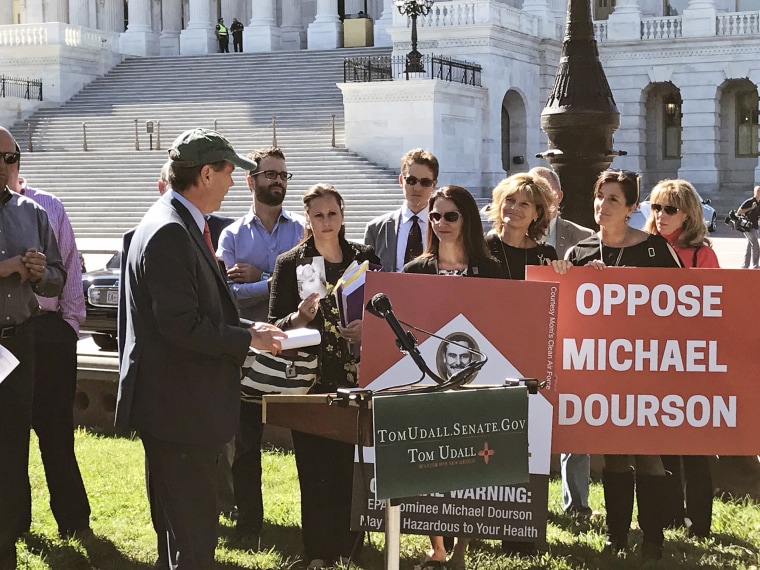 Dourson, who is scheduled to appear before the Senate at his confirmation hearing on Wednesday, did not respond to a request for comment. The EPA has circulated praise for Dourson from others in the toxicology field.
"Dr. Dourson is a highly qualified scientist, who is a professor at the University of Cincinnati and the founder of a nonprofit," said EPA spokesperson Liz Bowman, citing his leadership positions and awards.
Victims of chemical exposure and their family members shared personal stories of being exposed to substances that Dourson has helped the chemical industry defend, producing research that companies have used to argue for weaker regulations and oversight.
Gwen Young's family lives in Hoosick Falls, New York, where a manufacturing plant contaminated the local drinking water with PFOA, a chemical that's been linked to cancer. Young, 12, said she has the highest PFOA levels in her blood among the children in her community.
"I don't really feel safe anywhere I go," Young said. "I don't want this to have to happen to other kids. I don't think Michael Dourson is cut out to be in the position that he's nominated for."
When DuPont was sued for PFOA exposure in West Virginia, the Dourson helped defend the company in court. DuPont had previously hired Dourson's firm, Toxicology Excellence for Risk Assessment, to establish a new exposure threshold. The level that Dourson's firm helped establish was 150 times higher than the level DuPont's own scientists had endorsed, and it was thousands of times higher than the level that EPA would ultimately set for drinking water in 2016.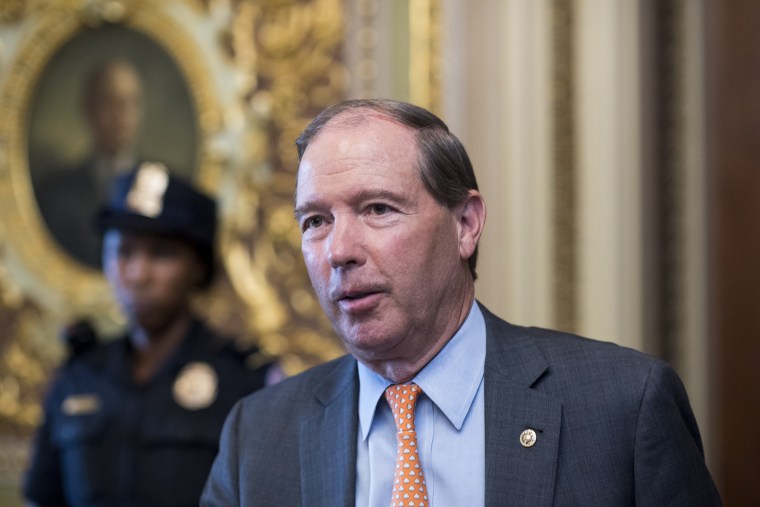 "We depend on the EPA, and specifically this position that [Dourson] would be filling, to protect us going forward," said Michael Hickey, another Hoosick Falls resident. "We know that he won't be capable of doing that." Hickey's father died of kidney cancer after working at the Hoosick Falls plant that used PFOA, which is now a federal Superfund site.
Without Republican support, Democrats do not have the votes in the Senate to stop Dourson from being confirmed. But they say that it's especially critical to bring attention to his nomination in light of the sweeping overhaul of the Toxic Substance Control Act, pointing out that the law passed with overwhelming bipartisan support in 2016.
"Many people called it the most significant environmental law in 25 years to pass," Udall said. "Now when you have a good law, the most important thing is implementation. So do you want a guy that's a toxicologist for hire to be doing the implementation?"