WASHINGTON — By calling on one of their own to resign Wednesday, Senate Democrats tried to seize the moral high ground on sexual misconduct.
The push to oust Sen. Al Franken, D-Minn., comes before an Alabama special election next week in which President Donald Trump is supporting Roy Moore, a candidate dogged by multiple accusations of sexual misconduct with teenagers decades ago.
The Democratic dam burst on Wednesday afternoon when Sen. Kirsten Gillibrand, D-N.Y., publicly urged Franken to resign his seat over a series of groping and unwanted kissing allegations. Gillibrand, whose call was echoed within hours by more than two dozen Democratic colleagues, said there should be no tolerance for sexual misconduct.
"I think when we have to start having to talk about the differences between sexual assault and sexual harassment and unwanted groping, you are having the wrong conversation," she said. "You need to draw a line in the sand, say none of it is OK, none of it is acceptable, and we as elected leaders should absolutely be held to a higher standard not a lower standard. And we should fundamentally be valuing women, and that's where this debate has to go."
Though some Democrats said it was hard for them to turn on Franken, it finally became more painful to stand by him. Gillibrand, considered to be a potential 2020 presidential candidate and a leader in legislative efforts to combat sexual assault in the military and workplace, had perhaps more incentive than any other Democrat to ensure she wasn't perceived as giving Franken a pass or even waiting too long to press for his ouster.
But she was hardly alone in concluding that it was no longer sustainable just to say Franken's case should be adjudicated by the ethics committee. By pushing Franken to resign, Democrats believed they could "clean the slate," clarify their position on sexual misconduct and draw a clearer contrast with Republicans, said senior Democratic aides and operatives.
"His continued presence in the Senate compromised our ability to communicate clearly against Republicans' complicity in Moore's candidacy, and it subjected Democratic members of Congress to weeks of painful interviews where they twisted themselves into pretzels trying to defend Franken's indefensible conduct," said Lis Smith, a New York-based Democratic strategist.
"This is an important test for our party — to show women that we stand with them and believe them," she added. "And it's an important distinction for us to draw going into 2018: that while the Republican Party will prop up a pedophile like Moore, we'll show zero tolerance for sexual misconduct."
Earlier this week, Rep. John Conyers, D-Mich., who was accused of sexually harassing aides, resigned the House seat he had held for more than half a century. So, if Franken does quit — he's scheduled to make an announcement about his future Thursday in Washington — Republicans will quickly find themselves without a Democratic lawmaker to equate to Moore or Trump, who faced a series of sexual assault allegations during his bid for the presidency last year.
On Wednesday, some Republican senators largely stuck to their long-held line on Moore: His electoral fate is up to the voters of Alabama on Tuesday, he should be seated if he wins, and the Senate ethics committee should look into his alleged conduct once he's in Washington. Moore has denied the allegations.
"The whole thing will be investigated and we'll get the facts. Once we get the facts, the Senate will make a decision," said Sen. John Kennedy, R-La. "I don't know who to believe or who not to believe, but if it turns out that as a 32-year-old he fondled a 14-year-old girl and that turns out to be true, then we'll find out."
Many Republicans outside the Senate, though, have expressed concern that having Moore in the chamber could hand Democrats a cudgel to beat the GOP in the 2018 midterm elections. And others are troubled by the decision of the Republican National Committee to re-engage in the Moore race after having pulled up stakes a few weeks ago.
"I don't support the RNC's decision to financially support Roy Moore's campaign," said Rep. Elise Stefanik, R-N.Y.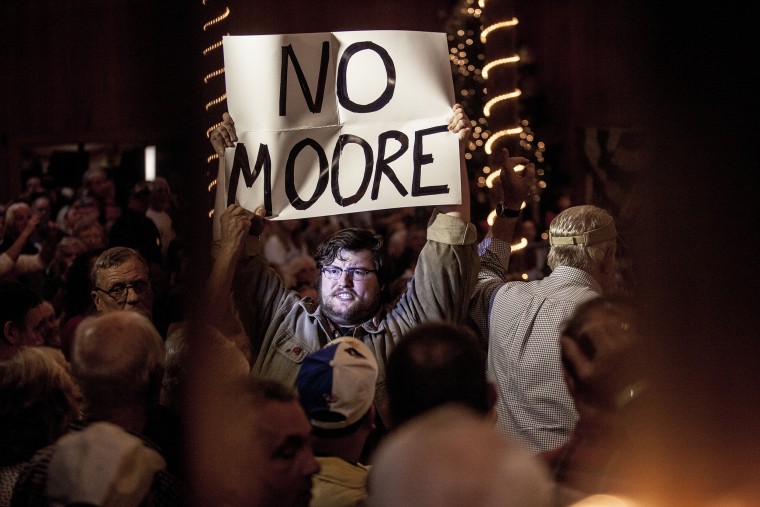 But Stefanik had refused to call for the resignation of another Republican who is testing the party's tolerance of sexual harassment allegations. She said the difference between Franken and Rep. Blake Farenthold, a Texas Republican who settled an $84,000 claim in 2015 by a former employee, is that Farenthold's case went through appropriate channels.
"Of course there should be zero tolerance, but as of now, the difference is he's gone through the ethics process," Stefanik said of Farenthold, referring to the Office of Congressional Ethics, a staff-run body that looks at ethics complaints. But despite the ethics' office recommendation, the House Ethics Committee thought there was enough evidence of wrongdoing to open an investigation, which is ongoing.
House Speaker Paul Ryan, R-Wis., has also declined to call for Farenthold to step down despite the ongoing probe.
While Republicans in the Senate say they don't support Moore, only two are calling for expulsion should he be elected. And President Donald Trump has endorsed Moore, and will travel to Pensacola, Florida, for a rally on Friday, not far from Alabama. Trump, himself, also makes it difficult for the GOP to cleanse their own. Trump was elected despite the "Access Hollywood" recording in which he admitted to groping women and has several claims of sexual harassment against him.
It was clear by late Wednesday that Democrats felt sacrificing Franken would allow them to claim moral superiority over Republicans in a way that they couldn't if he remained in office.
"Before you get into the race in Alabama, I hope that members of both political parties will be guided by sound principles, even when it's painful," said Illinois Sen. Dick Durbin, the No. 2 Democrat in the Senate. "And this is painful. Al Franken's my friend."
CORRECTION (Dec. 7, 6:55 a.m.): An earlier version of this article misstated Sen. Kirsten Gillibrand's party. She is a Democrat, not a Republican.