Senate Democrats introduced a bill Tuesday aimed to bolster poverty prevention programs and contrast their priorities with those of the White House, a day after the Trump administration shared a budget proposal that would cut hundreds of billions of dollars from entitlement programs and cause millions of Americans to lose access to benefits such as Medicaid and food stamps.
Democratic Sens. Chris Coons of Delaware and Sherrod Brown of Ohio shared the bill, co-signed by 10 of their colleagues, that they hope will strengthen the ability of Americans in need to build savings while using federal assistance programs.
The Trump administration's changes will reduce states' ability to waive asset limits in some cases that knock people off the rolls of programs such as Temporary Assistance for Needy Families, Low Income Home Energy Assistance Program, Supplemental Security Income and the Supplemental Nutrition Assistance Program, formerly known as food stamps. The Democrat's proposal would eliminate or raise those limits for having savings or other resources above a certain level.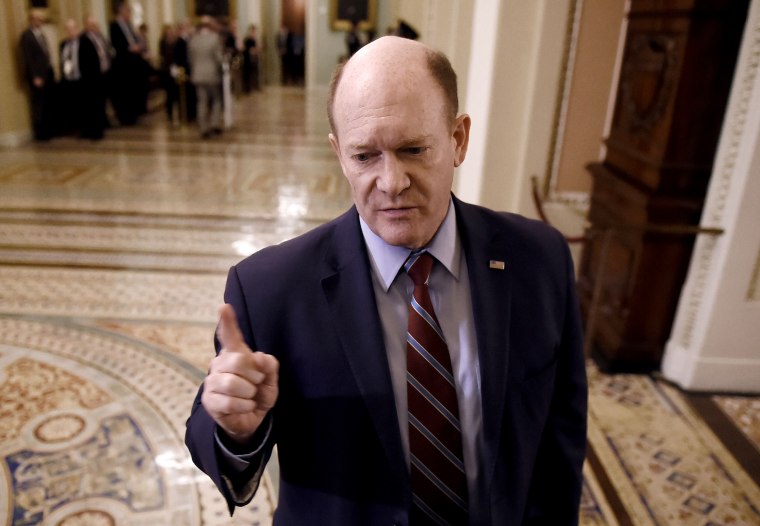 "The whole point of these programs is to provide temporary support," Coons told NBC News, "so if you discourage people from saving, then you are frankly defeating the whole point of the program to help them with temporary assistance as they rebuild their foundation."
In addition to the stringent asset tests, the Trump administration's regulatory changes include work requirements on SNAP that would cause millions to lose access to the benefits. The White House also introduced new funding state formulas for Medicaid that could shrink eligibility and overall benefits; the proposed budget would slash entitlement programs by hundreds of billions of dollars.
These regulatory changes have been pushed through Congress after Trump failed to persuade legislators to go along with his proposals to cut health and economic programs. In 2017, the White House's push to repeal and replace the Affordable Care Act was voted down, and a year later Congress did not take on his changes to SNAP that would have enforced strict work requirements as lawmakers debated the latest version of the farm bill.
Debbie Stabenow, D-Mich., the ranking member of the Senate Agriculture Committee, said that Republicans and Democrats came together to reject Trump's changes to food assistance programs when they debated the Farm Bill, but now the administration has subverted their decisions.
"The administration is trying to rewrite the rules when they should be focused on implementing the law," Stabenow said.
With this legislation, Senate Democrats are attempting to push for a re-examination of those entitlement programs that have been on the chopping block under the current administration. They are turning to this front to challenge the White House now that the impeachment is over.
Much of those regulatory changes have gone unnoticed in the public eye, Democrats said.
"They're doing all kinds of things around Congress because they know Congress and the American public doesn't buy what they're doing on these things," Brown told NBC News. "If they do these rules — literally or figuratively — in the middle of the night, as the president sends out his tweets, you know they wont get a lot of attention paid to them. That's, in part, why Coons and I are doing this."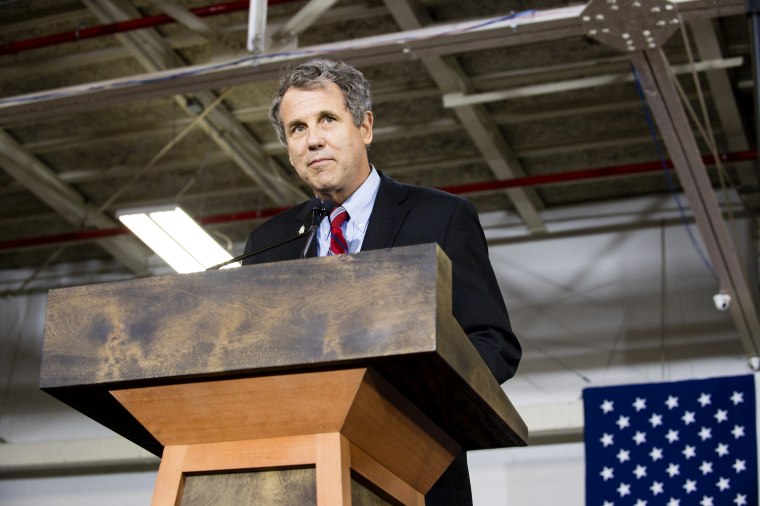 The White House disputes that its budget and regulatory changes would decrease benefits and emphasized that the version of their budget released this week worked especially hard to protect and improve Medicare benefits.
"The budget accomplishes that by addressing waste, fraud and abuse, protecting and expanding access to care, and strengthening the program's finances," a senior administration official said. "Under this budget, Medicare spending will still grow each and every year, by an average of 6 percent. The president's budget extends Medicare's solvency for the foreseeable future, for at least the next 25 years."
Nevertheless, the budget — largely a method to send a message on the president's priorities — does come with heavy cuts to student loan programs, Medicaid and Affordable Care Act subsidies, as well as programs such as SNAP and TANF, all programs that affect low-income Americans.
Even with the White House's position, Democrats had been hopeful to make their bill bipartisan. The current political tensions of Washington, however, has made it difficult for any Republicans to throw their weight behind it, Coons said. That means the bill likely has little chance to succeed in the Senate.
"It is still my hope to get a Republican on this bill," he said. "I know two Republicans have seriously considered it. If it gets through the House this year, we can revisit it next year given the political environment."
Some Democrats, however, said that another benefit of the legislation — whether intentional or not — is to pivot the national conversation back to "kitchen table issues" and for Democrats to build a winning political message around it during a tumultuous presidential election and only one week after the Senate acquitted Trump on the two articles of impeachment.
Though Democratic strategists said they believed most Americans came to view Trump's actions toward Ukraine as corrupt, they cannot rely on that alone. Candidates have to emphasize their economic platforms around the social safety net, health care and education.
"I think that view has solidified against him as president," Neera Tanden, the president of the Center for American Progress, said, "but it's also important to demonstrate that his presidency hurts people if he is re-elected."
Shawn Fremstad, a senior policy fellow for the left-leaning Center for Economic and Policy Research, said that Trump's re-election would calcify major regulatory changes that would greatly handicap anti-poverty and health care programs.
While some of those rules and regulations remain proposals for now, he said, they would likely kick in after November if Trump won and allow the administration to circumvent Congress.
"There's been a regulatory war going on without the same fanfare that their budget gets," Fremstad said. "They're making these same cuts through changes in rules, through policy changes."
He added that House Democrats are likely gearing up for a public fight with the Trump administration and will use oversight hearings and other committees to force Republicans and Trump to voice their support for these regulatory changes to entitlement programs.
That fight in the House will begin with the very same legislation that Coons and Brown are putting forward.
Rep. T.J. Cox, D-Calif., is introducing the bill in the House — where it will see a longer life, put additional pressure on Republicans in the Senate if it is passed and challenge the administration on its cuts to entitlement programs.
"Protecting social safety net programs shouldn't be a partisan exercise, but when this administration accelerates its devastating campaign to dismantle protections for hard-working Americans — by cutting Medicaid, Social Security, SNAP, and more — Congress must be willing to use every tool in the box to save and improve our critical lifeline programs," Cox said.
Coons and other Democrats maintained that their intention is beyond politics and messaging, however, and they only hope to rebuild these programs that are intended to pull people from poverty.
"These programs make a difference," Coons said, "and they're worth fighting for."