WASHINGTON — Sen. Dianne Feinstein, D-Calif., a vocal advocate of gun control measures who was known for trying to find common ground with Republicans during her three decades in the Senate, has died, her office confirmed on Friday.
She was 90.
"Senator Feinstein never backed away from a fight for what was just and right. At the same time, she was always willing to work with anyone, even those she disagreed with, if it meant bettering the lives of Californians or the betterment of our nation," her chief of staff, James Sauls, said in a statement. Feinstein's office did not share a cause of death, but she had been experiencing rapidly declining health in recent months.
"There are few women who can be called senator, chairman, mayor, wife, mom and grandmother. Senator Feinstein was a force of nature who made an incredible impact on our country and her home state."
Feinstein, the oldest member of the Senate, the longest-serving female senator and the longest-serving senator from California, announced in February that she planned to retire at the end of 2024, when her term is up. She had faced calls for her resignation over concerns about her health.
"In San Francisco, she showed enormous poise and courage in the wake of tragedy, and became a powerful voice for American values. Serving in the Senate together for more than 15 years, I had a front row seat to what Dianne was able to accomplish," President Joe Biden said in a statement. "Dianne made her mark on everything from national security to the environment to protecting civil liberties. She's made history in so many ways, and our country will benefit from her legacy for generations."
Biden ordered flags to be lowered at the White House to honor Feinstein.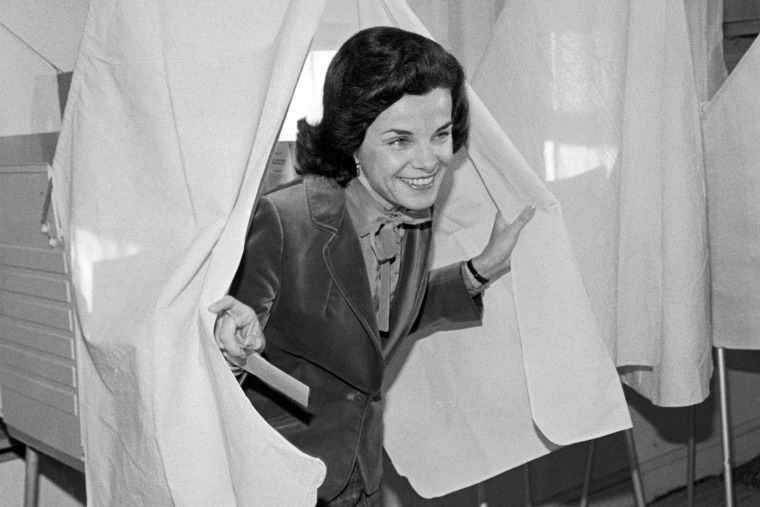 Feinstein's Senate colleagues paid tribute Friday on the Senate floor, where her seat was covered by a black cloth. Majority Leader Chuck Schumer called Feinstein "one of the most amazing people who ever graced the Senate, whoever graced the country."
"She was smart. She was strong. She was brave," he added. "She was compassionate, but maybe the trait that stood out most of all was her amazing integrity — her integrity was a diamond."
After Feinstein missed votes in late February, her spokesperson said on March 1: "The senator is in California this week dealing with a health matter," and "hopes to return to Washington soon." She last voted on Thursday morning, according to the website that tracks Senate votes.
The California Democrat was a vocal advocate of gun control measures, championing the assault weapons ban that then-President Bill Clinton signed into law in 1994, and pushing for restrictive laws since the ban's expiration in 2004.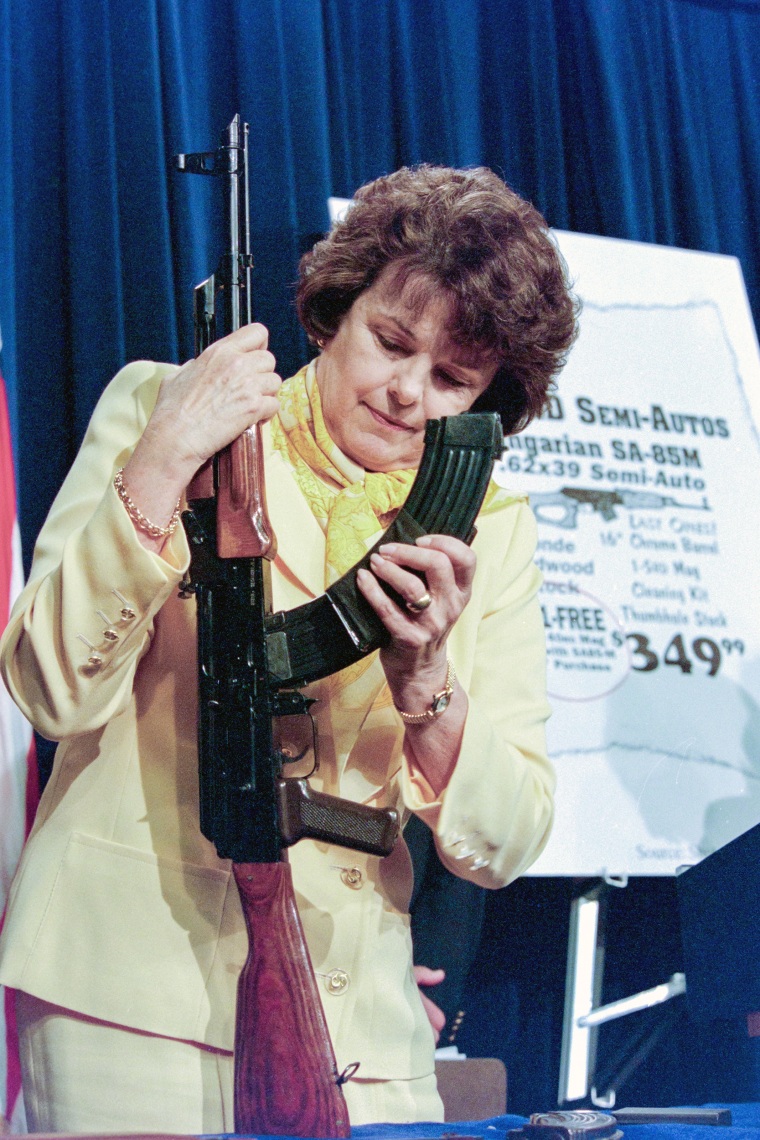 As chairwoman of the Senate Intelligence Committee, Feinstein led a multiyear review of the CIA's detention and interrogation program developed after the Sept. 11, 2001, terrorist attacks, which led to legislation barring the use of those methods of torture. 
A centrist Democrat, she was known for trying to find common ground with Republicans, sometimes drawing criticism from her party's liberal members. She parted from them on a number of issues, including opposing single-payer, government-run health care and the ambitious Green New Deal climate proposal, which she argued was politically and fiscally unfeasible.
Those tensions with progressives built to a head during the confirmation hearings for Supreme Court nominee Amy Coney Barrett in October 2020 when Feinstein hugged Senate Judiciary Committee Chairman Lindsey Graham, R-S.C., and thanked him for how he had conducted the hearing. The move prompted swift calls for Feinstein's ouster as the ranking member of the panel, and she ultimately did step down.
Feinstein preferred following Senate traditions than changing them, though she voiced openness in 2021 to potentially altering filibuster rules if Democrats were unable to pass key parts of their legislative agenda, including voting rights reforms, gun control and a reauthorization of the landmark Violence Against Women Act.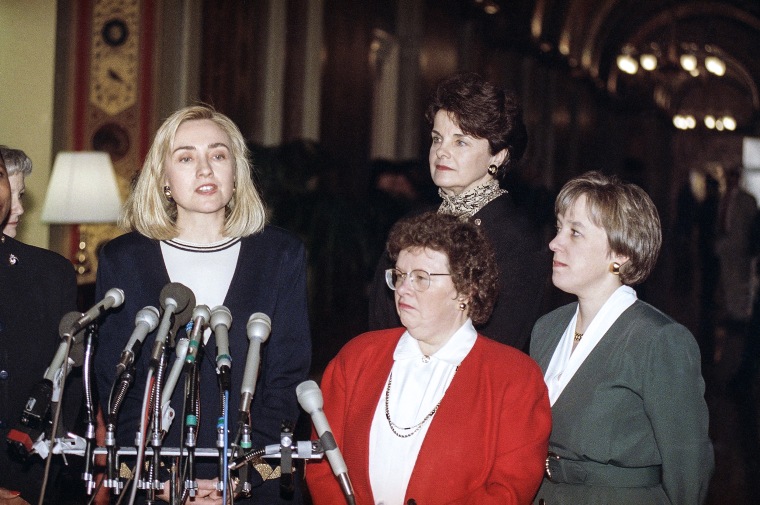 Feinstein faced some pressure to resign in recent years to make way for younger lawmakers. Last April, Feinstein pushed back against a news report in the San Francisco Chronicle citing multiple anonymous colleagues expressing worries that she was mentally unfit to serve. "I remain committed to do what I said I would when I was re-elected in 2018: fight for Californians," she said then. 
Democratic Reps. Katie Porter, Adam Schiff and Barbara Lee are running for Feinstein's seat.
Feinstein was hugely influential in state and national politics, and her support held great weight. She expressed to California Gov. Gavin Newsom, for example, that she wanted Alex Padilla, then California's secretary of state, to fill Kamala Harris' seat in the Senate after Harris was elected vice president, a request that Newsom fulfilled. 
Newsom is expected to appoint a temporary successor to fill Feinstein's seat. He previously told NBC News he wouldn't choose any of the 2024 candidates to avoid tipping the scales.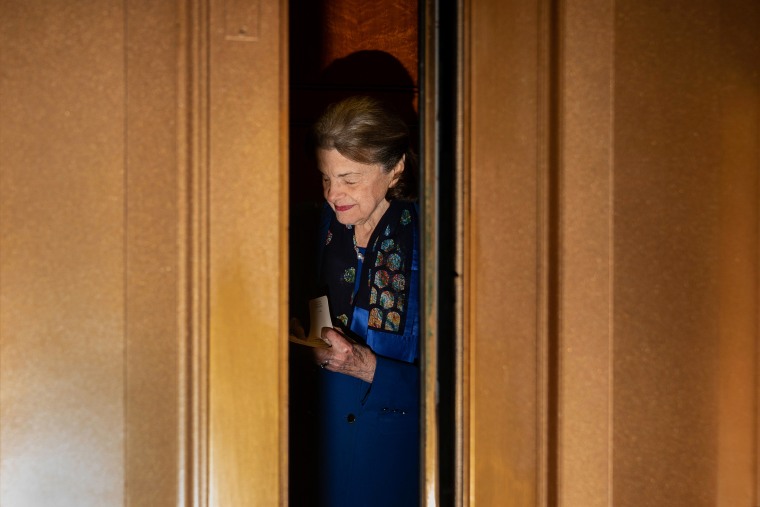 Before her election to the Senate in 1992, tragedy helped fuel her rapid rise in San Francisco and California politics. On Nov. 27, 1978, Feinstein, then-president of the San Francisco Board of Supervisors, became acting mayor following the assassinations of Mayor George Moscone and city Supervisor Harvey Milk, the first gay elected official in California. She later became the first woman elected mayor of San Francisco.
In fact, it was Feinstein who made the shocking announcement of the assassinations on the steps of City Hall. Three decades later, she was portrayed in the film "Milk," starring Sean Penn.
Thrice married, Feinstein was predeceased by her husband, investment banker Richard Blum, who died last year. She is survived by her daughter, Katherine Feinstein, a San Francisco County Superior Court judge; her son-in-law, Rick Mariano; and her granddaughter, Eileen Feinstein Mariano.