WASHINGTON — There are few pieces of paper more powerful than a Senate "blue slip," which gives individual senators near-veto power over nominees to federal courts.
But they may now be losing their power, clearing the way for President Donald Trump to remake the federal judiciary in his image and potentially changing the way the Senate and the courts operate for years.
The power of blue slips can be traced back to 1917, when Georgia Democratic Sen. Thomas Hardwick was the first known senator to use the form to object to a nomination, according to the Congressional Research Service. On a light blue sheet of paper soliciting his opinion on President Woodrow Wilson's pick for a Georgia judgeship, Hardwick called U.V. Whipple "personally offensive and objectionable to me." The Senate rejected the nomination, and blue slips evolved from there.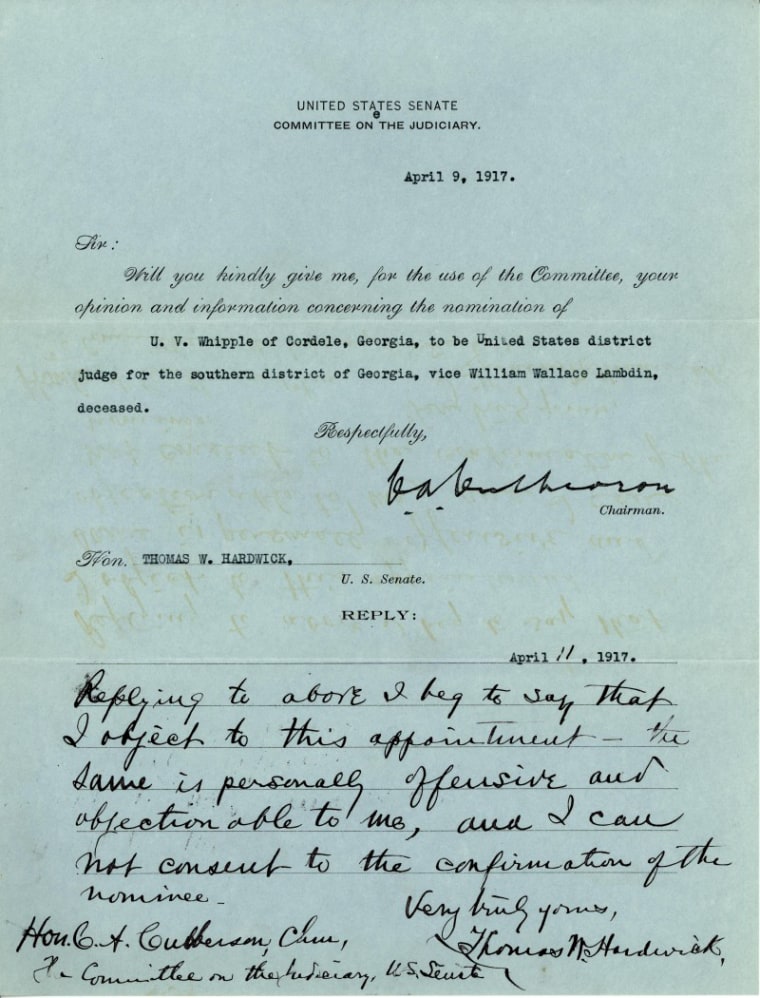 Depending on which side of the aisle one sits, eliminating blue slips would either be a cynical power grab or a necessary fix to overcome obstruction. Either way, changing the arcane rules around these obscure pieces of paper would be "a titanic shift," as Sen. Dianne Feinstein, D-Calif., to the top Democrat on the Judiciary Committee, wrote in a memo.
Blue slips, which have been used for decades, are just forms — yes, they're printed on blue paper — that senators use to signal their approval for judicial nominees from their home state. When both senators from a state return their blue slips to the Senate Judiciary Committee, that's a green light to start the confirmation process.
Withholding a blue slip, however, signals opposition and is generally a death sentence for a nomination. No reason needs to be given when a senator withholds a slip.
Since 1979, the Senate has confirmed over 2,000 judges to federal district and appeals courts. Just three of those were confirmed over the objection of one home state senator, according to the Congressional Research Service. None were approved when both home state senators objected and declined to return their blue slips.
Republicans effectively and systematically wielded blue slips to block many of Obama's court picks, leaving behind over 100 vacancies that Trump gets to fill.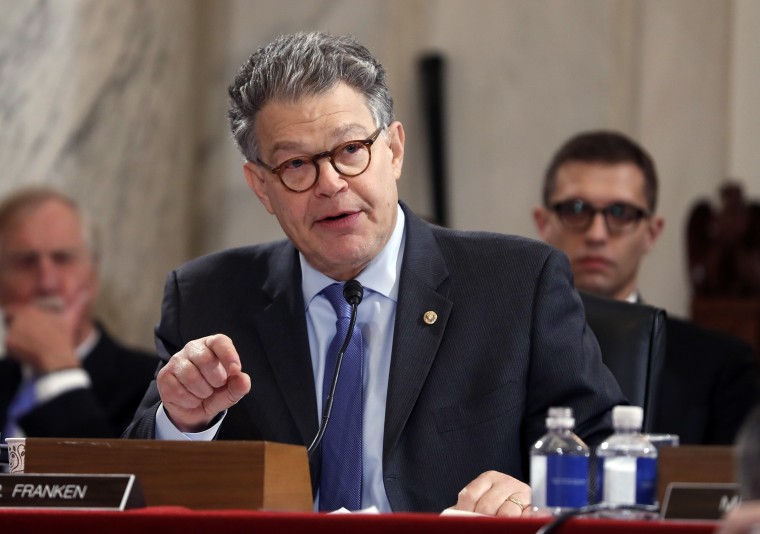 It's unclear how many of Trump's picks are being held up by Democrats today, but one case involving Sen. Al Franken, D-Minn. has already become a flashpoint. In a rare public spat over blue slips, the conservative Judicial Crisis Network is running ads saying Franken should "stop being petty -- grow up" and return his blue slip for Eighth Circuit Court nominee David Stras.
Now, Senate Majority Leader Mitch McConnell wants to de-fang blue slips to speed the process and deprive Democrats of their only remaining tool to block Trump's court picks.
McConnell has expressed interest in neutering blue slips for months, and last week sent his clearest message by telling the Weekly Standard that he wants blue slips to be used as "simply notification of how you're going to vote, not as an opportunity to blackball."
That set off alarm bells among Democrats, who no longer have the ability to filibuster judicial nominees.
"It's a naked power grab to pack the bench with young right-wing judges who will turn the clock back on civil rights, worker rights and women's rights," said Nan Aron, the president of the Alliance for Justice, a liberal judicial advocacy group. "Blue slips are the only real tool in Democrats' toolbox."
Nothing is changing quite yet, said a spokesperson for Senate Judiciary Committee Chairman Chuck Grassley, R-Iowa, who has ultimate say on the matter.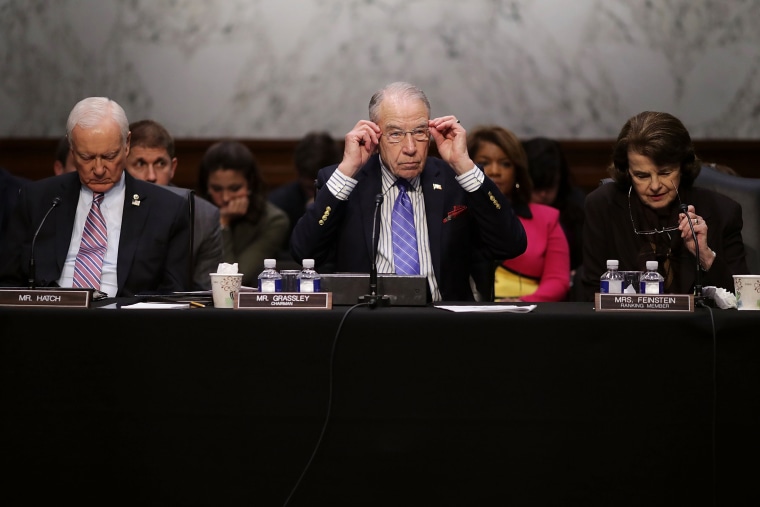 "The Chairman of the Judiciary Committee will determine how to apply the blue slip courtesy for federal judicial nominees, as has always been the practice," said Grassley aide Taylor Foy.
But McConnell has made his preference clear and showed a willingness to break with precedent this year by eliminating the filibuster for Supreme Court nominees, so some observers think blue slips' days are numbered.
Naturally, however, it was Democrats who groused about the obstructionist powers of the Senate when Obama was in the White House. And it was McConnell who wrote a letter to that president warning not to mess with blue slips.
If the power shifts again in Washington, so the parties' views on blue slips are likely to follow too. So Democrats are hoping to save them now by reminding Republicans that the tables may turn in the future.