WASHINGTON — On Tuesday, some lawmakers had a message for the president following his latest comments suggesting that he hadn't ruled out firing special counsel Robert Mueller: If Mueller's job isn't safe, yours might not be so comfortable either.
Congressional Democrats warned that the president was further setting the stage for Mueller's termination, with Trump indicating Monday he still had not ruled out the move, and his staff reiterating Tuesday that he believed he had the authority to do so.
But most Republicans who spoke publicly still said the president wouldn't fire the special counsel or Deputy Attorney General Rod Rosenstein because he was aware of the consequences such moves could set in motion. And GOP leaders said there was still no need for Congress to pass legislation to protect Mueller.
Trump has no authority to directly fire Mueller — Rosenstein has that power — though the president could initiate the process by first getting rid of Rosenstein.
Sen. Chuck Grassley, R-Iowa, chairman of the Senate Judiciary Committee, said on the Fox Business Network on Tuesday that he had "confidence" in the special counsel and that "it would be suicide for the president to fire Mueller."
Sen. John Kennedy, R-La., said he thought Trump was "too smart" to get rid of Mueller. "I think it would provoke some sort of reaction by Congress. I think he knows that," Kennedy said on CNN's "New Day," adding that "the president can't just fire Mr. Mueller. He's got to direct Mr. Rosenstein to fire him, and I don't think Mr. Rosenstein would do it."
Sen. Bob Corker, R-Tenn., said it would be "inappropriate" for Trump to dismiss either Mueller or Rosenstein. "I think it would be a massive mistake for the president to do anything to interfere with this investigation," said Corker, adding, "he knows most every Republican senator feels that way."
And Sen. Lindsey Graham, R-S.C., also said Tuesday that he didn't think Trump was likely to dismiss either man because he knew "it would be the beginning of the end of his presidency."
Graham is a co-sponsor of one of two bipartisan Senate bills introduced last August that would seek to protect Mueller's position. The measure he proposed with Sen. Cory Booker, D-N.J., would ensure that any action to remove a special counsel would have to be reviewed by a panel of federal judges. A similar bill proposed by Sens. Thom Tillis, R-N.C., and Chris Coons, D-Del., would allow the special counsel to challenge his or her removal in court before a three-judge panel.
Neither of those bills has come up for a vote.
Trump lashed out at Mueller on Monday evening ahead of a meeting with his military leadership after news broke that the FBI had raided the office of his personal attorney, Michael Cohen. The president was asked why he won't fire Mueller, whose office referred the case involving Cohen to federal prosecutors in New York.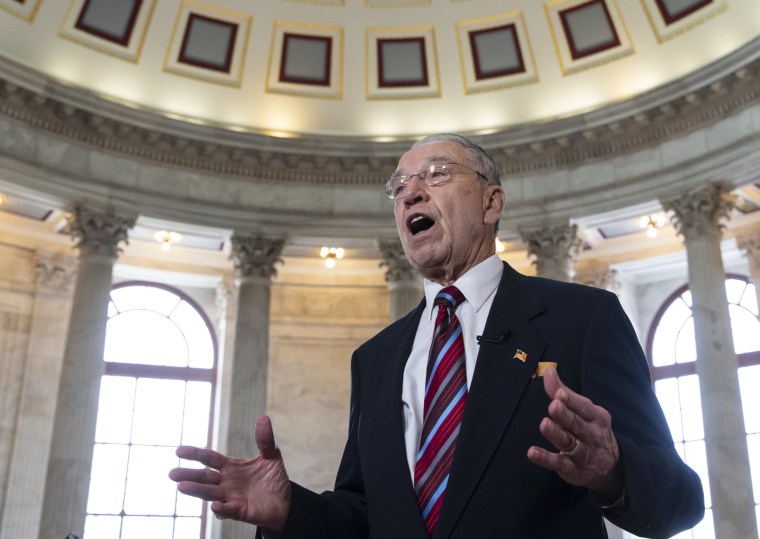 "I think it's a disgrace what's going on," Trump told reporters at the White House. "We'll see what happens. But I think it's really a sad situation when you look at what happened. And many people have said, 'You should fire him.' Again, they found nothing."
On Tuesday afternoon, White House Press Secretary Sarah Huckabee Sanders reiterated that the president "certainly believes he has the power" to fire Mueller.
Mueller's investigation is ongoing, and only Republicans on the House Intelligence Committee have released a report stating that they had not found evidence of collusion between Russia and members of the Trump presidential campaign.
Despite the warnings, there was no early sign that Trump's Monday remarks had given any fresh momentum to proposals to protect the special counsel.
Senate Majority Leader Mitch McConnell, R-Ky., said Tuesday he hadn't "seen clear indication yet that we have to pass something to keep him from being removed, because I don't think that's going to happen." Sen. John Thune, R-S.D., the Senate Republican Conference chairman, agreed: "I don't know that us legislating on that is the right path forward."
Sen. Joni Ernst, R-Iowa, asked if legislation is necessary to prevent Mueller from being dismissed, said "no, because I don't think the president's going to do it — and do you think the president would sign that legislation?"
Democrats said Congress couldn't trust Trump to leave Mueller in place, calling for more concrete action.
"I beseech my colleagues on both sides of the aisle to stand up and say what President Trump is doing is wrong," Senate Minority Leader Chuck Schumer, D-N.Y., speaking on the Senate floor Tuesday morning. "Make it clear that firing Mueller or interfering in his investigation would be a red line and a threat to our constitutional order."
Sen. Richard Blumenthal, D-Conn., said Monday evening that the raid raises the stakes for Trump — and that the president is likely to be angrier and act more "impulsively ... than he has been so far."
"And we have a very important responsibility — in fact, more important than ever — to protect the special counsel" he said. "To send a message to the president of the United States that we will not tolerate any interference whatsoever, because the stakes have been raised for him."