Democratic hopes for control of the Senate might come down to an unlikely Southern state that hasn't elected someone from their party in a statewide race in 12 years: Tennessee.
Tennessee is looking at a tight Senate race on Tuesday, with former Gov. Phil Bredesen, a popular moderate Democrat with an independent streak, and Rep. Marsha Blackburn, a conservative Republican representing a largely rural district who has aligned herself wholeheartedly with President Donald Trump, running neck and neck in the race to replace retiring GOP Sen. Bob Corker.
In an election cycle where many contests have been about Trump, this one has been squarely about the candidates. And Bredesen, a known quantity across the state — and a well-liked one among many Republicans and independents to boot — strongly benefits from that, according to experts.
"It's tight because Phil Bredesen is a singularly popular Democrat in this state. I think any other Democrat would be behind by 15 to 20 points," Anthony Nownes, a professor at the University of Tennessee-Knoxville, told NBC News. "Few voters associate Bredesen with the national Democratic Party, and he has worked hard to present himself to voters as a competent problem-solver rather than a partisan. He has bona fides because as governor he was very centrist."
Experts and strategists who have watched the race say it shouldn't be this close. Trump won the state by 26 points in 2016 and remains popular among Tennesseans (56 percent of likely voters gave him a thumbs-up in a recent NBC/Marist poll). Blackburn has fully embraced him in her messaging and at her rallies.
At a Sunday night rally in Chattanooga — his third in Tennessee in recent weeks — Trump told the crowd, "We have to get Senator Marsha Blackburn in office as soon as we can." Blackburn, in turn, thanked the crowd for sending Trump and Vice President Mike Pence to the White House and praised them for having "had quite a 21 months."
Despite that, Blackburn, 66, a 15-year veteran of Congress who appears frequently on Fox News, barely edged Bredesen in two recent polls, including the NBC/Marist poll on Tuesday, which had her beating him among likely voters 51 percent to 46 percent, within the margin of error. The Cook Political Report listed the race a toss-up.
"Bredesen has a history of attracting Republican and independent voters. People know he's a moderate to conservative Democrat, and they really like that about him," said Bruce Oppenheimer, a political science professor at Vanderbilt University. "He's said he'll work with Trump when he thinks he's right and will oppose him when he thinks he's wrong."
"He's just not a polarizing figure, which is the opposite of Blackburn," Oppenheimer added.
The campaigns have reflected those perceptions, with issues like tariffs, health care and the opioid epidemic — which were prominent earlier in the race — taking a backseat down the home stretch.
"This race is distinctive because of the candidates ... and the tone of the campaigns has been very different," Tom Ingram, a Tennessee Republican strategist, told NBC News. "Hers has been more akin to a base campaign or a district congressional campaign. It is a Fox (News)-based campaign."
"Bredesen's campaign is (about) what he is known for running. A not very partisan, tonally moderate and conciliatory and 'let's get things done' approach," Ingram added. "He has walked the Trump line well and he has walked the nonpartisan line well."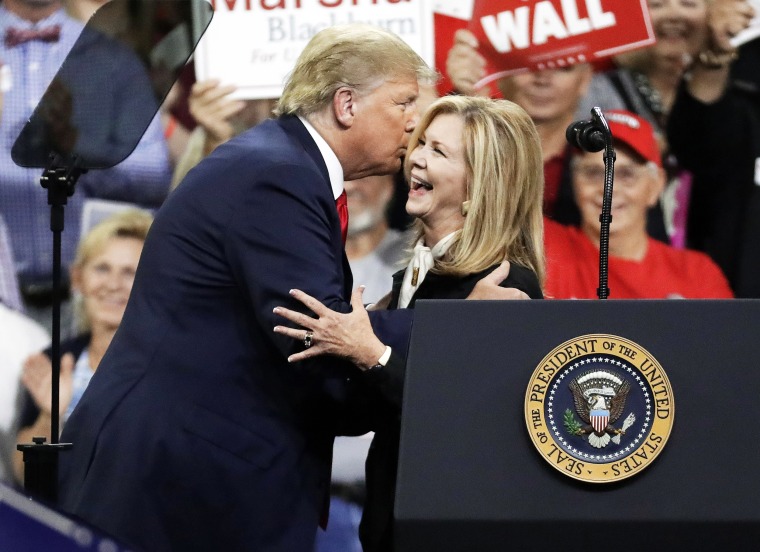 Bredesen supported the president's nomination of Brett Kavanaugh to the Supreme Court, and remained steadfast, even as the judge faced allegations of sexual assault — a move race-watchers said drew plaudits among Republicans and independents. He also distanced himself from national Democrats, saying in September that he wouldn't support Sen. Chuck Schumer, D-N.Y., for majority leader if Democrats took back the Senate — countering attacks from Blackburn that he would act in lockstep with his party's leaders.
Meanwhile, Blackburn has in recent weeks has echoed much of the president's harsh rhetoric on immigration, in what race-watchers have said is a bet that the border security issue will motivate Tennessee voters.
TV ads have bombarded Tennessee voters, with outside groups spending millions. The candidates themselves are roughly even in their own fundraising. Bredesen had raised more than $16 million and spent more than $15 million as of Oct. 17, according to FEC filings, while Blackburn had raised nearly $13 million and spent about $12 million.
Experts expect that Blackburn will no doubt win over her base, but risks losing valuable moderate GOP and independent voters to Bredesen. As an example, many pointed to Corker's own lukewarm support of Blackburn. The departing Republican senator told CNN in April that while he would endorse her, Bredesen was "my friend" and that he was "not going to campaign against him."
"Bredesen wants to make it about him, and has made it about him," said Josh Clinton, a political science at Vanderbilt University and a senior election analyst at NBC News. "And because of that, he has a real shot."