Seeking to put some presidential muscle behind the Senate's troubled attempt to repeal Obamacare, President Donald Trump on Monday touted the benefits of an upcoming replacement bill. NBC News fact checked the president's remarks during an event with what the White House called "victims" of the Affordable Care Act. Here's what he got right, and wrong.
Trump: "The Senate is very close to the votes it needs to pass a replacement."
Senate Republican leaders say they are planning to hold a vote to start debate on a health care bill on Tuesday. But nobody is sure what bill they'll be asked to support on a final vote: The most recent Senate bill proposed by leadership ran aground after four GOP senators announced they would oppose it.
If they can't agree on a replacement, Senators may instead vote on a bill to repeal Obamacare after two years without naming a replacement, but three Republican senators also oppose that approach, enough to block its passage as well.
Trump: "The problem is we have zero help from the Democrats. They're obstructionists, that's all they are."
As the president mentioned, Republicans don't need Democratic votes to pass a bill. Senate leaders never made a significant effort to court them, relying instead on small working groups of Republicans to craft a bill behind closed doors.
Democratic leaders have said they are willing to work on health care so long as Republicans drop plans for any legislation that substantially repeals Obamacare or reduces Medicaid spending. A number of Democratic senators have instead offered to work on modest tweaks to Obamacare, like a bill that would allow people in counties without an insurer to buy from the same exchange as members of Congress.
Trump: The Senate bill "will provide emergency relief for the laws' victims."
The latest Senate GOP bill — although there is no final version yet — contained $158 billion in funding that states could use for a variety of purposes, like lowering premiums, according to the Congressional Budget Office.
However, the money is temporary and more than offset by reductions in spending elsewhere: The measure would reduce spending on subsidies to purchase private insurance and lower deductibles by $396 billion over a decade and reduce spending on Medicaid by $756 billion over a decade in comparison to Obamacare.
Trump: "The Senate bill protects coverage for pre-existing conditions."
Fact checking this statement is made harder by the fact there is no final bill. But it's expected that any replacement will include a proposal by Sen. Ted Cruz, R-Texas, that would allow insurers to sell less-regulated plans that could charge people with pre-existing conditions higher premiums or block them from joining — two practices that are banned under Obamacare.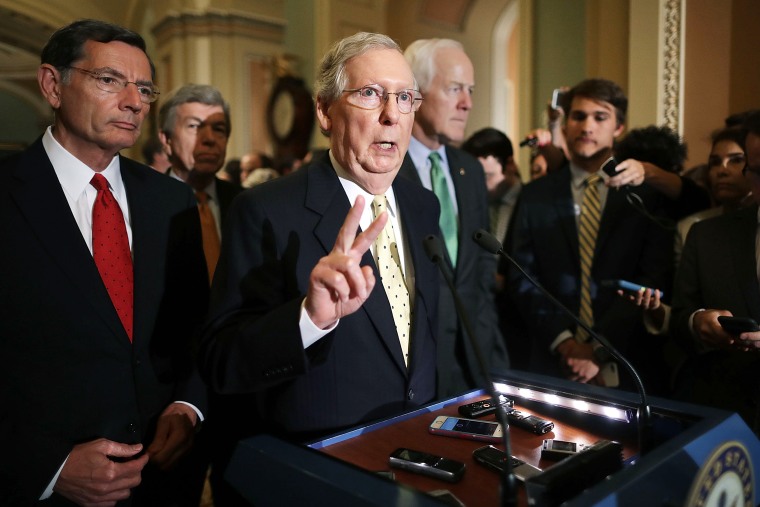 Under this system, customers could still purchase coverage that keeps Obamacare's protections for pre-existing conditions, but health experts and the nation's top insurance lobby, AHIP, warn these people would pay significantly higher premiums. The CBO has yet to evaluate the proposal.
Trump: "The Senate bill eliminates the painful individual mandate. It eliminates the job-killing employer mandate, repeals other burdensome taxes, and will significantly lower Americans premiums."
Every version of the Senate bill proposed so far would eliminate Obamacare's penalty for Americans who do not purchase insurance and for employers who do not offer it. The latest proposal eliminates a series of taxes on medical companies, but leaves in place the law's taxes on high-income households.
The most recent CBO score found that premiums would rise through 2020 under the latest Republican bill, but would drop 25 percent by 2026 in comparison to Obamacare. That score did not include the Cruz amendment, which could potentially have dramatic effects on premiums and what plans would cover.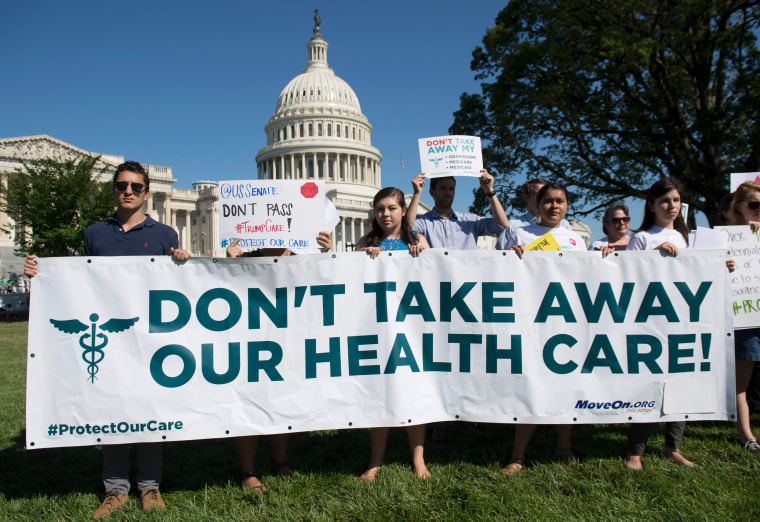 The reduction in premiums also doesn't factor in federal subsidies to buy insurance, which are made less generous under the Senate bill. A Kaiser Family Foundation study of a June version of the bill found the average person buying an individual plan would pay 74 percent more in premiums for coverage comparable to a benchmark plan under Obamacare.
Trump: Obamacare has caused "nothing but pain," the president said, later adding: "Obamacare is death, because it's failing." He concluded that Obamacare has "broken our healthcare system, it's broken, it's collapsing, it's gone."
Millions of people are still getting coverage through Obamacare's exchanges and its Medicaid expansion: The uninsured rate recently rose to 11.7 percent, according to Gallup, but is still far below its pre-Obamacare peak of 18 percent in 2013.
Despite claims Obamacare is "collapsing," there's little evidence of an imminent failure.
The CBO has indicated Obamacare exchanges are stabilizing, although it suggested some sparsely populated areas may struggle to find insurers. Nor did it find various Republican replacements would make markets significantly more stable. A study by the nonpartisan Kaiser Family Foundation found insurer profits were up this year, which mirrored predictions by S&P Global Ratings that markets were likely to stabilize in the short term.
There is still significant turmoil looming for next year, however, including a handful of counties with no insurers lined up yet. But part of this has to do with Trump himself: Some insurers have said they plan to charge higher premiums because the White House and Congress won't clarify whether they will make payments owed to insurers for lowering deductibles, among other concerns about their management of the law.