WASHINGTON — Manuel Oliver, the father of a 17-year-old victim of the 2018 Parkland, Florida, school shooting, was arrested Thursday on Capitol Hill after he appeared to shout at a Republican lawmaker who was speaking at a hearing on gun regulations.
Rep. Maxwell Alejandro Frost, D-Fla., a 26-year-old freshman who is also a survivor of gun violence, tweeted a video of officers detaining a man he identified as Oliver.
Rep. Pat Fallon, R-Texas, said afterward that some people "were disruptive during the hearing."
"We asked Capitol Police to remove them. They were then removed, and then one decided to come back in while we were still gaveled in and disrupted the hearing," he said. "That's when we had a recess. Capitol Police were overwhelmed outside in the hallway, and now we're back in session."
U.S. Capitol Police said in a statement: "Around noon, a man was arrested for D.C. Code §22-1307 (crowding, obstructing, or incommoding) after he disrupted a hearing."
In a subsequent statement, a police spokesperson said the man was arrested because he "refused to stop shouting" after he was removed and "then attempted to go back inside the hearing room."
"This is a citation release arrest, which means the man was not put in jail," the spokesperson said, adding that a "woman who also disrupted the hearing was not arrested because she followed the lawful directions of our officers."
In the video tweeted by Frost, a woman yells: "Let my husband go!" A Democratic aide with knowledge of the situation said Oliver and his wife, Patricia Oliver, attended the hearing.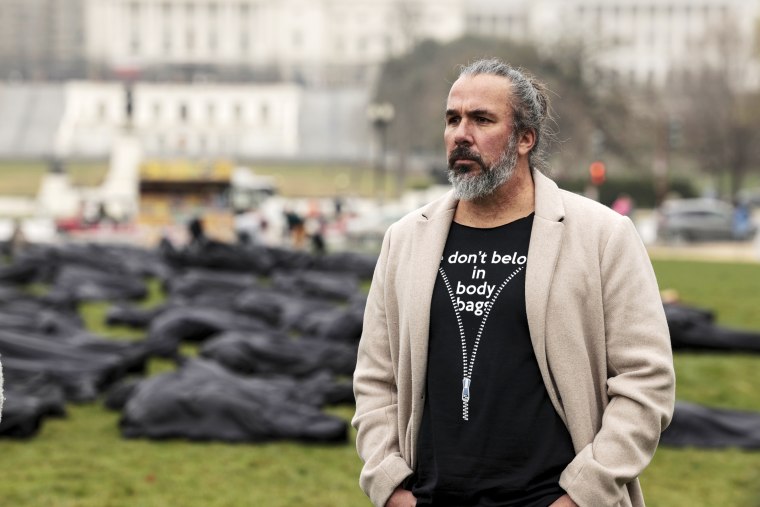 The House Judiciary Committee hearing, titled "ATF's Assault on the Second Amendment: When is Enough Enough?" elicited a spirited debate over gun deaths and firearm regulations.
Fallon was asking panelists a series of questions aimed at arguing that guns are "merely a tool" and shouldn't be banned, any more than cars or alcohol should be banned when they're misused and cause deaths.
A man in the room could be heard yelling and interrupting him.
Fallon looked across the room and said: "Is this an insurrection? So will they be held to the same — I don't want another Jan. 6, do we?"
Rep. David Cicilline, D-R.I., jumped in to say: "If they're trying to overthrow the government, they ought to be held to the same standard. But I think they're trying to express their views."
Fallon fired back to say Cicilline was "out of line."
Fallon continued to speak and was interrupted again. "Does the Capitol Police not do their jobs?" a frustrated Fallon said. "What the hell's going on?" He then recessed the hearing, before the arrest appeared to take place, and continued it afterward.
Later, Frost tweeted: "Manuel and Patricia Oliver were just kicked out of this committee hearing on gun violence. Patricia said one thing and the chair escalated the entire situation. Then, Police arrested Manuel Oliver who lost his son in the Parkland shooting. His son was shot to death."