A former aide to Rep. Bobby Scott on Friday accused the Virginia Democrat of sexual misconduct and said he fired her after she rebuffed his alleged advances.
At a press conference, Macherie Reese Everson, who goes by Reese, said that Scott touched her inappropriately on two occasions in 2013 and that he flirted with her.
Everson said that when she declined the overtures, she was "retaliated against" by being fired.
Scott strongly denied the accusations and his office says he did not terminate Everson. His office said she left with a letter of recommendation from the congressman, and then went to the House Financial Services Committee, which dismissed her. She was eventually dismissed by the Congressional Black Caucus Foundation, Scott's office said, which employed her as a fellow.
Everson said the conduct occurred when she was a Congressional Black Caucus Foundation fellow working in Scott's office, when she was "touched inappropriately" by the lawmaker on her back and knee on two separate occasions and that he once invited her to join him at an event in California.
She said Scott asked her, "If you go, are you going to be good?"
"And I said, yeah," Everson said. "He said, 'Well, if you're going to be good, what's the point of you coming?'"
Scott then became angry, Everson said, adding that there was "no physical contact" during that interaction.
After she rebuffed the advances, Everson said she was "wrongfully terminated."
"I was prevented from moving forward in my career because I attempted to run from a situation that was sexually inappropriate, where I had been propositioned to have a sexual relationship with my boss that I did not want," she said at the press conference.
Everson's attorney, Jack Burkman, called on Scott to resign for the House to launch an Ethics Committee investigation into the lawmaker.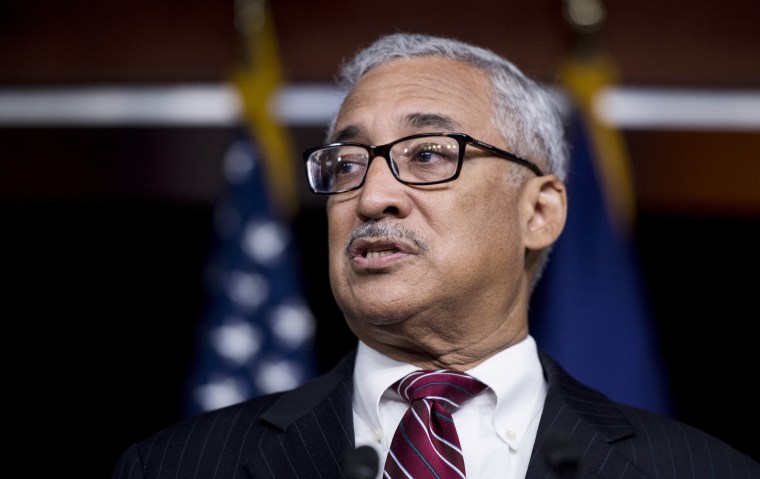 Scott strongly denied Everson's allegations in a statement.
"I absolutely deny this allegation of misconduct. I have never sexually harassed anyone in my 25 years of service in the United States Congress, or in my 40 years of public service, or at any other time," Scott said. "Sexual harassment and assault are serious issues deserving of critical attention and review. No one should be subjected to sexual harassment or be treated unfairly."
"The recent national discussion about sexual harassment is valued and important to our work to continue to make the workplace free from harassment and discrimination. False allegations will squander this momentous opportunity for dialogue on meaningful change in the workplace," Scott added. "I am confident that this false allegation will be seen for what it is when the facts are adequately reviewed."
At her press conference, Everson said she'd filed a complaint with the District of Columbia Office of Human Rights in 2015 about the alleged behavior. She said the complaint "went into mediation" and she withdrew it earlier this year.
Last month, Everson said during an interview with Fox News that she'd been sexually harassed by a member of Congress but didn't name the member.
Weeks later, Everson and her attorney called a news conference, where she had intended to reveal her allegations publicly, but canceled it at the last minute. Everson said Friday she canceled the original news conference because she "couldn't find the courage."
Everson's claim Friday that Scott touched her "inappropriately" marked a change from how she had described the incidents previously.
In a 2015 book titled, "The B.A.B.E.'S Guide to Winning in the Workplace: You Don't Have to Compromise," Everson wrote about the alleged incidents, explaining that Scott's "approach involved no physical contact" and that "the harassment did not take a physical form." She also said in an October speech that nothing physical occurred between Scott and her.
Everson, however, explained the discrepancy at her press conference Friday, saying that she had previously "dismissed" the incidents because she "didn't want to believe there was anything to it."
In addition, Everson alleged in a 2011 lawsuit that she'd been fired from the City of Chicago's Office of Inspector General after she declined sexual advances by the office's chief investigator, according to USA Today. Everson withdrew the suit in 2012.
CORRECTION (Dec. 15, 2017, 4:55 p.m.): An earlier version of this article misstated the organization where Macherie Reese Everson worked as a fellow. It was the Congressional Black Caucus Foundation, not the Congressional Black Caucus.