A Republican senator's blockade on hundreds of military promotions could inflict widespread damage on troops and their families and prompt some to leave the armed forces, President Joe Biden's nominee for chairman of the Joint Chiefs of Staff told lawmakers on Tuesday.
"We will lose talent" because of the problems caused by the block on promotions, Air Force Gen. Charles "CQ" Brown Jr., the president's pick to serve as the country's top military officer, told the Senate Armed Services Committee. 
Brown said the holds on nominations could affect readiness, with less experienced deputies having to take up leadership positions temporarily, and discourage junior officers from staying in the military while creating financial and logistical burdens for troops' families.
"We have strong deputies, but at the same time, they don't have the same level of experience going forward," Brown said.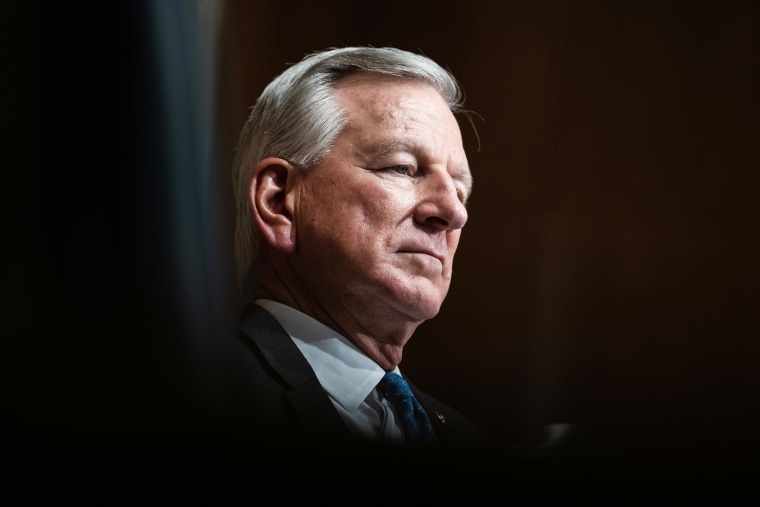 Hundreds of military promotions, which are usually routinely approved by Congress, have been blocked by Sen. Tommy Tuberville of Alabama, who says he opposes the use of government funds to cover travel costs for service members getting abortions. A spokesperson for Tuberville told NBC News in May, when Biden's pick was announced, that the hold would also apply to Brown officially assuming the post of Joint Chiefs chair.
The term of the current chief, Army Gen. Mark Milley, ends in October.
Brown said the blockade could have an impact on troops' "progression in their career field potentially, because if one doesn't get promoted or move on, then they're blocking a spot for someone else." 
As many as 650 leadership positions may be vacant by year's end if the holds continue, according to Pentagon spokesperson Sabrina Singh. As a result of the blockade, the Marine Corps is without a confirmed chief for the first time in more than 100 years. The commandant stepped down Monday as his four-year term ended, and his deputy has assumed his duties.
Democratic senators at the hearing blasted Tuberville over the block on promotions, saying service members are being punished for policies they are not responsible for. 
"I'm unaware of anything that the Marines have done that would warrant being punished in this way," said Sen. Tim Kaine of Virginia. "I'm unaware of anything that the Marines have done that would warrant being disrespected in this way, having their leadership hobbled in this way."
Sen. Elizabeth Warren of Massachusetts called Tuberville's blockade "reckless" and said that he was holding hundreds of troops "hostage."
At his turn at the hearing, Tuberville did not raise the issue of his holds on nominations and told Brown he was ready to be helpful in any way.
Warren later had a message for Tuberville: "What he could do to help is lift this stay before it does more damage to our country." 
Although lawmakers from both parties praised Brown's qualifications to be the next Joints Chief chairman, some Republican senators focused on the military's effort to promote diversity in its ranks, accusing the Pentagon of embracing leftist ideology. 
Sen. Eric Schmitt of Missouri alleged that the Defense Department was pursuing "cultural Marxism," citing an Air Force memo from 2022 that set targets for diversity in its ranks.