WASHINGTON — Two Republican senators have announced they oppose President Donald Trump's controversial pick to become the nation's top regulator of toxic chemicals, putting his nomination in serious jeopardy.
Sens. Richard Burr and Thom Tillis, both of North Carolina, said Wednesday they could not support Michael Dourson to lead the Environmental Protection Agency's office of chemical safety, citing concerns about his record. If a third Republican senator comes out against Dourson, Democrats would be able to block his confirmation if the entire caucus opposed him.
Dourson has elicited a fierce backlash from Democrats and public-health advocates for his long record of industry-funded research, which chemical manufacturers have used to downplay the risks of potentially hazardous substances. Burr and Tillis said that Dourson's work fueled their opposition to his nomination.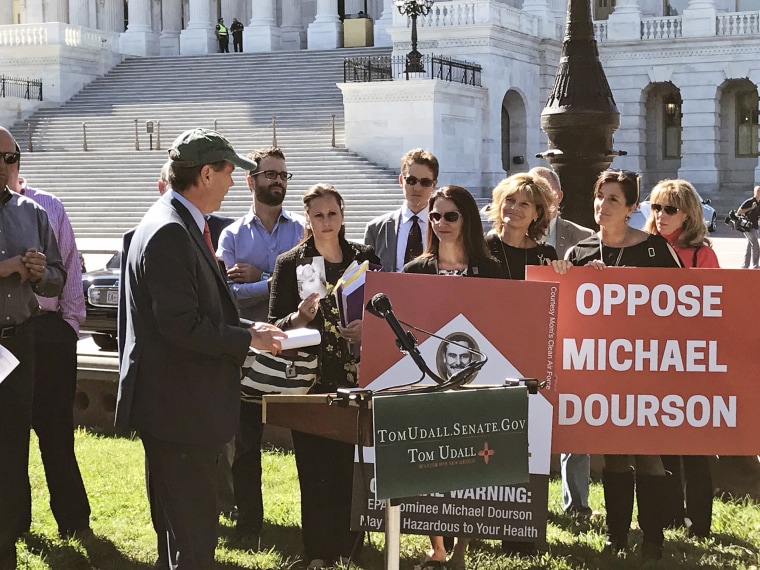 "Over the last several weeks, Senator Tillis has done his due diligence in reviewing Mr. Dourson's body of work. Senator Tillis still has serious concerns about his record and cannot support his nomination," said Tillis spokesperson Daniel Keylin.
Burr said in a statement, "With his record and our state's history of contamination at Camp Lejeune as well as the current GenX water issues in Wilmington, I am not confident he is the best choice for our country."
Sen. Susan Collins, R-Maine, who regularly bucks her own party on votes, said Thursday that she is "leaning against" supporting Dourson.
"I have a lot of concerns about Mr. Dourson, and I have not yet made a final decision," she told reporters. "But I certainly share the concerns that have been raised by Senator Burr and Senator Tillis."
The Senate has yet to schedule a floor vote on Dourson's confirmation. The EPA declined to comment on Burr and Tillis' decision to oppose him.
Dourson has conducted industry-funded research on trichloroethylene, a known human carcinogen that contaminated the drinking water at Camp Lejeune, a North Carolina military base. Earlier this year, the federal government promised to pay more than $2 billion in disability benefits to veterans exposed to the toxic drinking water at Lejeune, which was contaminated by TCE and benzene, among other chemicals.
Dourson also helped defend DuPont after the chemical giant was sued for exposing West Virginia residents to PFOA, a chemical linked to cancer that the company used to make Teflon. DuPont has since introduced GenX to replace PFOA, but the new chemical has recently raised concerns after high levels were found in North Carolina's drinking water.
At his October confirmation hearing before the Senate Environment and Public Works Committee, Dourson defended his work as "sound science" and drew praise from GOP committee chair Sen. John Barrasso, R-Wyo., who called him as "highly qualified" for the job.
But other Republican legislators have remained non-committal since the committee advanced Dourson's nomination last month.
"As he has with all of the Trump administration's nominees, Rob will thoroughly review his record prior to a vote on the Senate floor," said Emily Benavides, a spokesperson for Sen. Rob Portman,R-Ohio.