A Republican senator said on Sunday that her colleagues plan to "start from scratch" when the House's American Health Care Act goes to the Senate.
Susan Collins of Maine said on ABC's "This Week" that there are major questions surrounding the health care bill the House passed on Thursday. According to Collins, the bill, which is part of the GOP effort to repeal Obamacare, would undergo major surgery.
"First of all, the House bill is not going to come before us," Collins said. "The Senate is starting from scratch. We're going to draft our own bill. And I'm convinced that we're going to take the time to do it right."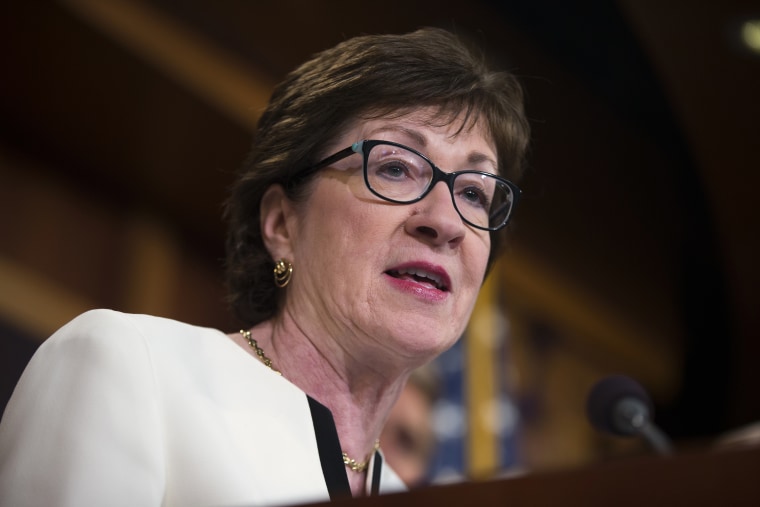 Critics claim the new legislation could make health care unaffordable, cause people to lose coverage — which Health and Human Services Secretary Tom Price denied on Sunday — and could go down as a major political blunder when the 2018 midterm elections roll around.
Collins was critical of the bill because she believed there were too many unknowns, noting that the Congressional Budget Office (CBO) still hadn't provided an analysis of the new bill, and she added that she would be troubled by a bill that would defund Planned Parenthood.
House Speaker Paul Ryan, the architect of the bill, claimed that Republicans had received two CBO scores for the current bill during his appearance on ABC's "This Week."
NBC News is only aware of one CBO score that the GOP had received for its health care legislation, and that was provided for an older version of the bill that failed to make it to the floor of Congress. That CBO score was published on March 13 — nearly two months ago.
Related: Idaho Republican Labrador Booed Over 'Nobody Dies' Comment on Health Care
As of now, because the GOP pushed to vote before a new CBO score was released, it is unclear how much the new health care legislation would cost or how many people might lose their coverage.
Ryan seemed aware that his bill would face major changes.
"This is one stage in a multistage legislative process," he said. "You know how this works. They pass a bill through the House. Then they pass a bill through the Senate. And then you go to conference and iron out the differences."
Collins indicated that there would be a fair amount of "ironing." When asked whether she would support the American Health Care Act as it stands today, she demurred.
"Speaker Ryan today said that he hoped that the Senate would improve the House bill," Collins said. "I think we will do so and that we will come up with a whole new fresh approach that solves the legitimate flaws that do exist with the ACA, where we have seen, in some markets, insurers fleeing so people won't be able to buy subsidized insurance. But it will keep some of the benefits of the ACA."