WASHINGTON — Republicans are considering advancing their health care bill without an analysis from the nonpartisan Congressional Budget Office on a major new provision that insurers warn would wreak havoc on customers. Moving ahead without such an analysis would be a virtually unprecedented procedural move in the Senate.
The CBO analyzed — or "scored" — a previous version of the Senate bill last month and found it would cover 22 million fewer people than current law. But that was before GOP leaders added a new amendment pushed by conservative members that would allow insurers to sell unregulated plans without protections for pre-existing conditions and without requirements that they cover various benefits guaranteed under Obamacare.
Republican leaders have said they expect the CBO to weigh in on the new bill early next week, days ahead of an expected vote. But senators say the score may not include the sweeping changes to insurance regulations, which were initially proposed by Senators Ted Cruz, R-Texas, and Mike Lee, R-Utah.
"I don't think we'll have a score from CBO on the Cruz amendment," Sen. Ron Johnson, R-Wisc., told reporters on Thursday.
It is extremely rare for significant legislation to be voted on without a score from the CBO.
Instead, senators could be asked to vote on the bill based on an analysis from the White House via the Department of Health and Human Services or the Office of Management and Budget.
"I think we'll probably get multiple modeling from different places and they'll look at those impacts," Sen. John Thune, R-S.D., a member of leadership, told reporters.
Health experts and industry groups alike have raised questions about the Cruz amendment's viability.
The industry group AHIP, which represents health insurers, criticized the proposal this week in a report that warned it would destabilize the individual insurance market by segregating sick customers into expensive plans and healthy customers into cheap no-frills plans. Some experts have warned that it could, perhaps unintentionally, allow employers to provide plans that cover fewer treatments and have lifetime and annual limits on coverage.
Right now, GOP leaders are rounding up support for a vote on the motion to proceed, which would bring the bill before the Senate for consideration ahead of a final vote for passage. Two Republicans, Senators Susan Collins, R-Maine, and Rand Paul, R-Ky., have said they'll vote no. If one more GOP senator joins them, the bill will be stalled.
It's unclear whether Republican leaders would use the HHS or OMB analyses to encourage members to pass the motion to proceed or whether they might consider a more extreme break from tradition by using numbers from HHS or OMB instead of the CBO ahead of a final vote. The possibility of using a substitute for a CBO score was first reported by the Independent Journal Review, a conservative website, which cited concerns among GOP leadership that the CBO would take too long to release its score. A Republican source with knowledge of discussions said all options were on the table in deciding how to proceed toward a vote.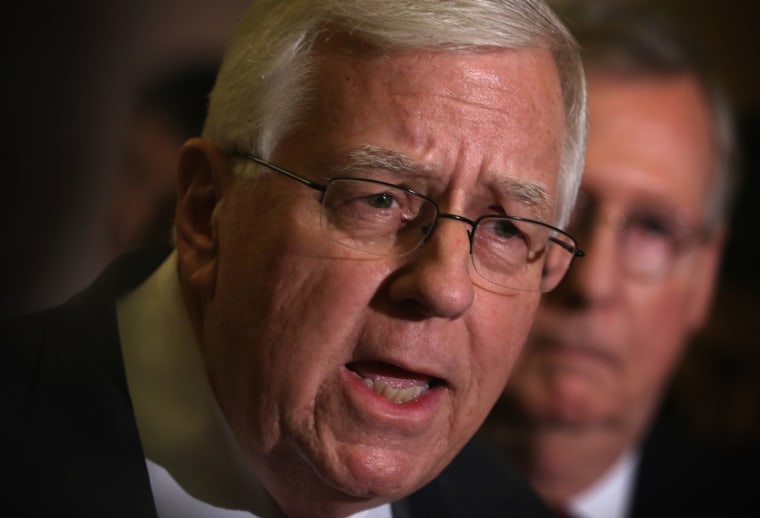 Any decision would go through Sen. Mike Enzi, R-Wyo., chairman of the Budget Committee, whose office did not respond on the record to a request for comment. Veterans of the budget process said Senate rules do allow Enzi to substitute a different analysis for the CBO's score, but that it would represent a massive break from precedent that could have major implications for future legislation.
"I doubt Mike Enzi would want to do that, because then you're in the business of jurisdiction shopping on every score," said Douglas Holtz-Eakin, a Republican economist who served as CBO director. "They have a CBO and a budget process explicitly for the purpose of not being reliant on the executive branch for analysis."
Ed Lorenzen, a senior adviser for the Committee for a Responsible Federal Budget, said swapping out scoring for only parts of the bill for an HHS version would create "serious practical difficulties" even if it were technically allowed. HHS might disagree with the CBO about the impact of the underlying bill, for example, making its analysis of the Cruz amendment alone difficult to reconcile.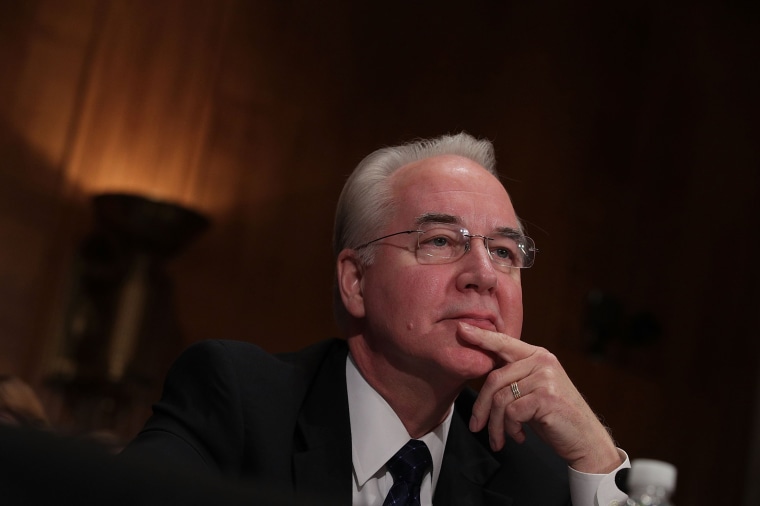 HHS Secretary Tom Price has been intensely critical of the CBO's recent health care analysis and the White House has led an effort to discredit its findings, despite Price's role in appointing the current CBO director, Keith Hall, back when he was House Budget Chairman.
White House projections are often rosier than outside analyses. Earlier this year, OMB released a budget proposal that predicted Trump's policies would produce a small $16 billion surplus in 2027 thanks to an explosion of economic growth. The CBO released its own evaluation of the budget this week and predicted it would yield a $720 billion deficit.
Democrats are wary that Republicans could try to rush a vote using an analysis influenced by the White House's agenda in order to avoid a damaging CBO score that might scare off fence-sitting members.
"If the American people are to have any faith at all in this process, the non-partisan experts at the CBO should not have their work undercut by an administration that is desperate to sign legislation into law that will throw millions of Americans off of their health insurance," Josh Miller-Lewis, a spokesman for Sen. Bernie Sanders, I-Vt., the ranking minority member on the Budget Committee.
Lawmakers have already taken a series of unusual procedural steps this session in crafting health care legislation, though.
The House passed its own health care bill without waiting for a CBO score at all, which came only weeks later and predicted 23 million fewer people would be insured if it became law. On the Senate side, leaders have bypassed the normal process of writing legislation through relevant committees with public hearings in favor of secretive working groups that meet behind closed doors.