WASHINGTON — The federal government entered a partial shutdown Saturday as a key vote fell far short of the support needed to pass the Senate and the midnight deadline came and went without a deal.
One year to the day since President Donald Trump took office flanked by a Republican Congress, a stalemate could not be resolved leading most Democrats and a handful of Republicans to vote against the bill late Friday night. The Senate convenes Saturday as talks continue on a way out of the impasse.
The proposal that failed was the one passed by the House on Thursday. It would have funded the government until Feb. 16, extended the low-income children's health insurance program, or CHIP, for six years and suspended some Obamacare taxes for two years.
Senate Democrats, demanding progress on the fate of the young immigrants covered by the DACA program, withheld their support for the bill after the prospect of an agreement with Republicans and the White House fell apart.
But Republicans lost some within their own ranks, frustrated with the spate of month-long spending bills, also opposed the short-term solution.
Meanwhile, as agencies began sending emails announcing their closure or limited capability, the White House released a statement just before midnight, saying "Senate Democrats own the Schumer Shutdown."
"We will not negotiate the status of unlawful immigrants while Democrats hold our lawful citizens hostage over their reckless demands. This is the behavior of obstructionist losers, not legislators," White House Press Secretary Sarah Huckabee Sanders said in a statement.
Trump himself commented early Saturday morning, claiming in a series of tweets that Democrats "could have easily made a deal but decided to play Shutdown politics instead" and bemoaning Republicans' narrow Senate majority ahead of November's midterm elections.
Senate Majority Leader Mitch McConnell, R-Kentucky, gave a fiery floor speech just after midnight, saying the shutdown was "100 percent preventable" and blaming the Democrats.
Democrats placed the blame on Republicans and Trump for walking away from negotiations.
Senate Minority Leader Chuck Schumer, D-New York, blamed Trump for being a slippery and unreliable negotiating partner. "What will it take to get Trump to say 'yes?'" Schumer asked.
Schumer presented a proposal to break the logjam to Trump in a mid-day meeting over cheeseburgers at the White House, according to aides familiar with the meeting — a plan to fund the government over the next two years, including money for disaster aid, the low-income children's health insurance program, opioid funding, border security and relief for those Dreamers covered by DACA.
"I even put the border wall on the table," Schumer said.
But when Schumer left the meeting, the concept started to unravel when McConnell and Trump's chief-of-staff John Kelly opposed it, according to people person familiar with the situation.
Schumer also proposed a shorter stop-gap measure, lasting just a few days, to be used as a hard deadline on an agreement on government spending levels, DACA, border security, disaster aid and children's health care.
"We're inside the 10-yard line on five issues we need a process to close the deal. And we need the president to do it," Sen. Lindsey Graham, who helped to block the funding bill, said.
After the public blame game and with the government closed, McConnell stood at his podium and said he's "open" to a stop-gap spending measure to Feb. 8, which is a possible route to re-open the government.
A late flurry of activity on the Senate floor suggested a last-minute deal to avert a shutdown may have been close.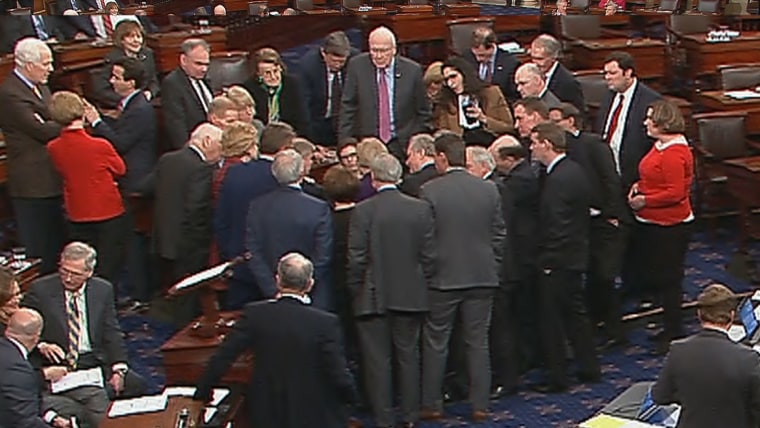 Sen. Jeff Flake, R-Ariz, claimed McConnell had committed to a vote on immigration by Feb. 8 regardless of White House support.
"That's the key tonight," said Flake, who was part of a bipartisan group of senators that reached a deal last week to provide a path to citizenship for many of those covered by DACA alongside border security that met the White House's previous request, only to see it rejected by the president in a foul-mouthed meeting.
"Before it was — I had the commitment to have a vote, but then it morphed into 'you'll have a vote on something the president supports, we want a commitment from the president,'" said Flake.
"Tonight that linkage is broken, gratefully, because let's face it, we can't get a straight answer from the White House."
The Senate will reconvene at noon on Saturday.
The House, which passed the funding bill Thursday night but stayed in town, will come into session on Saturday, putting out a release that votes are expected.
It's the first shutdown since 2013 when a Democrat, Barack Obama, was the president and Republicans controlled Congress.
With the finger-pointing over who would be responsible already underway, a new ABC News/Washington Post poll found that 48 percent of Americans would blame President Trump and Republicans for a shutdown while 28 percent said they would blame Democrats and 18 percent said both parties would be at fault.