As Congress gathered this week for the first time since President-elect Donald Trump's surprise victory, leaders in both parties were talking about immediate action — It just isn't clear on what.
For the last six years, the default state of Congress has been numbing gridlock thanks to a Democratic White House, a widening ideological gap between the parties, and a policy of merciless obstruction by Republican leaders.
But Trump's election has put Republicans in charge across the board, opening up the possibility of major legislation.
"Welcome to the dawn of a new unified Republican government," Speaker Paul Ryan said on Tuesday after greeting his Republican colleagues at their morning meeting.
This isn't the way most Republicans envisioned their return to the majority during their years in the wilderness, though, nor is it how Democrats imagined their return to the loyal opposition. Both sides are still trying to navigate the unexpected environment.
A number of Republican lawmakers opposed Trump in the general election and his policies have often been extreme, vague, or contradictory. At times he's flirted with liberal stances, like raising taxes on the rich, only to snap back to hardline conservative ones, like dramatically slashing taxes for the rich instead. Nor is there much ideological consistency to his small circle of advisers.
"If anyone can tell me what President-elect Trump is going to do next, you let me know next and we'll see if it's true," Senator Tim Scott (R-SC) told reporters on Wednesday. "I don't know what he's going to do next."
The result is that members of both parties can imagine a best-case scenario in which Trump works with them to achieve shared policy goals and a worst-case scenario that pits them against each other as mortal political enemies. They just aren't sure which scenario they're living in yet.
The First 100 Days
Republicans see some early priorities that Trump has made clear he'll address. They expect to work on an infrastructure bill and a boost in military spending. They plan to repeal and replace the Affordable Care Act. Border security legislation seems like an obvious move. And if there's one thing the party can agree on, it's lowering taxes for businesses and individuals.
But anything beyond that is less clear. House Speaker Paul Ryan is hinting at a push for his longtime plan to turn Medicare into a semi-privatized system for future retirees, for example, but Trump has never expressed support for the idea (although the Trump transition website says he will work with Congress to "modernize Medicare, so that it will be ready for the challenges with the coming retirement of the Baby Boom generation – and beyond").
Trump said during the campaign he wants to negotiate lower prices on drugs through Medicare, something Republicans typically oppose, and members are also split on his recent call for term limits.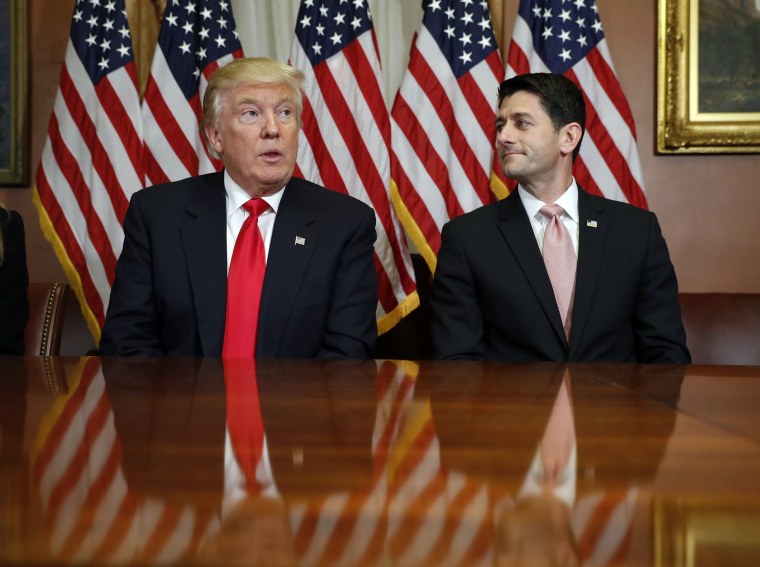 "My own position is you assume the best and look for the good and we'll move ahead," Sen. Jeff Flake (R-AZ), another critic of Trump who refused to endorse him, said.
"It presents opportunity and it certainly presents a lot of risks," said Rep. Justin Amash (R-MI), a fierce libertarian critic of Trump who added he still had deep concerns about the president-elect's "temperament."
Democrats, from incoming Senate Minority Leader Chuck Schumer to Senators Bernie Sanders and Elizabeth Warren, also see possibilities for cooperation even as they pledge to oppose Trump on issues like immigration and civil rights. They've shown more enthusiasm for infrastructure spending than Republicans, who blocked similar efforts by President Obama. They are increasingly skeptical of trade agreements favored by some Republicans and could support tax credits for families Trump brought up on the trail.
"A silver lining in the deep clouds of this election is that on many economic issues President-elect Trump and his campaign was closer to us than to Republican leadership," Schumer told reporters on Wednesday.
House Minority Leader Nancy Pelosi emerged from a meeting with Vice President-elect Mike Pence Thursday with a pledge to "find our common ground where we can, and of course, stand our ground when we can't."
It all depends on the direction the president-elect takes, though, and whether Ryan takes point with traditional GOP legislation or Trump imposes a populist agenda all his own that crosses party lines.
"We are where we are because of Donald J. Trump so there's no question he will be setting the agenda and the vision and we will work with Paul Ryan to make it happen," Rep. Chris Collins (R-NY), Trump's top legislative liaison, told reporters Tuesday.
Republican Divisions on the Horizon
In the meantime, even consensus Republican items are politically sensitive and the party now must confront details as part of a governing majority that were more easily glossed over in the minority.
On health care in particular, Republicans have until now been able to criticize the Obamacare regime without grappling much with the tradeoffs of repealing it, which could cut 22 million people off from coverage and remove regulations on insurance that are broadly popular. Trump has said he wants to preserve protections for people with pre-existing conditions, for example, which is an expensive and difficult task that could either split Republicans or spark a public backlash if protections are removed.
Republicans are floating the idea of repealing Obamacare using the budget reconciliation process, which only takes a bare majority in the Senate, but they could delay repeal taking effect for years while they find a replacement. It's not clear if Trump approves of this idea yet, nor if Republicans can come together on a consensus replacement plan, which also may require Democratic votes on some portions to overcome a filibuster.
"There are deals to be made in this body, big huge deals that would make America great" Senator Lindsey Graham (R-SC) a leading Trump opponent, told reporters. "There will be no bill in this body that is big and huge that doesn't have Democratic and Republican support."
Trump has shown little patience for limits and could pressure Republicans to undo the filibuster, which could also stymie legislation on trade, immigration, and a variety of other priorities. So far there seems to be little appetite in the senate to do so, however. Flake, the Arizona senator, said he would oppose efforts to undo the filibuster and Sen. Orrin Hatch (R-UT) also defended the legislative tool in a Huffington Post interview. Senator James Inhofe (R-OK) gave a brusque "no" when asked by NBC News if he supported removing the filibuster.
Every Republican seems to have at least one item they're concerned about even as they talk up hopes of a productive relationship. Scott told reporters he feared Trump's proposals for lower tax rates could jeopardize charitable, mortgage, and health care deductions he favors. Amash said he would keep a close eye on Trump's approach to civil liberties.
Congressman Mo Brooks (R-AL) stressed the legislature's independence and said he would block spending increases favored by Trump if they weren't offset by cuts elsewhere.
"Democracy tends to fail when you make public policy decisions based on personalities," Brooks said.
Without getting into specifics, some Republicans are also warning about going too far, too fast given Trump's narrow victory. Some recall President Obama's push for sweeping health care legislation in the midst of an economic crisis as a cautionary tale.
"You got to recognize the popular vote tally, so there is a voice out there that supports a counter message," Congressman Tom Reed (R-NY), an early Trump supporter, said. He added that it was critical for Republicans "not to overreach."
Foreign policy and national security are another major concern and once again lawmakers are not certain where Trump, who has not chosen a secretary of state, is headed. Senator John McCain already issued a statement warning Trump not to trust Vladimir Putin while Senator Rand Paul has threatened to oppose possible secretary of state picks John Bolton and Rudy Giuliani, who he claims are too hawkish.
"Hopefully we can be supportive of the direction he takes, but we don't know the direction he'll take," Senator Marco Rubio (R-FL), who broke with Trump to warn of Russian hacking during the election, told reporters when asked about U.S. policy towards Putin.
Uncertain Future for Democrats
On the Democratic side, lawmakers sounded largely unified in the first days back on Capitol Hill even as the House prepared for a generational battle over leadership positions between Pelosi and Rep. Tim Ryan (D-OH).
On policy, the plan was to cooperate with Trump on bread-and-butter economic issues that directly benefitted ordinary workers and oppose him on everything else. Politically, the goal was to reach out to blue-collar white voters with a more populist economic message while reassuring their more diverse base they would not budge in the fight against discrimination.
This cooperative, jobs-focused stance was a no-brainer for Senator Joe Manchin (D-WV), the senate's most conservative Democrat who will join an expanded leadership team under Schumer next year that also includes liberal stalwarts Bernie Sanders (I-VT) and Elizabeth Warren (D-MA).
"We're not coming here to block things," Manchin told reporters Wednesday.
But even Democrats from the bluest of states expressed similar sentiments, with many saying they took pride in taking the high road and not mimicking the GOP's strategy of maximum opposition against Obama.
"Mitch McConnell said his main concern, his chief objective, was to make Barack Obama a 'one term president,'" Congressman Hakeem Jeffries (D-NY), whose Brooklyn and Queens district went overwhelmingly for Clinton, said. "That was irresponsible and Democrats are going to take a more constructive approach."
Cracks are starting to show, however. Some progressive activists, reeling from Clinton's unexpected loss, are already demanding a harder line to avoid "normalizing" Trump. This grassroots anger helped push Democrats this week to loudly denounce Trump's top adviser Steve Bannon, the far right ex-president of Breitbart whose choice prompted cheers from white nationalists. At least 169 House Democrats signed onto a letter that called on Trump to rescind his appointment.
Some progressives are concerned that working with Trump on economic goals like infrastructure will bolster his presidency elsewhere, which they see as a unique authoritarian threat that threatens vulnerable minorities in particular.
"It is unacceptable for Democratic leadership to normalize Trump and collaborate with him so long as he continues his bigotry, hatred, and division," Ilya Sheyman, executive director of MoveOn.org Political Action, said in a statement responding to Schumer on Thursday.
Congressman Ruben Gallego (D-AZ) delivered a speech the same day urging Democrats not to work with Trump on infrastructure until he proved the spending would not benefit his own interests by releasing his taxes, disclosing business interests, and removing his family from company decisions entirely rather than putting his children in charge.
"Donald Trump is not an ordinary politician," Gallego said. "He is a con-artist. He has refused to give the American people reason to believe that he is not in this to enrich himself."
Looming over these debates are the 2018 elections, which present their own uncertainty. The Senate map is foreboding for Democrats, featuring 10 senators up for re-election in states Trump carried who could face pressure not to upset the president-elect's base. But bad maps have a way of becoming good ones if an opposition party can capture a backlash to an unpopular president and both parties' strategies could flow from Trump's approval ratings.
It's just one more unknown among many for a political system still absorbing the improbable election of Donald J. Trump to the most powerful position on the planet.