WASHINGTON — The question of whether to abolish ICE, the government agency at the forefront of enforcing the Trump administration border policy, has emerged as a Democratic fault line this summer — and in recent weeks, the gulf between the two camps has only appeared to widen.
Several Senate Democrats — including potential 2020 presidential candidates Kirsten Gillibrand of New York and Elizabeth Warren of Massachusetts — have joined dozens of insurgent challengers calling for Congress to abolish the the U.S. Immigration and Customs Enforcement agency, as Rep. Mark Pocan, D-Wis., develops legislation that would do just that.
There are signs the base is warming to the idea of icing ICE. Massive immigration marches nationwide less than two weeks ago featured signs and chants to abolish the agency. And in a result that shocked the party establishment late last month, challenger Alexandria Ocasio-Cortez — who ran a primary campaign pledging to push for the agency's closure — defeated incumbent Rep. Joe Crowley, D-N.Y.
"We should abolish ICE and start over, focusing on our priorities to protect our families and our borders in a humane and thoughtful fashion," Rep. Earl Blumenauer, D-Ore., said in a Medium post. Rep. Raul Grijalva, D-Ariz., said on MSNBC on Wednesday that he also believed ICE should be abolished. "They are carrying out the policies of this administration, which I think has damaged not only their reputation but their credibility," he said.
Pocan's bill has not yet been formally unveiled, with spokesman Ron Boehmer telling NBC that the legislation — which is also being led by Reps. Adriano Espaillat, D-N.Y., and Pramila Jayapal, D-Wash., — has just two co-sponsors so far: Reps. Earl Blumenauer, D-Ore., and Jim McGovern, D-Mass.
Meanwhile, other possible 2020 Democratic contenders — along with party leaders in both Houses, and a swarm of red and purple state incumbents — have pushed for a more cautious approach.
Sen. Kamala Harris, D-Calif., said in an interview on MSNBC's "Kasie DC" last month that she's in favor of re-examining the agency — though she stopped short of calling for its dissolution. "I think we have to re-examine ICE, and we need to probably think about starting from scratch because there's a lot that is wrong with the way that it's conducting itself and we need to deal with that." Sen. Bernie Sanders, Vt.-I, asked whether the agency should be abolished, avoided addressing the question directly. "I think what we need is to create policies which deal with immigration in a rational way," he said on CNN last month.
Party leadership has struck a similar note, with House Minority Leader Nancy Pelosi, D-Calif., via a spokesman, calling for "an immediate and fundamental overhaul" of the agency.
A real push to end ICE, other members have said, would have no practical impact at the moment, except to serve as a liberal counterpart to perennially futile conservative calls to dissolve the Internal Revenue Service. "Even if you abolish ICE, you still have the same administration carrying out the same horrendous policies. Whatever you replace it with is just going to reflect what this president is already doing, which is tearing families apart and holding children in cages," Sen. Tammy Duckworth, D-Ill., told NBC.
"Whatever happens to ICE, Trump is still going to be the president and he's going to have the power and it's still going to be his policies," Rep. Tim Ryan, D-Ohio, another possible 2020 presidential contender, told NBC News Thursday after visiting a facility in Grand Rapids, Michigan, that is housing detained immigrants.
And it remains unclear precisely what form any realistic proposal to abolish ICE might take, and what impact it might have, with most of the agency's functions — which include a mandate "to combat transnational crime, find and arrest child predators, repatriate individuals wanted by our foreign law enforcement partners and arrest and remove dangerous criminal aliens" — likely to be distributed to other departments.
"We've got a heroin epidemic in Ohio — we need an enforcement mechanism," said Ryan. "If there are crimes committed in Ohio, selling heroin, being a part of the drug trade, other violent crimes, we need an enforcement mechanism in place to get people out of the country immediately."
With Democrats in the minority in both houses of Congress, any "abolish ICE" measure would serve more as a mission statement than a strategy. The best — though unlikely — option available to Democrats heading into the fall would likely be to try to use the leverage they've had in recent spending votes to force GOP leaders to consider changes to the way ICE does business, and to its funding. The question is whether those attempts would be enough to unify the caucus — or to satisfy a base looking for more.
The biggest concrete outcome of a tougher Democratic push to abolish ICE, Ryan said, could be to strengthen the president's hand politically. "I will just say that there will be real consequences for us if we don't put forth realistic proposals that will help solve this problem," he said. "We will open ourselves up to the critique that we are just talking about the immigration and reform piece without talking about the security piece."
It's an assessment Trump himself seems to share. "The Liberal Left, also known as the Democrats, want to get rid of ICE, who do a fantastic job, and want Open Border. Crime would be rampant and uncontrollable!" he tweeted last week. Vice President Mike Pence addressed the agency, telling agents that "calls to abolish ICE are not just outrageous, they're irresponsible," Pence said. "In this White House, let me be clear: We are with you 100 percent."
And the official White House Twitter account launched attacks on both Warren and Harris over the issue last week — despite the fact that the California senator had not actually come out in support of efforts to end the agency.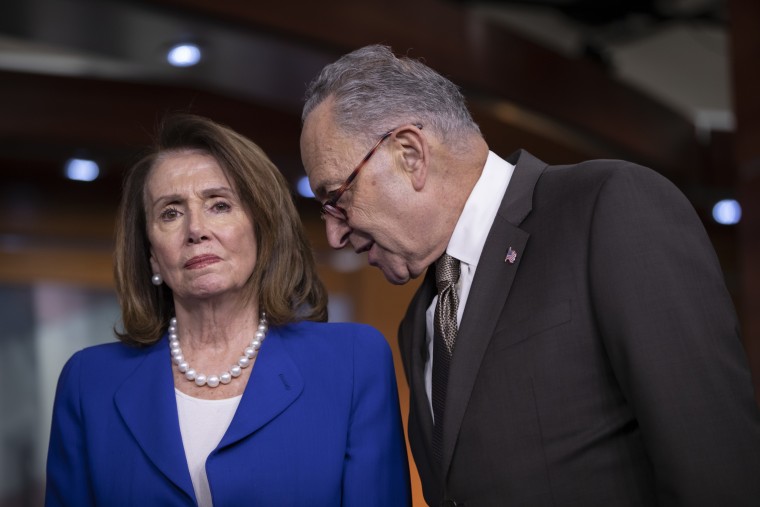 And so some Democrats critical of ICE itself and calls for its closure have found themselves doing battle with both the agency's supporters and its critics — attacking the agency, and defending its current role as essential.
"Look, ICE does some functions that are very much needed," Senate Minority Leader Chuck Schumer, D-N.Y., told reporters last week. "Reform ICE? Yes. That's what I think we should do. It needs reform."
"We need an agency at the border that deals with migration and commerce," Sen. Ben Cardin, D-Md., said in an interview Thursday on MSNBC's "Morning Joe. "So I'm for an agency, but I'm against the policies that are being implemented by this administration and the way ICE is doing it."