Sen. Orrin Hatch, who called it "ridiculous" that Sen. John McCain would not want President Donald Trump to attend his funeral, apologized to his ailing GOP colleague Tuesday for the off-the-cuff remark.
Hatch, a Utah Republican, sent a private apology letter to McCain, Hatch's office confirmed. News of the apology was first reported by The Washington Post.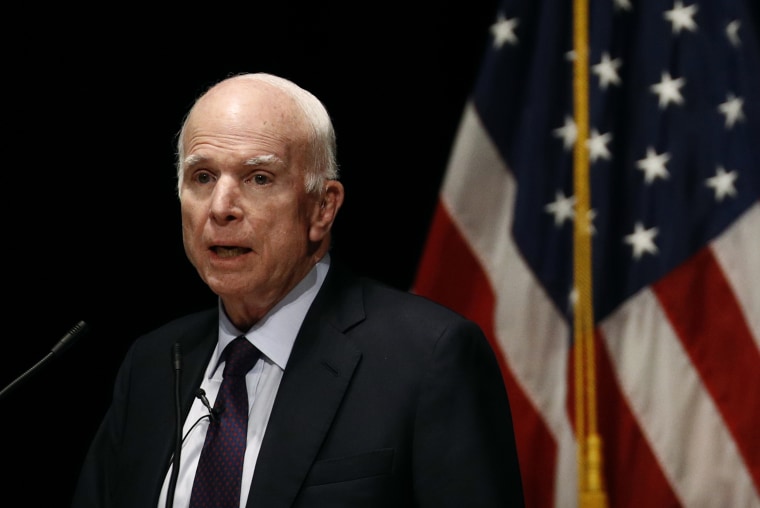 Hatch, 84, told NBC News that he should've kept his mouth shut about his thoughts on McCain, 81, who has been battling an aggressive form of brain cancer and is home in Arizona after he underwent surgery last month for an intestinal infection.
"I felt badly, I had spoken out of turn," Hatch said. "I shouldn't have said what I said."
McCain's daughter, Meghan, said earlier Tuesday on ABC's "The View" that people criticizing her father needed to relax.
"I would like everyone to take a collective breath and chill out on my dad for a second, especially Orrin Hatch," she said.
People close to McCain have informed the White House that the senator does not want Trump to be at his funeral, a source told NBC News. The source said McCain wants Vice President Mike Pence to represent the White House instead. Among the expected eulogists are former Presidents Barack Obama and George W. Bush, the source said.
On Monday, Hatch called McCain's plans for his funeral "ridiculous."
"He's the president of the United States and he's a very good man. But it's up to (McCain)," Hatch told Politico.
Hatch also said that he didn't expect McCain to return to the Senate.
McCain's funeral plans, first reported Saturday by The New York Times, comes as he and Trump have had a enormously turbulent relationship, particularly since the 2016 presidential primary when Trump said McCain was considered a war hero only "because he was captured" during the Vietnam War and that Trump preferred military figures who avoided being taken prisoner by the enemy.