WASHINGTON — The GOP health care bill would insure 23 million fewer people than current law after a decade, while potentially impacting many with pre-existing conditions, according to the nonpartisan Congressional Budget Office.
The bill would spend $1.1 trillion less on health care and use the savings primarily to finance large tax cuts for high-income earners and medical companies. Overall, it would reduce deficits by $119 billion over ten years.
While some Americans would see lower premiums, CBO concluded that many people with pre-existing conditions would no longer be able to afford insurance and that many who received coverage would pay thousands of dollars more in out-of-pocket expenses.
The findings in the analysis of the bill that passed the House stand in stark contrast to President Donald Trump's promise to provide "insurance for everybody" that would cover pre-existing conditions, lower deductibles and shield Medicaid from cuts.
The House voted on the American Health Care Act earlier this month without waiting for the CBO to weigh in, an unusual move that had the potential to derail the bill entirely if the score failed to meet certain procedural requirements.
RELATED: Lawmakers react to the report
While the topline numbers were little changed from a previous version of the bill that was withdrawn from consideration, which the CBO found in March would insure 24 million fewer people and save $150 billion, the report found that the latest changes to Obamacare regulations would make insurance unattainable for many sick people and raise costs for others.
"Essential Health Benefits"
The effect would be most concentrated in states that chose to opt out of Obamacare's "essential health benefits," which requires insurers to cover categories like hospitalization or prescription drugs, and in states that waived Obamacare's guarantee that insurers charge people the same premium regardless of pre-existing conditions.
These waivers formed the core of a deal with the House Freedom Caucus that secured enough conservative votes to pass the bill. The CBO predicted about 1/6th of the population would live in states that waived both provisions.
In particular, the report predicted that "spending on maternity care and mental health and substance abuse services could increase by thousands of dollars in a given year" per enrollee as insurers would sell plans on the individual market that did not cover these previously required benefits.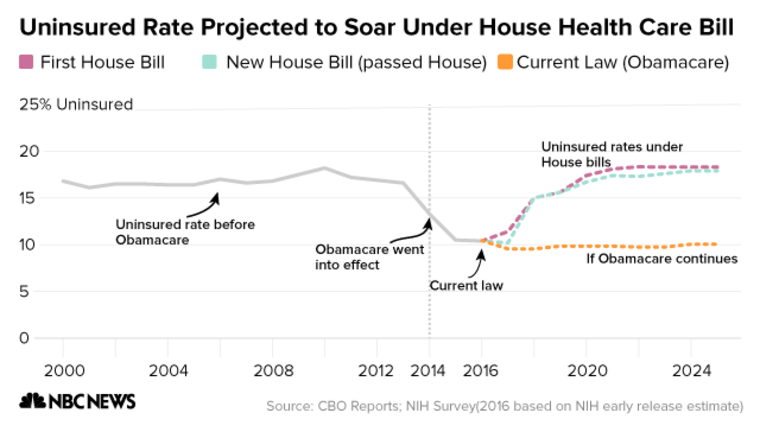 In addition, insurers would be able to impose annual and lifetime limits, a practice banned by the Affordable Care Act, on benefits on longer considered essential by states. These limits could potentially return even for large employer-based plans, which the CBO noted can base their benefits package on any state's regulations.
The CBO's findings ran directly counter to claims by Republican leaders that their bill would provide adequate — even superior — protection for people with pre-existing conditions. Far from it, the study predicted insurance markets would become "unstable" in waiver states as people with pre-existing conditions faced higher and higher premiums that many would be unable to afford.
Mindful of these concerns, Rep. Fred Upton (R-MI) brought moderate Republicans on board with the AHCA by negotiating an $8 billion deal to fund high risk pools for sicker consumers to buy insurance. But the CBO found the money "would not be sufficient to substantially reduce the large increases in premiums" for the affected people, a conclusion that outside health policy experts have echoed as well.
Impact on the young, old
As was the case with the original bill, premiums would increase dramatically for older low-income Americans, especially those in areas — often rural — that have higher medical costs. The average 64-year-old making $26,500 would pay between $13,600 and $16,100 in premiums per year versus just $1,700 under current law, which provides more generous subsidies and further limits the amount insurers can charge based on age.
For some younger and higher-income customers, the bill would lower premiums. In states that waived Obamacare regulations on essential health benefits and made moderate changes — about one-third of the population, by CBO's estimate — average premiums would be 20% lower in a decade compared to current law but for plans that cover fewer expenses.
A 21-year-old making $68,200 a year, for example, would be among the biggest winners: Their average premiums would drop from $5,100 to between $1,250 and $1,750 depending on their state's regulations.
In states that waived EHB's and protections for pre-existing conditions, premiums would be lower for some healthy people but "a few million" consumers would purchase plans that were so skimpy as to "not cover major medical risks" and thus not be considered insurance.
As was the case with the previous bill, the CBO estimated that the bill would cut Medicaid spending by over $800 billion, leaving the program with 14 million fewer people enrolled after a decade. The program covers low-income Americans, people with disabilities, and seniors, many of whom pay for home aides and long term residential care through the program.
The money saved by slashing Medicaid and reducing subsidies for people to purchase private insurance would largely go to repealing Obamacare's taxes on high-income earners and medical companies, which would cost $664 billion over 10 years. The bill would also reduce revenues by another $210 billion by repealing penalties for individuals who choose not to purchase insurance — the so-called individual mandate — and for employers who don't provide coverage.
The Senate is already working on its own health care bill, but is taking a slower approach and has yet to release details on a framework. There's still a possibility that major provisions of the House bill, especially the changes to regulations negotiated by the House Freedom Caucus, will have to be removed to comply with procedural rules.
But the CBO score is sure to fuel a fresh round of attacks from Democrats and health advocacy groups, both of which have sharply criticized the Republican efforts. Polling has shown public opinion souring on the bill: A Monmouth University survey released Wednesday found just 32% of respondents approved of the AHCA versus 55% who disapproved.