Just hours ahead of a scheduled Friday afternoon vote on the Republican health care plan, the outlook remained bleak as GOP leaders remained short of the votes needed to pass one of their signature campaign promises.
As the House debated the bill, Speaker Paul Ryan left Capitol Hill and traveled to the White House to update President Donald Trump on the current outlook. A tally by NBC News shows that at least 34 Republicans have said they are either "no" votes or "leaning no" — far more than the 22 votes they can afford to lose and still pass the bill.
White House Press Secretary Sean Spicer said Friday that the White House is "still optimistic" about the bill's passage but allowed, "you can't force people to vote" for it. Spicer said the administration has done all it can to aid the passage of the bill. "Have we left everything on the field? Absolutely," he said. "But at the end of the day, this isn't a dictatorship."
After a difficult Thursday for Republicans who had hoped to have passed their bill to repeal and replace the Affordable Care Act, aka Obamacare, the House went back at it again — this time with a directive from the White House that it's now or never.
The postponement of the planned Thursday vote came after weeks of negotiations, which reached a breaking point as House leadership and the Trump administration seemed to be getting no closer to cobbling together the necessary votes. Then Trump delivered a message to the House: If it doesn't pass Friday, we're moving on to other agenda items, including tax reform.
Moving forward with the vote is a risk that could possibly deliver Ryan and Trump both a major defeat.
Of course, Republicans have been campaigning on repealing Obamacare since 2010, and Trump told his party members earlier in the week that they could lose their seats if they don't pass the GOP replacement plan.
But the hard sell wasn't enough to convince those like Rep. Andy Biggs, R-Ariz., to climb on board. Late Thursday night he announced that he would vote against it.
"I cannot support anything less than a clean repeal of Obamacare," Biggs said.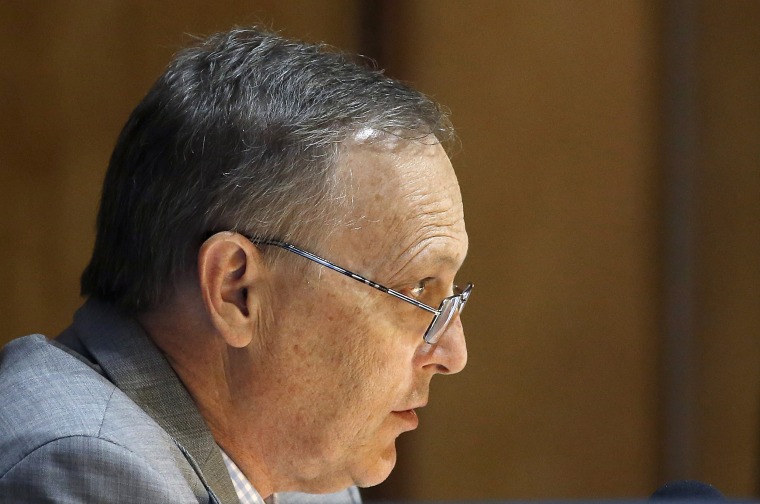 While the jockeying over what's in the bill continued, so did persuasion tactics.
White House aides, most notably Steve Bannon, Trump's chief strategist and senior adviser, spent Thursday night working to convince the most conservative hold outs, telling them it was time to "stand and deliver."
And sources said Trump told conservatives on Thursday that they're asking for a lot, while he told moderates that they've already received a lot.
Most Republicans were pleased that the vote was set for Friday. Inside a Republican meeting Thursday evening, some members said that it's time to vote and opponents would have to defend their positions.
Rep. Greg Walden of Oregon, the chairman of the House Energy and Commerce Committee who helped to usher the GOP health care plan through the drafting process, agreed with Trump's decision to cut off negotiations.
"I think it was time to have pencils down — time to move forward," Walden told reporters Thursday night.
But those undecided in their support of the House bill were not necessarily ready to move forward so quickly.
"I always think if there's any chance whatsoever that we can make the bill better then we should never stop negotiations," said Rep. Trent Franks, an Arizona conservative who is on the fence. "Now, there is a time that those negotiations should stop but let that not be arbitrary, let that be on the timetable itself."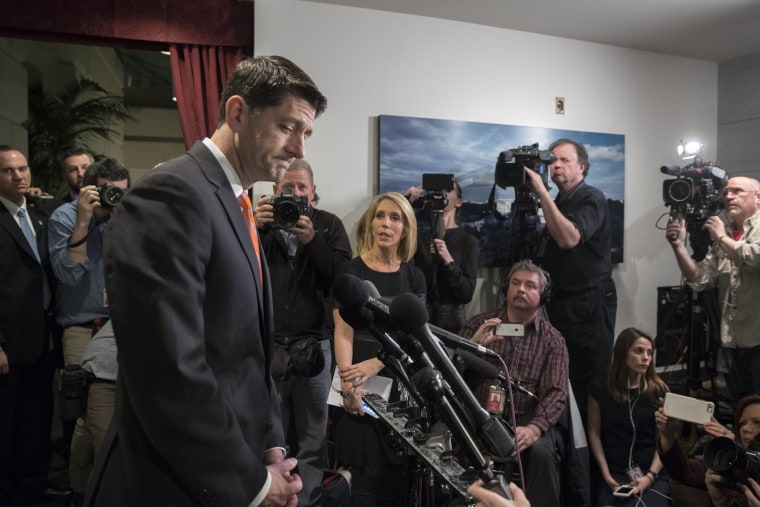 Trump's ultimatum was made after a week of hard selling by the president that peaked on Thursday when he had meetings with both the Freedom Caucus — the conservatives — and the Tuesday Group — the moderates.
Friday morning, the president sought to remind the conservative faction of what they would be losing if the bill is defeated, tweeting:
Trump told Tuesday Group co-chair Rep. Charlie Dent, R-Penn., that he was "going to ruin the party," according to a source. The source said Dent "was listening."
Dent had come out against the bill because he said too many people would lose their Medicaid coverage and the tax credits to help people purchase insurance aren't generous enough, especially for those aged 50 to 64.
Eleventh-hour changes to the bill were made Thursday night — one more attempt to appease Republicans on both sides of the spectrum who weren't yet on board.
Those changes include a temporary extension of a 0.9 percent Medicare tax on people making more than $200,000. That expected to raise $15 billion for the Patient and State Stability Funds to help pay for maternity and newborn care as well as mental health and substance abuse. It's an effort to appease the moderates.
The other change would remove the Essential Health Benefits from being a federal requirement and allow states to determine which ones they want to include in health insurance plans, including benefits such as maternity care, hospitalization, emergency care and mental health services.
Related: Republican Health Care Vote: Everything You Need to Know
Those were just the latest round of changes that has been altered to appease the ideologically diverse caucus.
While the chance to make additional changes to the bill are over for the House, the White House and House leadership can still make future promises — something that has already been done through this process to get members on board.
Rep. Steve King of Iowa, for example, was promised that he would get a vote on a bill to ensure undocumented immigrants don't receive tax credits for purchasing health insurance. And upstate New York lawmakers were given a change in the Medicaid allocation that enables their region to get a higher percentage, something that would take money away from New York City.