WASHINGTON — The Senate agreed to open debate on repealing and replacing Obamacare on Tuesday, but it's still anyone's guess what senators will be voting on in the end.
One new option emerged on Tuesday, however: A so-called skinny repeal bill that would eliminate the Affordable Care Act's penalties for individuals who go without insurance and companies that don't offer it. It would also remove a tax on medical-device manufacturers.
By voting on a partial repeal bill, Republicans would avoid heated debates within their party over cuts to Medicaid, subsidies for private insurance, and which Obamacare regulations to change or eliminate.
But that doesn't mean skinny repeal would be a minor change, although it's not clear how seriously to take the proposal, which could be a placeholder for a broader legislative plan down the road.
The most significant element is dropping the individual mandate to have insurance, which is among the most unpopular parts of Obamacare. Every Republican proposal in the House and Senate would eliminate it.
Scrapping the mandate could create major policy headaches, however, including millions more uninsured, a spike in premiums, and a potential exodus of insurers from the market. If these changes came to pass, they would violate Republican promises to lower premiums and increase competition.
The Congressional Budget Office estimated last year that 15 million people would lose their coverage if the mandate were eliminated without any changes elsewhere. It would also cause premiums on the individual insurance market to spike by 20 percent as plans became dominated by sicker and more expensive customers.
Congress included the mandate in the original Affordable Care Act in order to encourage more young and healthy customers to sign up for care. The goal was to offset the costs of millions of customers in need of pricier treatments who would gain coverage through the law's other provisions, including its subsidies and protections for people with pre-existing conditions.
The House and Senate bills have acknowledged this problem by trying to include substitute penalties instead. The bill that passed the House would temporarily raise premiums for customers by 30 percent if they went without insurance. The most recent Senate legislation would impose a six-month waiting period to buy coverage on customers who went more than two months without coverage in a given year.
Obamacare's mandate didn't work entirely as intended: Fewer healthy people signed up than expected, prompting insurers to raise premiums last year and some to pull out of the market. But insurance markets appear to be stabilizing somewhat this year as insurers learn to price for the right mix of people.
That fragile progress could be threatened, however, if skinny repeal were to become law. Insurers are already nervous about whether the White House will enforce the mandate which is still law, among other concerns, and they need to make a final decision in September as to whether they'll participate in Obamacare's exchanges. If the mandate is spiked, it could cause more companies to head to the exits.
Will it be "skinny repeal" in the end?
It's not clear the skinny repeal proposal would become law even if it passes the Senate, however. More likely, leaders will use it as a vehicle to negotiate with the House and try to find a broader replacement plan both chambers can agree on.
"Yes, presumably (skinny repeal) would expedite insurers pulling out," Billy Wynne, a health policy consultant at Thorn Run Partners, told NBC News. "But, obviously, this is not intended and would not be the final bill."
Sen. Bill Cassidy, R-La., told reporters on Tuesday he expected a skinny repeal plan to "set the stage for something more."
Other Republicans, however, indicated it might be a worthwhile fallback option even on its own.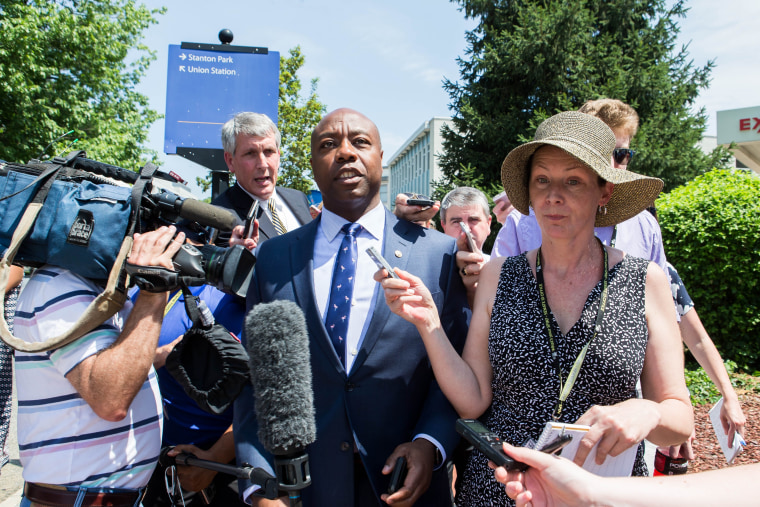 "Progress is progress from my perspective," Sen. Tim Scott, R-S.C. said. "Eliminating the individual mandate would be a good thing."
One advantage of "skinny repeal" from a procedural perspective is that it's likely to meet the requirement that any bill the Senate passes reduce the deficit by as much as the House plan, which saved $119 billion over 10 years. Because CBO finds millions of fewer people would buy insurance, the government wouldn't have to pay to subsidize their premiums.
The nonpartisan Committee for a Responsible Federal Budget estimated on Tuesday the overall "skinny repeal" package would save about $225 billion.
All of this is theoretical for now, because passing even skinny repeal could be a slog. Conservatives, who have demanded repealing larger chunks of Obamacare, could balk at a smaller bill. Moderates, who have demanded a clear replacement and were critical of the House's approach to health care, could be wary of advancing a bill without knowing its final destination.
Sen. John McCain, R-Ariz., indicated he didn't think much of the bill in a floor speech Tuesday, his first since announcing a cancer diagnosis last week.
"It's a shell of a bill right now," McCain said.