WASHINGTON — The House Judiciary Committee moved forward Thursday morning with a hearing on special counsel Robert Mueller's report even though the star witness they hoped to question, Attorney General William Barr, opted against testifying.
After gaveling the hearing to order, Chairman Jerrold Nadler, D-N.Y., blasted Barr for not showing up and also the Department of Justice for not complying with his subpoena for the unredacted Mueller report and its underlying documents.
"We will have no choice but to move quickly to hold the attorney general in contempt if he stalls or fails to negotiate in good faith," Nadler said. "If he does not provide this committee with the information it demands and the respect it deserves, Mr. Barr's moment of accountability will come soon enough."
Barr and the committee's Democratic leadership were at odds over the format of the hearing — specifically whether the attorney general could be questioned by staff in addition to lawmakers. Barr had made clear he wanted to be questioned only by House members.
Nadler said Thursday that the dispute between the Trump administration and House Democrats over their subpoenas of White House and administration officials has larger implications beyond the Mueller report.
"The challenge we face is, if we don't stand up to him together, today, we risk forever losing the power to stand up to any president in the future," Nadler said of President Donald Trump. "The risk of not having the president as a dictator is very much at stake."
Download the NBC News app for breaking news and politics
In his opening remarks, Rep. Doug Collins of Georgia, the ranking Republican on the committee, slammed Nadler for pushing to have staff question Barr in executive session on the rationale that the lawmakers' five-minute rounds would not provide enough time for all their questions.
"The stunt and the circus continues over here," Collins said, adding that the staff members whom Nadler had wanted to question Barr should themselves "run for Congress, put on a pin, find a committee."
Mocking Barr for not appearing, Rep. Steve Cohen, D-Tenn., brought a bucket of Kentucky Fried Chicken to the hearing, with a ceramic chicken sitting atop of the bucket. Rep. Debbie Mucarsel-Powell, D-Fla., grabbed a piece and was eating it on the dais.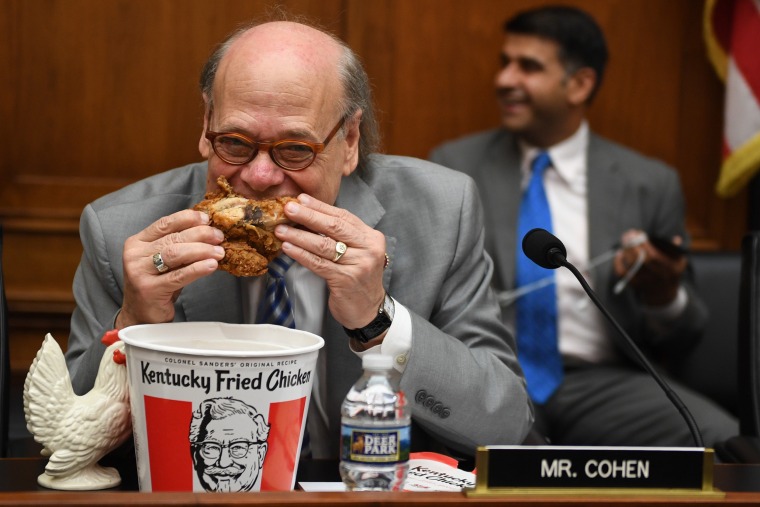 Barr's decision not to appear at the hearing, which came a day after he spared with Democrats on the Senate Judiciary Committee, could lead Nadler to subpoena the attorney general.
Justice Department spokeswoman Kerri Kupec said in a statement on Barr's decision that "even after the attorney general volunteered to testify, Chairman Nadler placed conditions on the House Judiciary Committee hearing that are unprecedented and unnecessary."
Nadler said Wednesday night that he was not planning to issue a subpoena immediately to compel Barr's testimony and instead would focus on the Department of Justice having missed the subpoena deadline for the full unredacted Mueller report, which was set for Wednesday.
If that cannot be worked out in the coming days, Nadler said his committee would begin contempt proceedings against Barr, which would be separate from any issues over his refusal to testify Thursday.
Nadler told reporters after the hearing Thursday that he would make "one more good-faith attempt" over the next few days to negotiate for the release of the unredacted report, "and then, if we don't get that, we will proceed to hold the attorney general in contempt."
In response to the committee's subpoena for the unredacted Mueller report, the Justice Department wrote that Barr's "decision to release the report with minimal redactions and his willingness to testify were already extraordinary accommodations reflecting his respect for meeting the legitimate information needs of the Committee and its Members."
"But this subpoena is not legitimate oversight," Assistant Attorney General Stephen Boyd continued in a letter to the committee Wednesday night. "The requests in the subpoena are overbroad and extraordinarily burdensome," referring to Nadler's request for the unredacted report and its underlying documentation.
If the Judiciary panel votes to subpoena the attorney general, the House could vote to find him in contempt of Congress. It could then refer that to the U.S. attorney in Washington, asking her to pursue criminal charges. Historically, however, that move has seldom worked because prosecutors typically decline to refer the cases to a grand jury.
The House could also go to court and file a contempt lawsuit against the attorney general, but judges have often been reluctant to referee what they consider political disputes.
Ultimately, the House could have little recourse to force Barr to testify, as outlined in the Congressional Research Service report, which said "efforts to punish an executive branch official for noncompliance with a subpoena through criminal contempt will likely prove unavailing."
As for the civil lawsuit option, the same report said, "relying on this mechanism to enforce a subpoena directed at an executive official may prove an inadequate means of protecting congressional prerogatives."
At the Senate hearing Wednesday, Democrats pressed Barr about a letter Mueller sent him that was critical of his initial four-page description of the special counsel's 400-plus page report, saying it had led to public confusion.
Barr said that had he spoken with Mueller over the phone after receiving his letter and that the special counsel told him he did not believe that the attorney general's description of the report, which Barr had sent to Congress, was inaccurate.
Barr later said Mueller's letter was "a bit snitty, and I think it was probably written by one of his staff people."
Several prominent Democrats, including several 2020 presidential contenders, have since called for Barr's resignation.
On Thursday, NBC News obtained a five-page letter White House special counsel Emmet Flood wrote to Barr one day after the redacted Mueller report's release.
In it, Flood lamented the report, saying that the special counsel's "inverted-proof standard and exoneration statements can be understood only as political statements, issuing from persons (federal prosecutors) who in our system of government are rightly expected never to be political in the performance of their duties."
Flood signaled that Trump would go full-steam ahead in preventing his aides and administration officials from testifying before Congress, writing that Trump "is determined to protect from congressional scrutiny not only the advice rendered by his own advisors, but also by advisors to future Presidents."