WASHINGTON — The House took the rare step Wednesday of censuring one of its own members, Democratic Rep. Adam Schiff, over his criticisms of then-President Donald Trump and his role in leading the first impeachment inquiry into the former president.
The 213-209 party-line vote came exactly one week after a similar effort to censure Schiff, D-Calif., was rejected after 20 Republicans joined Democrats to block the resolution over objections to a provision that called for fining him $16 million.
But the author of the resolution, freshman Rep. Anna Paulina Luna, R-Fla., said this week she had secured support from the 20 GOP dissenters after she removed language about a fine.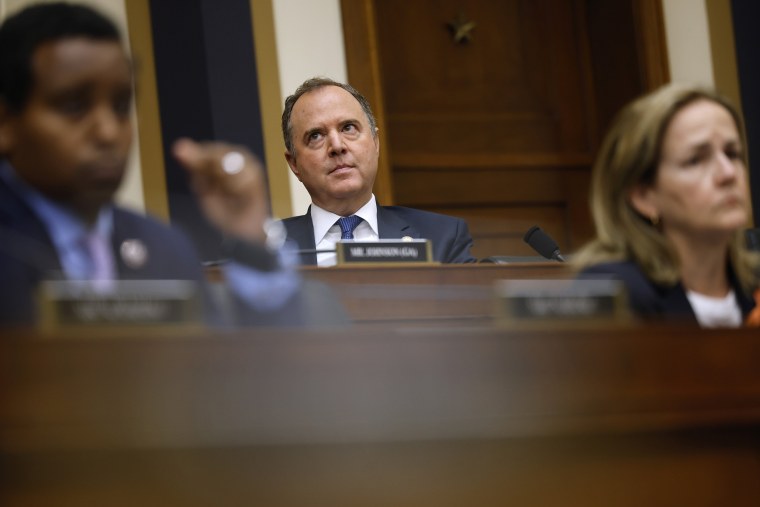 After the vote, Schiff was ordered to stand on the House floor to receive a verbal rebuke, read by Speaker Kevin McCarthy, R-Calif. Democrats chanted "Shame!" and "Disgrace!" and heckled McCarthy.
The resolution also requires the House Ethics Committee to launch an investigation into Schiff. Six Republicans voted present on the censure resolution.
"The perpetrator of this web of deceit became mainstays on cable news, waking up every morning with one goal: to lie, lie, lie to the American people that there was direct evidence of Russia collusion," Luna said in a floor speech before the vote.
Special counsel Robert Mueller's investigation did not establish any coordination between the Trump campaign and Russia, though it did document contacts between Russians and campaign officials and found that the campaign was willing to accept help.
Schiff, who is running for an open Senate seat in California, was the chairman and ranking member of the Intelligence Committee during the Trump administration, and he became the face of Democratic accusations that members of Trump's 2016 campaign team colluded with Russia to defeat Democratic nominee Hillary Clinton.
In January, McCarthy, a top Trump ally, single-handedly removed Schiff and Rep. Eric Swalwell, D-Calif., from the Intelligence panel.
"I think once Donald Trump threatened that any Republicans who didn't go along with his effort to censure me were going to get primaried, they fell in line. … They just cannot stand up to this most unethical, now-indicted president," a defiant Schiff told reporters on the steps of the Capitol before Wednesday's vote.
"As [Franklin D.] Roosevelt said, sometimes you can judge a person by the enemies they make," he added. "Judging from the kind of crazy people that were on the floor today in support of this resolution, I'm doing really well measured by that standard."
Censure represents the House's formal disapproval of a lawmaker's misconduct. Even amid today's political polarization, censure doesn't happen very often.
Schiff is the 25th lawmaker in U.S. history to be censured by the House. Rep. Paul Gosar, R-Ariz., a Trump ally and member of the conservative Freedom Caucus, was censured on Nov. 17, 2021, for posting an animation on Twitter depicting him killing Rep. Alexandria Ocasio-Cortez, D-N.Y., and attacking President Joe Biden.
Before that, the last censure occurred more than a decade earlier. On Dec. 2, 2010, the House censured Ways and Means Committee Chairman Charlie Rangel, D-N.Y., for a variety of ethics violations, including misusing congressional letterhead for fundraising and filing inaccurate financial reports and federal tax returns.
Democrats, particularly those who worked closely with Schiff on the Intelligence panel, defended him, both in floor speeches and interviews.
"Adam Schiff did his job. He spoke the truth, and he held Donald Trump accountable," Rep. Jason Crow, D-Colo., said in an interview. "And demagogues like Donald Trump don't like that. They don't like people calling them out."