WASHINGTON — Two may be a coincidence, and three is a trend, but House Republicans may be struggling to settle on exactly the right word for seven — the more than half-dozen colleagues, representing a broad range of districts and demographics, who've announced over the past two weeks that they don't plan to run for re-election.
What seems clear is that the exits — which include members from safe seats and competitive districts, one of the party's 13 women in the House, and its only African American in the chamber — are serving as a flashing warning sign that GOP lawmakers are already growing weary of serving in the minority, and in a deeply divided political environment exacerbated by President Donald Trump.
"Being in the minority sucks. You can't legislate so you're left defending the crap that the president tweets on a daily basis. I don't blame them for leaving. Why bother?" said Rory Cooper, managing director at communications firm Purple Strategies, who served as communications director to former House Majority Leader Eric Cantor, R-Va.
Texas GOP Rep. Will Hurd, considered a rising star in the party, shocked his colleagues and political observers when he announced Thursday he had made the decision not to run again "in order to pursue opportunities outside the halls of Congress to solve problems at the nexus between technology and national security."
In 2016, Hillary Clinton won his district, covering the southwestern party of Texas along the U.S.-Mexico border, and he beat his Democratic opponent last November by less than 1 percentage point. His retirement gives Democrats a major opportunity next year to pick up the seat, which Democrat Gina Ortiz Jones, a 38-year-old Iraq war veteran, is again running to fill.
His decision followed recent retirement announcements by GOP Reps. Paul Mitchell of Michigan, Pete Olson of Texas, Martha Roby of Alabama, Rob Bishop of Utah and Mike Conaway of Texas. On Monday, Rep. Kenny Marchant, also of Texas, announced his retirement.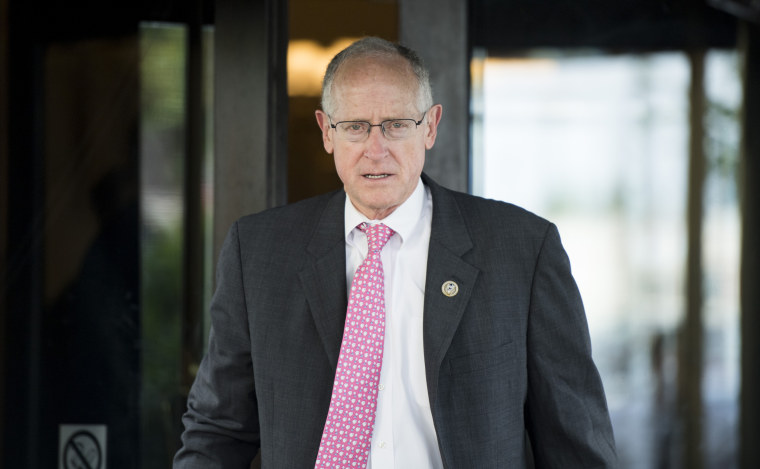 Previously, Reps. Rob Woodall of Georgia and Susan Brooks of Indiana — who leads the National Republican Campaign Committee's 2020 recruitment efforts — announced that they also planned not to seek re-election. Rep. Greg Gianforte, R-Mont., has also decided to run for governor of Montana instead.
Democrats now have a chance to make some of these open seats competitive, as Cook Political Report rates Hurd's seat as leaning Democratic, Woodall's seat as a Republican toss-up and Brooks' seat as leaning Republican. Other seats, such as Roby's and Bishop's, are considered safe Republican seats so Republicans may view their retirements as harmless to the party's prospects of retaining them.
And even as the House Democrats' campaign arm dealt with several resignations this week amid turmoil over a lack of diversity on the committee, Republicans' diversity record is much more limited, only made worse by these retirements.
Hurd's departure will leave Sen. Tim Scott, R-S.C., as the only black Republican on Capitol Hill. Roby and Brooks are among only 13 GOP women in the House compared to 89 Democratic women, according to Rutgers University's Center for American Women and Politics.
"A remunerative outside career looks very inviting," said Larry Sabato, director of the University of Virginia's Center for Politics. "Also, if you or your district isn't enthusiastic about Trump, retiring is a form of stress relief."
In recent weeks, GOP members of Congress have had to wrestle with a slew of racist attacks against members of color in Congress by President Donald Trump, including the ones he made against "the squad," repeatedly saying that Rep. Ilhan Omar, D-Minn., a U.S. citizen, should return to her native country of Somalia.
Hurd's announcement came shortly after Trump lashed out several times against Rep. Elijah Cummings, D-Md., and the city of Baltimore, which the president described as a "disgusting, rat and rodent infested mess."
While it's unclear whether Trump's latest comments might have been a tipping point for those who've announced their retirement, many Republicans feel squeezed by the president's discriminatory remarks and a number of political observers who say it's becoming too challenging to remain in that climate.
"The Republican Party has fully embraced the president's racist, sexist and divisive platform. If you are a person of color, a woman, or anyone who values fundamental decency, this is not a direction you can, in good conscience, support and run for public office on," said Kurt Bardella, now a Democrat who served as deputy communications director and senior adviser to former Rep. Darrell Issa, R-Calif., when he led the Oversight Committee.
This could be "just the tip of the iceberg of retirements," Bardella said. "As more members spend time in their districts and with their families during the August recess, they will realize it's just not worth it anymore."
The latest string of GOP retirements also come as Democrats have ratcheted up their investigative strategy targeting the president and his administration. As of Friday, a majority of House Democrats now back opening an impeachment inquiry of Trump. Some on the House Judiciary Committee, which has the power to initiate such an inquiry, believe they are "in effect" already conducting one.
Democrats won back control of the House last November after serving in the minority for eight years, eventually picking up 41 congressional seats. Rick Wilson, a GOP consultant who's often critical of Trump, said that 2018 was a warning shot "that Donald Trump is going to be an enormous and significant burden to anybody who's not in an R+15 district."
"These people are looking at this coming reality that their campaign in 2020 is not going to be about them, or defending their policies or advocating something. It's going to be a daily defense of, 'Oh God, what did Trump tweet now? Oh God, what did he say now?' They're going to be on [defense] all the time. They're not having any fun in Washington," he said.
With Marchant, Conaway and Hurd's retirements, the Texas Democratic Party hopes there will be more to drop in the Lone Star state. Democrats defeated GOP incumbents in two of the state's formerly red districts last November.
"Texas is the biggest battleground state. Republicans know it, and Texas Democrats damn sure know it," Texas Democratic Party Executive Director Manny Garcia said in a statement Thursday reacting to Hurd's decision.
Of the seats Democrats picked up last year, about half of them were won by more moderate members as opposed to more liberal progressive candidates. If Democrats replicate that strategy again next year in which they "don't put up screaming cuckoo progressives in soft Republican suburbs," said Wilson, "they can pick up most of these retirements, so they could end up with a 60-seat majority here."
Former Rep. David Jolly, who served as a Republican representing a Florida district from 2014 to 2017, and is now an independent, said that prospects of re-election for Republicans will "get more challenging in 2020 as Trump pursues a re-election strategy focused largely on white populist grievance politics."
It isn't just about whether they can win, said Jolly — it's about what it feels like if they do. "It can be a miserable personal experience, particularly for members in the minority without leadership prospects," he said. "There is little opportunity to be effective legislatively, but always increasing demands on fundraising and time away from family. Throw in the daily rage cycle created by the president, and a lot of members are simply ready to walk away."