WASHINGTON — The Republican-controlled House passed legislation Thursday that would ban transgender women and girls from competing in female school athletics — the latest GOP salvo in the intensifying culture wars over transgender rights in America.
The bill, authored by Rep. Greg Steube, R-Fla., would amend Title IX to bar schools that receive federal funding from allowing people "whose sex is male" to participate in sports designated for women or girls.
The Protection of Women and Girls in Sports Act defines sex as "based solely on a person's reproductive biology and genetics at birth."
The bill passed on a strictly party-line 219-203 vote, with all Republicans voting yes and all Democrats voting no. But it will go nowhere in the Democratic-controlled Senate. The White House has also said President Joe Biden would veto the measure, which it said "targets people for who they are and therefore is discriminatory," if it were to make it to his desk.
Before the vote, House Republican women rallied behind the bill, with GOP Conference Chair Elise Stefanik of New York, a former high school lacrosse player, calling the transgender sports ban "a winning issue across America."
Rep. Lisa McClain of Michigan, another member of Republican leadership, was more graphic in her remarks.
"The new norms in our locker rooms ... young girls are being exposed to male genitalia and have to undress themselves and expose their own bodies to these biological males," McClain said at a news conference Thursday. "Let's stop distorting reality. It's beyond disgusting, and I cannot believe that we are subjecting the girls to this kind of exploitation. Makes me sick to my stomach."
A 2018 study on allowing transgender people to use public facilities according to their gender identities showed no link with an increase in safety issues, while a 2019 study found that transgender and nonbinary teens are more likely to have experienced sexual assault or harassment if they attended schools that did not allow them to use bathrooms and locker rooms that conformed with their gender identities.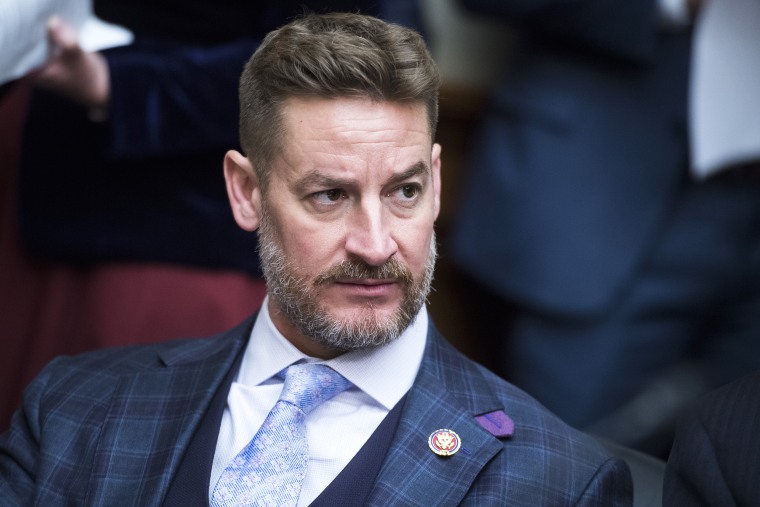 Democrats have accused Republicans of going after transgender people to build their political brand and raise cash from conservative donors. And they argue Steube's bill would target and make life harder for people who already struggle with bullying, depression and thoughts of suicide.
The bill "makes school sports less fair by singling out and banning transgender women and girls as young as kindergarten from participating on school sports teams with their friends," said Rep. Mark Takano, D-Calif., a leader of the Equality Caucus, which advocates for LGBTQ rights on Capitol Hill.
"We know transgender students already face widespread bullying and discrimination," he said Wednesday. "Adding to their pain by targeting their participation in school sports is both wrong and dangerous."
In a floor speech Wednesday, Steube argued that Congress created Title IX a half-century ago to protect women's sports and give women an equal playing field in athletics. "In worship to their trans idols, the [Biden] administration wants to flip that on its head. It's insane," he said.
"Parents do not want biological men in locker rooms with their daughters, nor do they believe it's equitable a male can compete with women in female athletics," he added.
Republicans stepped up their political attacks on transgender athletes after University of Pennsylvania swimmer Lia Thomas, who had competed on the men's swim team, switched to the women's team after she came out as a trans woman and became the first transgender woman to win an NCAA swimming championship.
Since then, more than a dozen GOP-led states have enacted bans on transgender athletes. Republicans have also pushed for state laws to restrict gender-affirming care for transgender minors.
The Biden administration weighed in this month by proposing new regulations that would prohibit categorical bans on trans athletes at schools receiving federal funding but allow some restrictions at more elite levels of competition.
The proposal summary says the rules should take into account differences in age, grade and level of competition.
The Education Department "expects that … elementary school students would generally be able to participate on school sports teams consistent with their gender identity where considerations may be different for competitive high school and college teams," the summary says.
Macy Petty, an NCAA volleyball player at Lee University in Tennessee, was one of several female student-athletes who appeared after the vote with Speaker Kevin McCarthy, R-Calif. Petty recounted that she competed against a transgender person at a volleyball tournament while she was trying to get recruited by college scouts. 
"Female athletes who sacrificed so much for their sport are being pushed out of athletics," Petty said, adding that nets in women's volleyball games are 7 inches lower than in men's games.
"It's a big difference. Suddenly, mediocre athletes can hit like All-Americans. And that's exactly what happened," she said.