House Republicans have proposed punishing representatives who shoot video or take photos on the floor of the chamber — a change in rules seen as a direct response to a dramatic sit-in in June by House Democrats demanding a vote on gun control legislation that was streamed live online.
The new policy would result in members of Congress being fined up to $2,500 for digital photography, audio or visual recording or broadcasting on the House floor.
"These changes will help ensure that order and decorum are preserved in the House of Representatives so lawmakers can do the people's work," Ashlee Strong, a spokeswoman for House Speaker Paul Ryan, said in a statement Monday.
In June, Democrats led by civil rights icon Rep. John Lewis, D-Ga., staged a dramatic sit-in on the House floor with fellow Democrats to force a vote on gun control legislation.
Related: 'Spirit of History': House Democrats Hold Sit-In on Gun Control
The protest was not publicly broadcast because the House had not formally gaveled into session. Instead, the protest gained steam after Rep. Scott Peters, D-Calif., used the video streaming app, Periscope, to share footage of the sit-in. C-Span eventually broadcast Peters' video feed.
The newly proposed policy, which would have to be approved by the full House when they return in January, would fine a member $500 for the first offense and $2,500 for any subsequent offenses. The funds would be taken out of the member's net salary.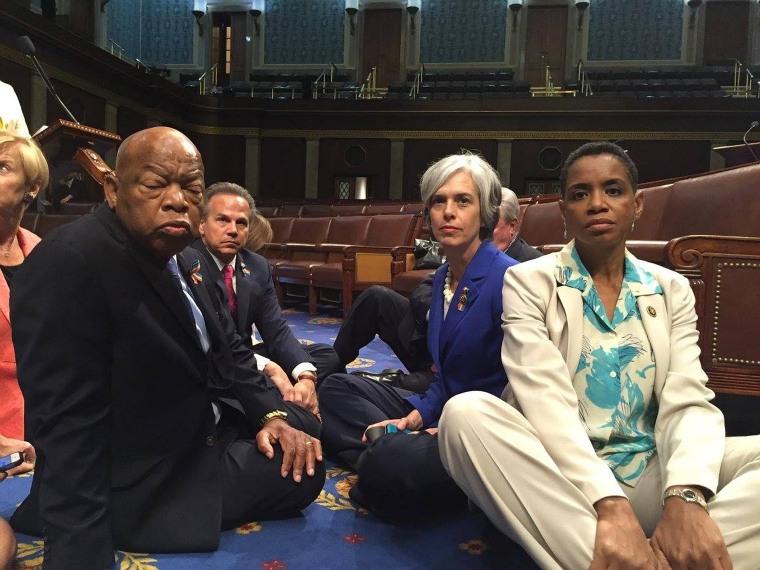 Republican House Speaker Paul Ryan condemned the Democrats' tactic over the summer, calling it at the time a ploy "to get attention."
A GOP leadership aide said the rule changes are prospective and would only apply to future breaches of decorum.
"Bring.It.On.," California Rep. Eric Swalwell, a Democrat who was a leading figure in the June sit-in, tweeted in response to the new proposal.
"Dear @HouseGOP, you can fine me & @HouseDemocrats all the way into bankruptcy for #gunviolence sit-in, but we will always speak for victims," Swalwell said in another tweet.
The new proposal would also clarify what is considered "disorderly or disruptive," saying it would now include "blocking access to legislative instruments such as microphones and blocking access [sic] the well of the House."