WASHINGTON — Just hours after he beat out a crowded field to win the GOP nomination for speaker, House Majority Whip Tom Emmer, R-Minn., dropped his bid Tuesday after it became clear he could not win the 217 votes needed on the floor.
Emmer, the No. 3 Republican in leadership and the GOP's chief vote counter, told GOP colleagues in a closed-door meeting Tuesday afternoon that he could not continue his bid for speaker, sources in the room said.
His made the decision after he huddled with several of his detractors, who made it clear to him they would not, under any circumstance, support him in a floor vote.
Emmer is the third straight GOP nominee to have dropped his bid for speaker, underscoring the chaos and dysfunction roiling the Republican Party. Republicans will hold another candidates forum Tuesday night.
Just four hours earlier, Emmer and his allies were celebrating having won the nomination in a hard-fought race. He defeated GOP Conference Vice Chair Mike Johnson of Louisiana in the fifth and final round of internal voting. The vote was 117 to 97, with five Republicans voting for other candidates, lawmakers said.
But Emmer's victory was met with swift and vocal opposition from former President Donald Trump and his conservative allies in Congress.
Follow live updates on the speaker race
More than two dozen Republicans indicated in a private roll-call vote that they would not back Emmer's nomination on the House floor. And Trump, who had stayed on the sidelines during this round of selecting a new nominee, issued a scathing statement on Truth Social bashing Emmer as a Republican in name only.
"I have many wonderful friends wanting to be Speaker of the House, and some are truly great Warriors. RINO Tom Emmer, who I do not know well, is not one of them," Trump said. "He never respected the power of a Trump Endorsement, or the breadth and scope of MAGA — MAKE AMERICA GREAT AGAIN!"
Emmer's nomination and rapid exit come exactly three weeks after California Republican Kevin McCarthy was ousted from the speaker's office — the first time in history a sitting speaker had been removed. Emmer told colleagues he wanted to secure the needed 217 GOP votes first before he rushed to the floor, lawmakers said, and he stayed for hours after the vote addressing concerns from his staunchest critics.
But like the party's two previous nominees — Majority Leader Steve Scalise of Louisiana and Judiciary Committee Chairman Jim Jordan of Ohio — Emmer appeared nowhere close to having the votes needed to win the gavel.
"It's either third time's a charm or three strikes you're out!" Rep. Marc Molinaro, R-N.Y., said before Emmer dropped out.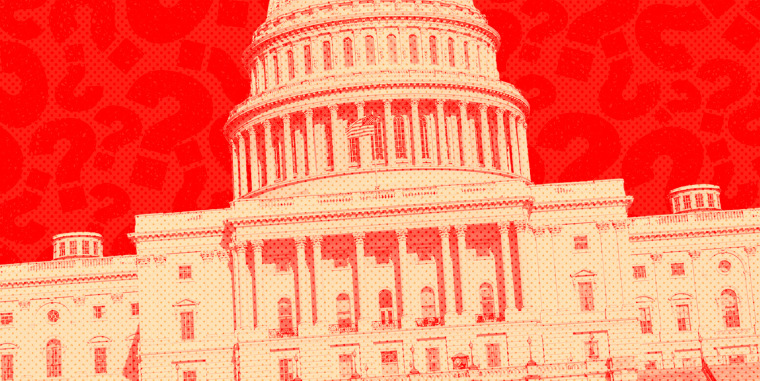 Immediately after Emmer's victory, House Republicans took a separate roll call to see whether 217 members were willing to back him on the floor. More than two dozen voted "present" or for someone else, multiple lawmakers said; many of the anti-Emmer votes were cast for Jordan or Johnson, said lawmakers who kept a list of the detractors.
"It should not be surprising to anyone that there is nobody in that room that is going to be able to get 217 votes as we speak," Rep. Steve Womack, R-Ark., told reporters.
Rep. Jim Banks, R-Ind., who voted for Jordan in the roll call, said there was no path for Emmer to win the speakership on the floor.
"I can't go along with putting one of the most moderate members of the entire Republican Conference in the speaker's chair," said Banks, who lost to Emmer in the race for majority whip last year. "That betrays the conservative values that I came here to fight for. So I hope there's a change along the way."
Another "Never Emmer" vote, Rep. Marjorie Taylor Greene, R-Ga., tweeted that Emmer "voted for Democrat gay marriage bill, voted with Democrats to overturn President Trump's transgender military ban, voted for every penny of Ukraine funding, at one time supported the Soros national popular vote scheme, and voted to certify Biden's 2020 election."
After Emmer ended his bid, Greene, a Trump loyalist, explained the dynamic of House Republicans: "The GOP Conference is changing, and it's changing to reflect America First. And Republican voters overwhelmingly support President Trump, and the GOP Conference and the speaker of the House should do the same."
Moderate Rep. Don Bacon, R-Neb., said the "bad blood" between the warring factions of the GOP — the Reagan conservatives and the populist wing — continues to get worse with each speaker nominee.
"What happened to Kevin McCarthy started it. It was very raw for eight people to do that. They opened up a Pandora's box," Bacon said. "And then what happened to Steve Scalise, which angered me, because I thought supporters of Jim Jordan didn't handle themselves. And we're seeing a continuation of this."
After Jordan bowed out Friday, nine speaker hopefuls threw their hats in the ring for the third round. But at Monday night's candidates forum, Rep. Dan Meuser, R-Pa., abruptly dropped out, and moments before any votes were cast Tuesday, Rep. Gary Palmer, R-Ala., followed suit, leaving seven candidates.
Tuesday's nominating process took place by secret ballot and behind closed doors in the cavernous Ways and Means Committee hearing room in the building named for the late Speaker Nicholas Longworth.
To winnow the list of seven, the lowest vote-getter was eliminated. In the first round of voting Tuesday, that was Rep. Pete Sessions, R-Texas, the former Rules Committee chairman.
Rep. Jack Bergman, R-Mich., was voted out next, followed by Rep. Austin Scott, R-Ga., in the third round. Both Reps. Byron Donalds, R-Fla., and Kevin Hern, R-Okla., tied for last in the fourth round; Donalds dropped out of the race, lawmakers said, and Hern was therefore eliminated.
Emmer had dominated earlier rounds of voting by wide margins, and he secured support from a majority of the lawmakers in the room on the fifth ballot.
A GOP civil war has prevented Republicans from agreeing on a McCarthy successor. The GOP's two previous picks bowed out after they failed to secure the votes needed to win on the floor, leaving the House in a state of unprecedented chaos with a possible government shutdown less than a month away and wars raging in Ukraine and the Middle East.
Emmer has "got a little bit of work to do, but I sure hope we can get there," House Foreign Affairs Committee Chairman Michael McCaul, R-Texas, said in a brief interview. "We can't afford 40 more days without governing. We're running out of time."
Emphasizing the need for his colleagues to move on and coalesce around a new leader, Womack said in an appearance earlier on NBC's "Meet the Press NOW": "The world is burning around us, and American leadership is necessary. And you can't have the full complement of American leadership if the House of Representatives is not functioning."
"The world is watching; our adversaries are paying attention. And it does not, you know, cast a good light on the democratic institutions that we all have sworn to defend," he added. "So again, let's hope and pray that this week is it."