WASHINGTON — Sen. Bernie Sanders and former Starbucks CEO Howard Schultz squared off Wednesday in a highly anticipated hearing about the company's labor practices, which Schultz defended against criticism.
Schultz testified before the Senate Health, Education, Labor and Pensions Committee, chaired by Sanders, I-Vt., at a hearing unsubtly titled "No Company is Above the Law: The Need to End Illegal Union Busting at Starbucks."
It came after weeks of clashes between the Sanders-led committee and Starbucks, which unsuccessfully urged the panel to hear testimony from someone other than Schultz, who officially exited the company March 20. Sanders refused, and Schultz eventually agreed to testify under threat of subpoena.
"Strong unions are a vital part of rebuilding the declining middle class in this country," Sanders said in his opening statement, adding that as union activity has risen, "corporations have engaged in an unprecedented level of illegal union busting activities." He blamed Starbucks. "Over the past 18 months, Starbucks has waged the most aggressive and illegal union-busting campaign in the modern history of our country."
The hearing, which lasted more than three hours, featured a defense of Starbucks labor practices by Schultz, as well as testimony from Maggie Carter, a Starbucks barista in Knoxville, Tennessee; Jaysin Saxton, whom the committee labeled a "fired Starbucks worker leader" from Augusta, Georgia; and other witnesses.
Sanders and Schultz had some tense exchanges. At one point, Schultz pushed back against Sanders' repeatedly labeling him a billionaire, saying the moniker was "unfair."
"I grew up in federally subsidized housing. ... My parents never owned a home. I came from nothing. I thought my entire life was based on the achievement of the American dream," he said. "Yes, I have billions of dollars. I earned it. No one gave it to me. And I've shared it constantly with the people of Starbucks."
Schultz found a warmer reception from Republicans on the committee. Ranking member Bill Cassidy, R-La., said the hearing was "not a good-faith effort to get the facts."
"It's a smear campaign against an individual and a company based upon allegations that everyone knows are still under litigation," Cassidy said. "Let's not kid ourselves. This is not a fair and impartial hearing." He also criticized the National Labor Relations Board for putting its "thumb on the scale for unions."
Schultz told the committee that Starbucks is "100% committed to fulfilling our obligations as an employer under the National Labor Relations Act and are committed to good-faith negotiations on first contracts for each unionized store."
"Every day, we wake up thinking about how we can put our people first, in a position to win. We do everything we can to demonstrate the heart and the values of Starbucks coffee company," he said.
In response to aggressive questioning from Sanders, Schultz repeatedly denied that Starbucks has violated the law and vowed to continue negotiating with union organizers in "good faith."
Schultz also touted Starbucks' wages and benefits, saying that while "unions have served an important role in American business for many years," that has tended to be more prevalent with companies that mistreat workers.
"We do nothing that is nefarious," he said. "And that's why Starbucks doesn't need a union."
Sanders, a two-time Democratic presidential primary runner-up who has built a brand as a champion of labor unions, has taken a keen interest in Starbucks and Schultz.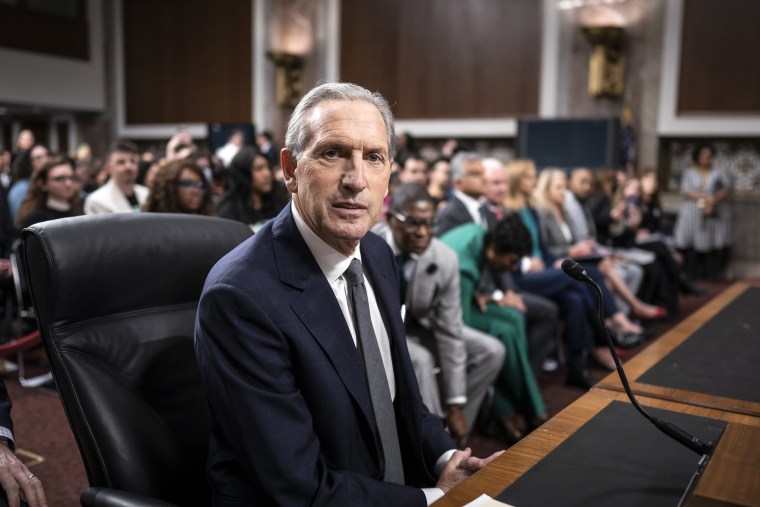 A recent report by the Democratic majority staff on the HELP Committee declared: "Under Schultz's leadership, Starbucks has become the most aggressive union-busting company in America."
It said the NLRB "has filed over 80 complaints against Starbucks for violating federal labor law and there have been over 500 unfair labor practice charges lodged against this company. These violations include the illegal firing of more than a dozen Starbucks workers for 'the crime' of exercising their right to form a union and collectively bargain for better wages, benefits, and working conditions."
A Sanders communications aide said the report was released to counter the company's claims so viewers "don't get blended into a Frappuccino by Starbucks' PR team."
Gianna Reeve, a Starbucks worker in Buffalo, New York, and organizing member of Starbucks Workers United, said in a statement that the union hopes the hearing "exposes Starbucks' illegal union-busting campaign and exposes the truth about how Starbucks really treats their workers." Reeve added that "you can't be a progressive company and be anti-union."
First-term Republican Sen. Markwayne Mullin, of Oklahoma, used his time to attack Sanders, claiming that he is worth $8 million and saying he shouldn't criticize other wealthy people.
Sanders said he was lying, to which Mullin said it was a matter of public record.
"You're probably looking at some phony right-wing internet stuff," Sanders said. "It ain't true."
In his questioning, Sen. Mitt Romney, R-Utah, noted Schultz's past presidential bid.
"I recognize at the outset there's some irony to a non-coffee-drinking Mormon conservative defending a Democrat candidate for president in perhaps one of the most liberal companies in America," he said. "I also think it's somewhat rich that you're being grilled by people who have never had the opportunity to create a single job."
Sen. Rand Paul, R-Ky., opened his remarks Wednesday by quoting the novelist Ayn Rand on "the ingratitude man has for the entrepreneur."
"Don't deride one of the great American success stories," he said. "I don't want to be part of any witch hunt that vilifies any American business."