WASHINGTON — For Maine's Susan Collins, it was an agonizing decision — give up her 20-year career in the U.S. Senate to run for governor of her home state or remain as one of the most important voices in Washington.
Over the course of months, Collins had agonized over the question, at one point saying in an interview with MSNBC that she was open to any advice.
"So I texted her and said, 'I've got advice for ya,'" Sen. Heidi Heitkamp, a Democrat from North Dakota who was watching at the time, told NBC News.
Heitkamp said that text was the beginning of a months-long campaign on her part to persuade Collins to stay in the Senate. Unable to remember exactly how many texts she sent or how many conversations the two had about it, she did contend, "I've probably been the most persistent" in persuading her to stay.
But she wasn't the only one.
As the GOP is torn between establishment Republicans and loyalists to President Donald Trump, Collins has emerged as a voice not beholden to either party or faction, instead representing a state that is fiercely independent both in label and ideology.
Collins says she did not vote for Trump in 2016 —she didn't vote for Hillary Clinton either but wrote in a candidate — and since his election, she has emerged as a thorn in the side of her party's leadership and the president. In addition to her vote against a repeal of the Affordable Care Act twice, she and Murkowski voted against the confirmation of Education Secretary Betsy DeVos. And Collins was the only Republican to vote against Scott Pruitt to be administer to the EPA.
Moderate Republicans and Democrats urged her, through both gentle nudging and constant nagging, to stay in the Senate and continue the fight.
Sen. Lisa Murkowski, R-Alaska, who has become a close friend and ally on many legislative issues, said she knew how hard the decision was for Collins and tried to give her space. She did, however, send her one text message that Collins took to heart.
"The institution would suffer in your absence. While the temptation might be to walk away and leave the problems to others, there are very few who have the ability to bring about positive change. You are such a person," Murkokwski wrote in a text message shared with NBC News.
Murkowski called Collins a "constructive lawmaker" because she's "not a bomb thrower" and "doesn't engage in negative rhetoric."
"I love that in her and I respect that in her," Murkowski said of Collins.
Collins said that while she misses Maine, and her family who stays there while she's in Washington, it was her out-sized influence she currently has in a hyper-partisan Washington that led her to decide to stick around.
"I've had the honor of serving in the senate for 20 years now and never have I felt that my voice and my vote mattered more," Collins told NBC News.
Politicians who have served in both the Senate and as governor often say that governor is a far superior job. Running the executive branch yields far more influence and often translates to direct impact on citizens than being one of 100 senators.
Sen. Joe Manchin, D-W.V., who served as governor, is vocal about his dislike of the Senate compared to the governor's mansion. He chimed in during an interview with Heitkamp, saying, "I told her she's crazy for not going. Run for governor. It's the best job in the whole world."
Collins said she sought the advice of three others who have served as both governor and senator — Sens. Angus King of Maine and Lamar Alexander of Tennessee as well as former Sen. Judd Gregg of New Hampshire — who helped walk her through the pros and cons of each job and the impact she'd have on the citizens of her state.
King said he was honored to hear that Collins took his words to heart. He said he communicated with Collins half a dozen times leading up to her decision.
"I think she's one of the most important people in the country right now. I think she's got a very important voice," King told NBC News. He said that his last text to Collins was last week. During a meeting in Maine, King told Collins that every person in the meeting hoped that Collins would remain in the Senate.
"They didn't care about me, but they told me to tell (Collins) to stay," King recalled.
Collins said that she was stopped everywhere she went in Maine over the past few weeks, saying most wanted her to stay in the Senate.
"The people who argued for me to stay in the Senate told me that they felt I was playing such a vital role right now and the times were so tumultuous an contentious that they were worried if I were to leave that the center would sink," Collins said.
At Mass on Saturday, the day after she announced her decision, people stopped her on her walk back to her seat after Communion to thank her. "That was an interesting development," she said, laughing.
The women who serve in the Senate hold regular, bipartisan dinners together. While they agree to never discuss what they talk about at those dinners, two attendees admitted that all the women encouraged Collins to remain a legislator.
"We're not supposed to talk about what the women talk about when the women have dinner together but we love her service here," Sen. Tammy Baldwin, D-Wisc., said laughing.
Heitkamp, the North Dakota Democrat, feels an affinity for Collins. Both are moderates, albeit from different parties, who have felt both isolated from their party and embraced by the other at times.
After Collins' health care vote, a Roll Call photographer caught Heitkamp giving Collins an enthusiastic hug in an elevator off the Senate floor. Heitkamp said that while she supported Collins' position on health care, she celebrated with Collins at that moment more out of personal support, knowing how hard it was to go against her party.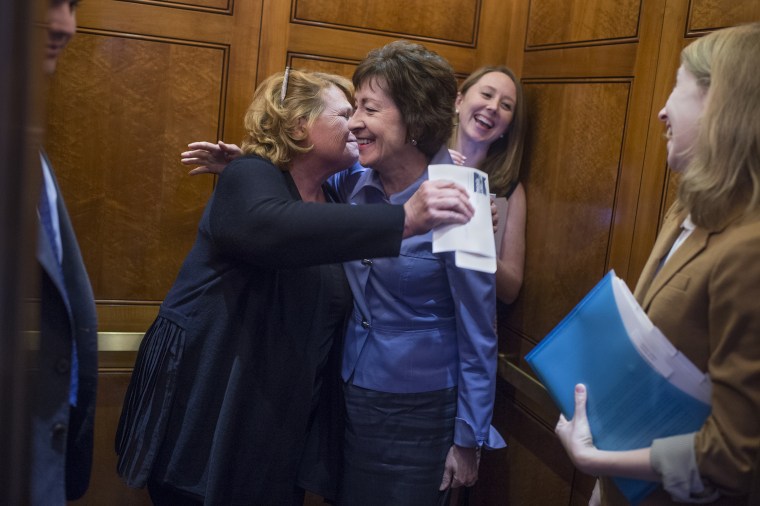 Heitkamp, for example, is currently being lobbied by Republicans and the White House to support tax reform, putting her at odds with her own party that remains mostly united in opposition to the Republicans' tax framework.
"This country needs you in the Senate. I need you in the Senate," Heitkamp said was her message to Collins. "I did acknowledge that I might have been a little selfish in this, but she has been such a great partner and such a great friend I would be really sad. My experience here would be greatly diminished if she had left the Senate."
"You'll walk away from this business as friends and as colleagues who have a lot of muutal respect. I have an incredible amount of respect for Susan Collins."