Republican Sen. John McCain on Thursday blamed President Barack Obama for the deadly shooting in Orlando that killed 49 club goers.
He said the president is "directly responsible for it because" of his "utter failures" in Iraq.
"Barack Obama is directly responsible for it because when he pulled everybody out of Iraq, al Qaeda went to Syria and became ISIS and ISIS is what it is today thanks to Barack Obama's failures, utter failures by pulling everybody out of Iraq thinking that conflicts end just because we leave," McCain told reporters on Capitol Hill, according to audio obtained by NBC News.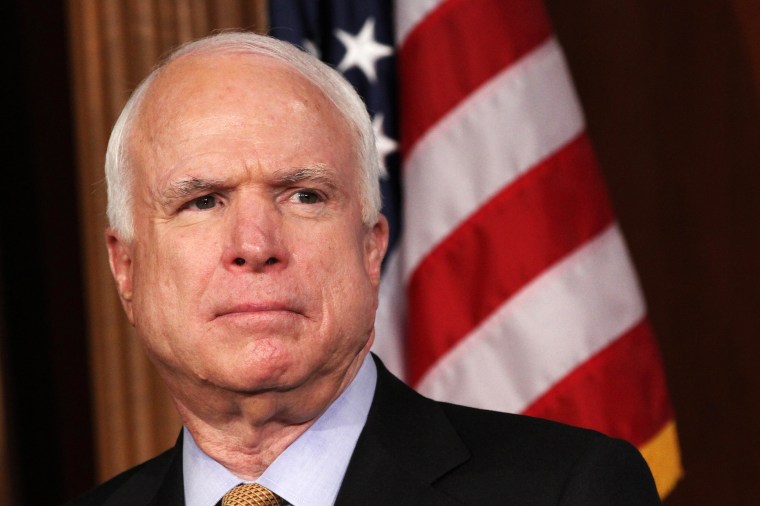 "So the responsibility for it lies with President Barack Obama and his failed policies," McCain added.
McCain's remarks caused a stir after presumptive Republican nominee Donald Trump insinuated that the president had a role in the Orlando massacre. Trump said on Fox News Monday that "He doesn't get it or he gets it better than anybody understands — it's one or the other and either one is unacceptable."
"There are a lot of people that think maybe he doesn't want to get it," Trump said Tuesday on NBC's TODAY Show.
Related: President Obama: Nation and Orlando 'Shaken by an Evil, Hateful Act'
A shooter killed 49 people at a gay club in Orlando early Sunday morning, reigniting a debate over guns, foreign policy and immigration.
McCain issued a statement clarifying his remarks, saying that it was the president's policies, "not the president himself," responsible for the rise of ISIS.
"I am saying that the President of the United States actions — actions — were responsible because of the full withdraw of troops from Iraq, which lead to al Qaeda going into Syria and lead to ISIS," the statement continued.
McCain is running for reelection in Arizona and is being challenged int he Republican primary by Kelli Ward, an Arizona state senator.
Donald Trump won the Arizona primary against Sen. Ted Cruz and Ohio Gov. John Kasich, who didn't compete in the state, with 47 percent of the vote.