The news that Sen. John McCain, R-Ariz., had been diagnosed with a brain tumor shook Capitol Hill on Wednesday evening, but his fellow lawmakers and admirers responded with a clear, hopeful message: If anyone can beat this, it's John McCain.
President Donald Trump praised the former prisoner of war and two-time Republican presidential candidate, saying he has "always been a fighter."
Senate Majority Leader Mitch McConnell, R-Ky., hailed McCain as a "hero to our country."
"He has never shied from a fight and I know that he will face this challenge with the same extraordinary courage that has characterized his life," McConnell said in a statement. "We all look forward to seeing this American hero again soon."
Rep. Steve Scalise, R-La., who has been hospitalized since the congressional baseball shooting in June, tweeted that he was praying for his colleague:
Republican senators meeting with Trump administration officials Wednesday night stopped for a prayer, led by Sen. James Lankford, R-Okla., a former evangelism specialist, as soon as they heard the news.
Former President Barack Obama praised his onetime rival for the White House as an "American hero & one of the bravest fighters I've ever known."
"Cancer doesn't know what it's up against," Obama tweeted. "Give it hell, John."
Former Vice President Joe Biden struck a similar chord:
Former President George H.W. Bush said the former Navy pilot and Vietnam War POW would fight his diagnosis with "courage and determination."
"The Hanoi Hilton couldn't break John McCain's spirit many years ago," Bush said, referring to the prison camp where McCain was held and tortured after being shot down, "so Barbara and I know — with confidence — he and his family will meet this latest battle in his singular life in service with courage and determination."
Hillary Clinton said McCain "is as tough as they come," adding that she was thinking of the senator, his wife, Cindy, and "their whole family tonight."
Sen. Jeff Flake, R-Ariz., said he had spoken to his senior colleague:
Sarah Palin, the former governor of Alaska and McCain's running mate on the 2008 Republican presidential ticket, said McCain was "one tough fighter."
"We know he'll face this diagnosis with courage and strength," Palin said in a Facebook post.
McCain, widely seen as a "maverick" open to crossing the aisle to reach bipartisan agreement, was celebrated by high-profile Democrats, too.
House Minority Leader Nancy Pelosi, D-Calif., tweeted that she was "privileged to call him a friend."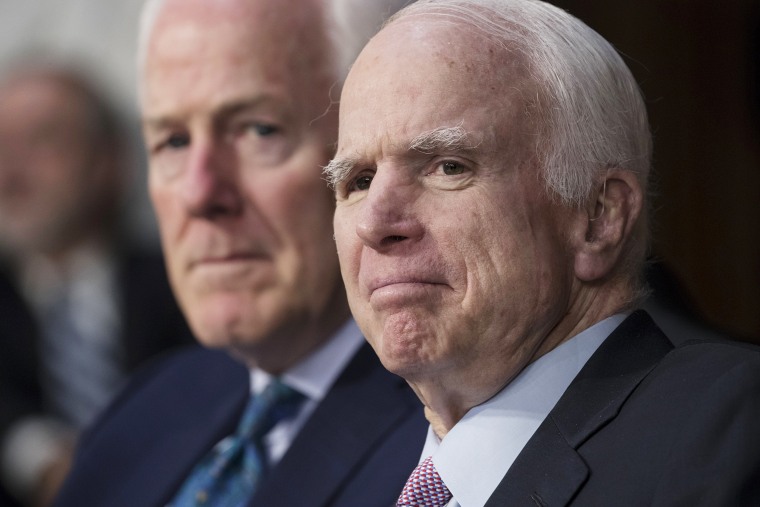 Sen. Tim Kaine, D-Va., Clinton's running mate on the 2016 Democratic ticket, tweeted: "Thinking about a hero, my Chairman, my friend John McCain. Stay strong!" (McCain is chairman of the Senate Armed Services Committee, of which Kaine is a member.)
Former Rep. Gabby Giffords, D-Ariz., who survived an assassination attempt in 2011, urged her fellow Copper State resident to "hang in there."
"You're tough! You can beat this," Giffords tweeted. "Fight, fight, fight! I am proud to call you my friend."
As tweets and posts from lawmakers in both parties poured in Wednesday evening, at least one colorful message seemed to sum up the mood in Washington. Former Rep. John Dingell, D-Mich., applauded his friend McCain as "a dogged ole S.O.B."
McCain's office said in a statement that the senator, 80, was in good spirits.
"Senator McCain appreciates the outpouring of support he has received over the last few days. He is in good spirits as he continues to recover at home with his family in Arizona. He is grateful to the doctors and staff at Mayo Clinic for their outstanding care, and is confident that any future treatment will be effective," the statement said.