House Majority Leader Kevin McCarthy has abruptly pulled out of the race for Speaker of the House on the same day that he was widely expected to be nominated for the position.
"If we are going to unite and be strong, we need a new face to help do that," McCarthy told reporters after news broke of his decision. "Nothing more than that. I feel good about the decision."
McCarthy, who faced opposition from conservatives within the GOP, said that he intends to stay on as House majority leader. The nomination race for House Speaker set for Thursday afternoon in the House has been postponed.
McCarthy, who was viewed as the overwhelmingly likely successor to outgoing speaker John Boehner, stunned official Washington with his sudden exit from the contest. He told colleagues in a private conference meeting that he was not "the right person for the job," according to members present.
Rep. Darrell Issa of California told reporters that "it's my understanding that [McCarthy] felt he could not get to 218" votes, the threshold to elect a speaker in the full House vote that had been scheduled for October 29.
McCarthy offered the same explanation, telling reporters: "I've been talking to a number of members, we've been thinking about this throughout the week, trying to see if we can get there [to 218 votes]. I just think it's best to have a new face."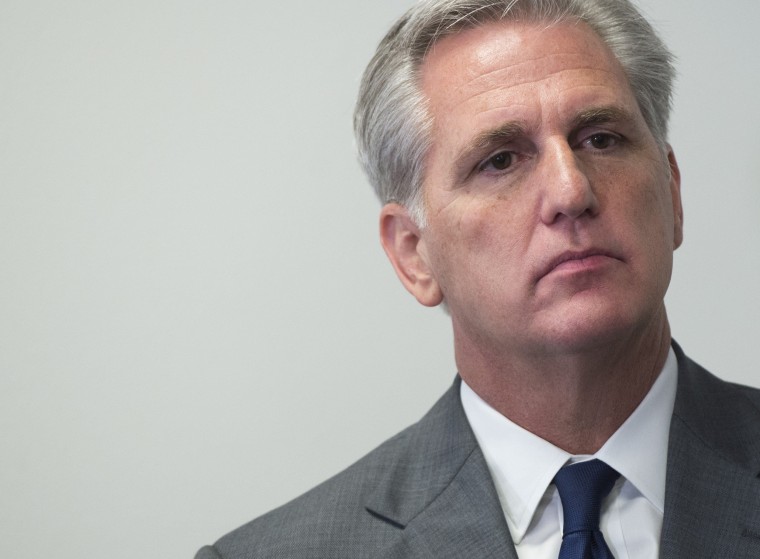 McCarthy faced opposition in Thursday's nomination race from House Oversight Committee Chairman Jason Chaffetz of Utah and Rep. Daniel Webster of Florid, but he was expected to defeat both rivals.
His sudden exit throws the House into disarray, with no heir apparent for the position.
Outgoing House Speaker John Boehner announced his retirement last month but had said he will serve in the position until October 30. In a statement, Boehner again pledge to serve as speaker until a replacement has been elected on the House floor.
Boehner has cancelled a scheduled appearance Thursday on The Tonight Show with Jimmy Fallon.
House Ways and Means Chairman Paul Ryan reiterated on Thursday that he will not seek the post. ""Kevin McCarthy is best person to lead the House, and so I'm disappointed in this decision," he said, adding "While I am grateful for the encouragement I've received, I will not be a candidate."
McCarthy, a Republican from California and the current number two in House leadership, had come under fire in recent days for his comments on television suggesting that the House Select Committee on Benghazi was politically charged and created for the purpose of derailing Hillary Clinton's presidential campaign.
He has since apologized for the remarks, saying that the committee is not political in nature.
On Thursday, McCarthy admitted the comment "wasn't helpful" but insisted that his decision had to do solely with party unity.
His comments, which gave Clinton a potent talking point just weeks before her high-stakes appearance before the Benghazi panel, fueled some concerns that McCarthy is not ready for the job. But much more problematic for McCarthy had been resistance from conservatives in the House, who say that McCarthy – like Boehner - is unwilling to fight the Obama administration to achieve the goals of hard-liners, which include a complete defunding of Planned Parenthood.
Earlier this week, GOP Rep. Walter Jones of North Carolina also spurred gossip when he suggested that any candidate for that party's leadership who has committed any "misdeeds" since being elected to the House should step down.
"With all the voter distrust of Washington felt around the country, I am asking that any candidate for Speaker of the House, majority leader, and majority whip withdraw himself from the leadership election if there are any misdeeds he has committed since joining Congress that will embarrass himself, the Republican Conference and the House of Representatives if they become public," Jones said, although it was not clear that he was referring to a specific member of his party.
Asked about Jones' letter on Thursday, McCarthy, who was flanked by members of his family during his press conference, replied "No, no. Come on."