Republican Sen. Chuck Grassley was greeted at a town hall Tuesday in Iowa with a shouted question about "impeachment" as voters there and at other events across the country pressed lawmakers about the moves and goals of President Donald Trump's administration.
"I am so unsettled. It feels like we have a juvenile running our country," Doug Thompson, a Democrat and farmer from Kanawha, told Grassley at an event in Garner. Grassley outlined the process but didn't give his opinion.
In Kentucky, Senate Majority Leader Mitch McConnell pushed back at around 1,000 anti-Trump protesters who showed up outside his event, telling a crowd of business leaders inside that "winners make policy and the losers go home."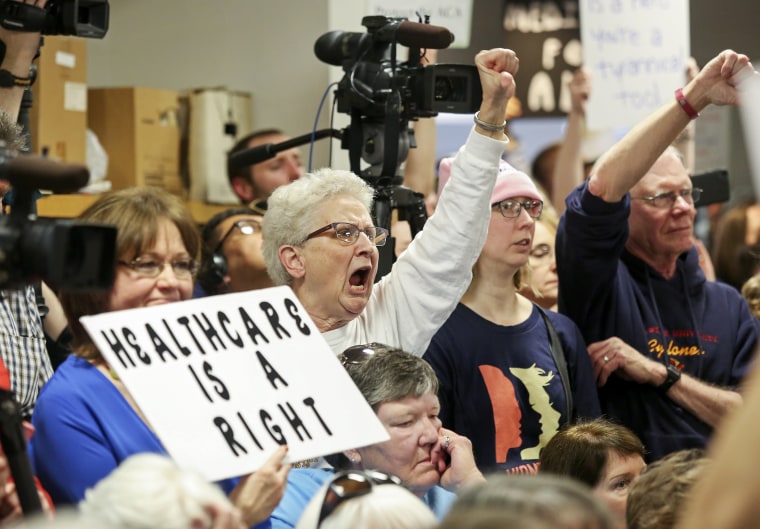 And in Maquoketa, Iowa, members of a crowd booed and chanted "do your job!" at Republican Sen. Joni Ernst near the end of a roundtable, NBC affiliate WHO of Des Moines reported.
The divisiveness of the 2016 presidential election was on view at Grassley's town halls.
"Let all these fruitcake Democrats go to California!" a man shouted from the back of the room at an earlier event in Iowa Falls. The Trump defender, among more than 100 disgruntled Iowans, added: "There is a movement in California — they want to leave the union they're so unhappy. I say: Let them go!"
Related: California Dreamin'? Many in Golden State Want to Secede
Trump weighed in on the controversy at town halls and other events on Tuesday, claiming in a tweet: "The so-called angry crowds in home districts of some Republicans are actually, in numerous cases, planned out by liberal activists. Sad!"
In Tennessee, Republican Rep. Marsha Blackburn was asked about the president's chief strategist, Stephen Bannon, whom the questioner referred to as a "white supremacist." Bannon has said he isn't a racist or a white nationalist. Another woman demanded that Trump be required to release his tax returns. Both were met with applause.
"As a member of the House, we don't have the ability to make that requirement," said Blackburn, who represents a district between Memphis and Nashville. "He does have to file, and he has filed all the paperwork that is necessary with the Federal Election Commission, and he has done that."
Some of the most contentious moments came after Blackburn was asked about the qualifications of Betsy DeVos to be education secretary. When the senator said, "I think Ms. DeVos is going to be a fine secretary," she was met with boos.
"You have to do better than this. We are not stupid!" a woman in the crowd said.
"I did answer your question. She's going to do a fine job," Blackburn said.
Voters have vented their frustration at members of Congress in their districts in recent weeks over moves of the Trump administration. Republican Rep. Jason Chaffetz was booed several times at a town hall in Utah this month and struggled to be heard.
"Come on, we're better than this," Chaffetz protested at a Salt Lake City event, practically pleading with the deafening crowd to let him speak.
In Florida, a crowd of several hundred turned hostile during an event with Republican Rep. Gus Bilirakis earlier this month. In California, chapters of the group Indivisible pressured Republican Rep. Paul Cook to hold a town hall — even creating "missing" stickers to slap onto milk cartons.
"The goal is to have Paul Cook hold a town hall meeting and actually speak with his constituents as a group in a public setting," Jason Graham of Indivisible in Victor Valley said. "His staff told us he prefers not to do town halls, but that's unacceptable." Cook's office didn't immediately return a request for comment.
Blackburn's event in Tennessee ended in applause. "Everyone's voice is important to the conversation," she said.
After a series of events across the country in which fuming constituents have met Republican lawmakers, Grassley is holding four town halls in Iowa this week. More than 100 Iowans gathered in Iowa Falls, and more than 80 others were turned away at the door because of room capacity.
But the emotions that emanated from the 100 residents that were able to enter was enough to cause an hour of unusual political rancor in the Hawkeye State.
As Grassley spoke about the national debt, a woman standing along the wall on the left side of the room interjected: "Our roads are falling apart — everything is going to the pits."
The frustrated man who asked the initial question pointed to the woman several rows back — as Grassley stood quiet — and exclaimed, "Shut your hole!"
Grassley's town hall Tuesday in Iowa Falls mirrored events in 2009, which Grassley engaged in as Democrats mulled over the proposed legislation that would become the Affordable Care Act.
At one of those town halls, Grassley propped up fears about alleged "death panels" that many Republicans claimed would be included in the law.
But on Tuesday, Chris Petersen, a pig farmer from Clearwater, turned to Grassley and asserted that he would own the creation of "death panels" if he voted to repeal the Affordable Care Act, suggesting that the senator was prepared to cut health care insurance for millions of Americans.
"Sir, you're the man that talked about the death panels," said Petersen, the former president of a farmers' union in the state. "We're going to create one big death panel in this country that people can't afford to get insurance."
Petersen, who won applause from almost everyone in the room, offered Grassley a container of Tums, the antacid tablets. "You're going to need them the next few years," he said. "People are disappointed."
Grassley told reporters afterward that Trump's presidency hadn't warranted any reliance on the heartburn and gas relief drug.
"The only times I need Tums is when I have chocolate ice cream before I go to bed," he said.
In South Carolina over the weekend, protesters also aired their views at a town hall held by Republican Rep. Mark Sanford and Sen. Tim Scott.
"It was a spirited town hall meeting, but I think that you learn more at times from folks who hold an opposing viewpoint than folks who hold the same viewpoint," Sanford told MSNBC on Monday.
"So, you know, I got something out of it. I think a number of them got something out of it. It turned out to be a 3½-hour long town hall meeting," Sanford said. "It was lengthy, and there was a lot of conversation, and I think that's what we want."