WASHINGTON — If Congress can't protect special counsel Robert Mueller's job, perhaps it can protect his work.
That's the thinking among several lawmakers on Capitol Hill, who are discussing ways to safeguard the special counsel's investigation into possible ties between the Trump 2016 campaign and Russia amid President Donald Trump's escalating attacks.
As the probe closes in on the White House, much of the public debate has centered on the fate of Mueller and whether Trump might fire the former FBI director, who's now led the probe for nearly a year.
But warnings now from Capitol Hill focus on the possibility of Trump replacing Deputy Attorney General Rod Rosenstein, who oversees the special counsel probe. If Trump takes that step and installs a loyalist in the job, Mueller's scope could be narrowed, his resources squeezed, and Rosenstein's successor could withhold the report from Congress and the public.
Sen. Richard Blumenthal, D-Conn., who helped draft a bipartisan bill to protect Mueller that passed the Judiciary Committee late last month, confirmed to NBC News on Thursday that talks are underway for a "Plan B" after Senate Majority Leader Mitch McConnell refused to bring the original legislation for a floor vote.
The discussions "involve assuring the evidence is preserved and reports are done if the special counsel is fired or other political interference is undertaken by the president," Blumenthal told NBC News.
Notably, Blumenthal added, some GOP senators are participating in the effort.
"There's strong interest on the Republican side in avoiding a constitutional crisis," said Blumenthal, who's also drafting a measure to protect Rosenstein but declined to provide details.
Some Judiciary Committee members believe the fresh effort would be politically harder for McConnell to reject since it focuses primarily on transparency and not the president's personnel decisions — and it could apply to all future special counsels.
In the House, where the Republican majority has refused to consider any legislation to protect the Mueller probe, Democrats are debating taking matters into their own hands if Trump acts against Mueller. Some options Democrats are considering include keeping vigil at Mueller's office.
"We have to do everything we can to make it politically unsustainable for the president to destroy the investigation and accountability and the rule of law," Rep. Jerry Nadler, the top Democrat on the House Judiciary Committee, told constituents in his New York district last week.
Pressuring McConnell
The Senate Judiciary Committee last month voted 14-7 on bipartisan legislation giving Mueller or any special counsel the ability to challenge his or her removal before a three-judge federal panel.
That drew opposition from a number of conservatives including Sen. Mike Lee of Utah, who say that would overstep Congress's limited authority over the president's personnel choices.
Proposals now under discussion focus more on transparency around what Mueller's team has uncovered so far.
According to three people briefed on the discussions, ideas include: Requiring that Congress receive Mueller's final report; allowing Mueller, in the event he is fired, to release his findings publicly; or allowing him to resign and release his work if he feels his investigation is being improperly stifled.
The effort builds on one Republican-sponsored provision included in the original bill, the so-called Special Counsel Independence and Integrity Act, a compromise measure from Republican Sens. Lindsey Graham of South Carolina and Thom Tillis of North Carolina and Democrats Chris Coons of Delaware and Cory Booker of New Jersey.
McConnell has repeatedly insisted such legislation isn't necessary, because, he says, Trump won't fire Mueller.
And even if Trump "foolishly" considered doing so, McConnell said, he still wouldn't bring the bill to the floor because it was unconstitutional, wouldn't pass the House and wouldn't be signed by the president, he told Fox News Radio on Wednesday.
"I think that's an interesting hypothetical," he told Fox, "But I don't think that's going to happen."
McConnell's office declined comment on any new Mueller-related legislation as he has not yet seen the new proposal.
Some senators say they remain hopeful McConnell might allow a full Senate vote on the original bill.
"The votes are there to approve it," said Blumenthal. "The constitutional argument, in my view, is a red herring. The bill was changed to meet that objection."
The new efforts to shield Mueller's work, if not his job, remain a break-the-glass option — an effort to guarantee transparency around the status of the investigation, even if Mueller or Rosenstein are bounced from their jobs.
Participants in the talks point to Trump's growing hostility toward Mueller's investigation in recent weeks, after The New York Times first reported that the FBI had raided offices of Trump's longtime lawyer, Michael Cohen. That news sent Trump into a tirade, aides say, and froze negotiations between Trump's lawyers and Mueller's team over a possible sit-down interview with the president.
Trump has kept up his attacks, and on Thursday Vice President Mike Pence joined in calling for an end to the investigation. "It's time to wrap it up," Pence told Andrea Mitchell of NBC News.
In a May 7 tweet, Trump insisted Mueller's team has "conflicts of interest" while again dismissing the probe as a "phony witch hunt." In an earlier tweet, Trump said he may have "no choice" but to "get involved" in a disagreement between the Justice Department and Congress related to the investigation.
Both Trump and his new legal advisor, former New York Mayor Rudy Giuliani, have also seized on comments by federal Judge T.S. Ellis III last week suggesting Mueller's pursuit of Trump's former campaign manager, Paul Manafort, may be outside the purview of the special counsel.
Trump and Giuliani appear to be floating a trial balloon around the Ellis comments to see how the public would react to a Mueller firing, conservative writer John Podhoretz said on MSNBC's "Morning Joe."
Sen. Coons told NBC News he's "hopeful that leader McConnell will eventually come to recognize the value … of a bill that strengthens the transparency and reporting of the special counsel and protects future special counsels."
Republican Sen. Mike Crapo of Idaho, a Judiciary Committee member who voted against the original Mueller protection bill, has been receptive to the need for transparency and a report to Congress.
"That is the position I have. I've said from the very beginning that the investigation needs to proceed to its final conclusion," Crapo told NBC News. Nevertheless he said he doesn't believe Congress needs to take action yet.
'A Straitjacket Strategy'
In the House, Democrats have already introduced multiple bills that would limit the president's ability to remove Mueller, and require the preservation of any evidence of misconduct he uncovered in the event he were fired, or his investigation constrained.
"We have to prepare for a direct decapitation attempt, and also for a straitjacket strategy," said Rep. Jamie Raskin, D-Md., a member of the Judiciary Committee. "One thing we're hoping that the Republicans will agree to is that we must preserve all evidence and all work products in the event of a firing."
In fact, Trump allies in the House have made repeated demands on Rosenstein and other Justice Department officials to turn over information at the core of Mueller's probe. And members of the conservative Freedom Caucus have gone so far as to draft articles of impeachment against Rosenstein over his refusal to meet certain demands.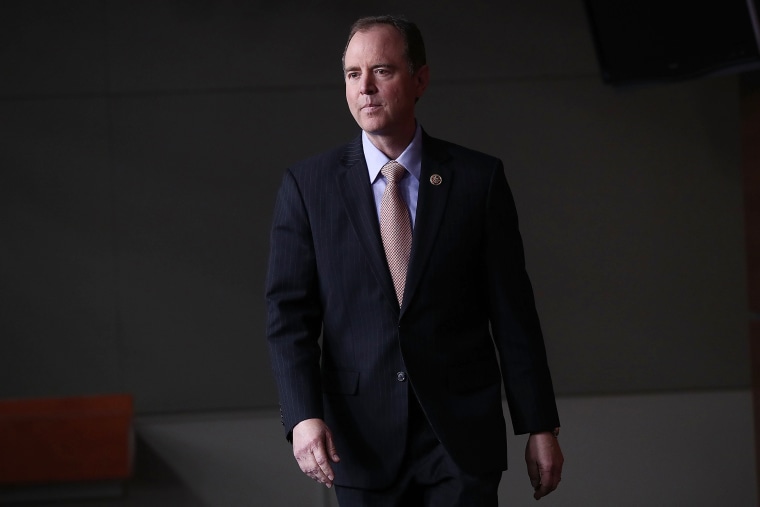 As the minority party with little ability to advance their bills, Democrats have instead begun considering a series of actions they could take if they believe Mueller's work is under direct threat, starting with building political pressure on the GOP to do more.
As they have gamed out potential scenarios they could take in the near term, Raskin could prove a key figure.
If Trump moves against Mueller or Rosenstein during a congressional recess, when lawmakers are scattered across the country, it would be Raskin, whose district is just outside Washington, who could most immediately travel either to the Capitol in an attempt to compel the House into emergency session, or to the Mueller team's offices to ensure that officials don't move to destroy documents relevant to Mueller's probe.
"We're trying to hope for the best and be prepared for the worst at every turn," Raskin said. "But I do get a kind of queasy feeling in my stomach right before we leave for our district work period recesses."