COLUMBIA, S.C. — Sen. Lindsey Graham of South Carolina is the first of seven people to file paperwork to run in the Republican primary for his Senate seat.
"Are you running for the seat that Lindsey Graham holds right now?" the woman behind the counter at the South Carolina State Election Commission asks him.
"Yes, I like it a lot," Graham tells her, his face straight, as the handful of staff in the room start to laugh. "I hope to be like him — follow in his footsteps. I think he's incredibly smart. Charming. Virtually indispensable."
Graham looks over her shoulder as she types his name onto the form, showing him how it will look on the ballot. "Maybe it would be better," he says, as "R-o-n-a-l-d, R-e-a-g-a-n." More laughing.
A year before his late March filing, many Republicans believed Graham would be one of the most vulnerable Republican senators up for reelection in 2014.The sheer number of people who've shown up to challenge him helps illustrate why. As someone who voted for immigration reform and two of President Barack Obama's Supreme Court nominees, Graham has poked the dragon that is the Republican base, a potentially dangerous move in deep red South Carolina.
He argues that there's a role for government and for compromising with Democrats, postures that aren't always welcome in a small-government state with an active Tea Party and a recent tradition of sending insurgent conservative candidates catapulting to victory over establishment figures.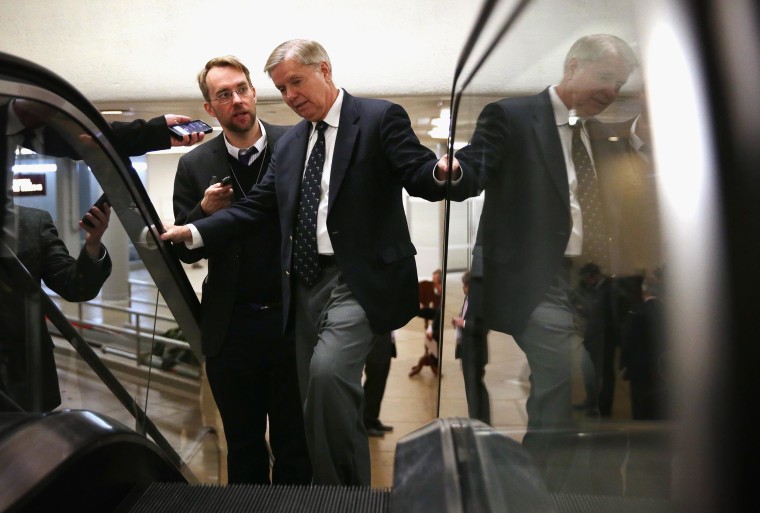 "I want to show people throughout the country that you can be conservative but also find common ground and survive in our party," Graham said in an interview. "I think it's important for the Democrat Party and the Republican Party to show their members that there is a time to find common ground, and if you are willing to embrace that, you won't lose your job."
There are plenty of conservatives, however, who want to fire Graham. Ahalf-dozen people paraded through this office to put their names on the ballot to challenge him in the June Republican primary. It's enough to keep Graham's support in polls below 50 percent of primary voters, the threshold he needs to hit if he's to avoid a potentially dangerous and unpredictable runoff two weeks later.
I want to make a statement about who we are in South Carolina. We're conservative, but we're not mad about it.
So why, two months before the primary and contrary to all expectations, does Graham seem like a reasonably safe bet to win?
"I don't just want to win this election," Graham told the 50 or so people who've gathered to watch him open up his Charleston campaign office. "Yes, I do, but I want to do more than that. I want to make a statement about who we are in South Carolina. We're conservative, but we're not mad about it."
A Weak Field
Graham might have six challengers, but so far, no one stands out.
"The people running against me, half of 'em I haven't met. But there is a difference between us," Graham says of the field. "How do you define conservatism? I'm trying to represent the state with a certain degree of dignity."
The best known is Lee Bright, who's led a group of conservatives in the state Senate. Of particular interest to the Graham campaign is PR executive Nancy Mace; she's the first female graduate of the Citadel, where her father, a decorated alumnus, was commandant. Consultants see a late entrant, Det Bowers, a pastor, as someone who could potentially raise more money than the others have. Also in are businessman Richard Cash and lawyers Bill Connor and Benjamin Dunn.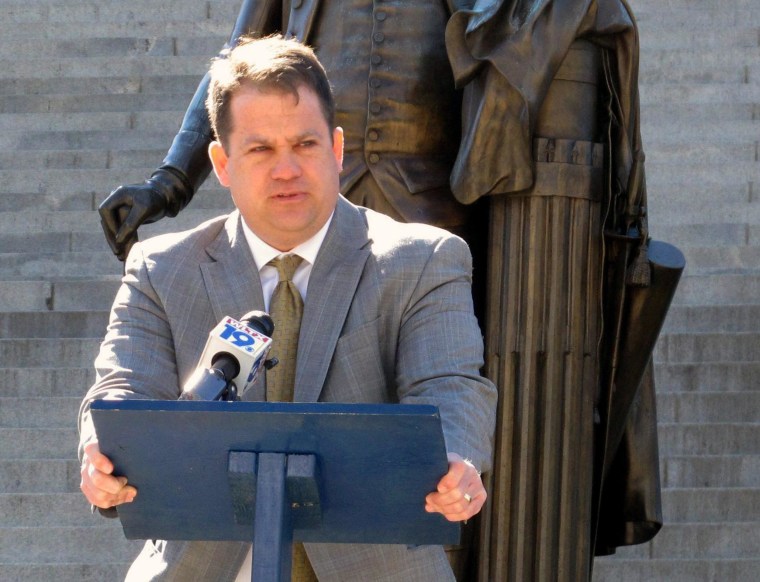 But so far, none of the candidates has raised much money or won the attention of the deep-pocketed outside groups that have stepped into other states to help conservatives take on incumbents. It's no secret these groups have been itching to take on Graham. The Club for Growth, for example, has met with Bright, Mace, Bowers, Cash and Connor.
But each candidate has his or her own flaws — and so far, these groups seemed to have judged that backing one of them would be throwing money away.
Bright, for example, is one of the most conservative members of the state Senate; his nickname among his fellow legislators is "Not So." He supported Rep. Michele Bachmann's presidential campaign until his daughter persuaded him to jump ship and back Sen. Ron Paul.
"I'm not so sure that the founders would not be in the streets right now," Bright said in an interview in his campaign office; it used to be Paul's presidential campaign headquarters in South Carolina. In a garage out back, supporters paint enormous yellow signs with the cryptic slogan, "Who is Lee Bright?" — a play on the central question of Ayn Rand's libertarian novels, "Who is John Galt?"
Bright has drawn scrutiny for backing a bill to study whether South Carolina should have its own currency. "We had 'em telling us if we didn't bail out the big banks, we weren't going to get money out of the teller machine. I mean they were talking about a collapse of our monetary system," Bright said. "So if that's really true ... then maybe as a state, we should have a plan."
Mace drew national attention when she announced her bid; she's raised enough money to start cutting TV ads. But she has ties to Will Folks, the blogger who just weeks before the 2010 election accused now-Gov. Nikki Haley of engaging in an extramarital affair with him. It's prompted conservatives like Erick Erickson to refuse to endorse her. "No Way in Hell Will I Support Nancy Mace" was the headline of his blog post on the subject.
"That website was the source of the affair rumors, and she was actually the spokesperson for that. She was part-owner in the website. There's no way to distance herself from that," Bright said of Mace.
Mace declined an interview request.
And this being South Carolina, there are a few particularly colorful characters beyond the primary. Thomas Ravenel, who resigned as state treasurer in 2007 after he was indicted on cocaine charges and now stars on the reality show "Southern Charm," has said he'll run as an Independent against Graham in the fall. And one conservative candidate who didn't file to run against Graham still stood up at a press conference and called the 58-year-old bachelor "ambiguously gay."
"It's a nasty business — it says more about him than me. At the end of the day, that's a small price to pay to be able to represent the state," Graham said of that allegation. "I can't control what people say. I can only control how I react and how I behave. I'm trying to represent the state with a sense of dignity, and I'm very confident the people of South Carolina through the ballot box will put that guy in his place."
'A Lot of Mutual Respect'
Graham's situation isn't an accident — it's a strategy. He's tended his relationship with the base by burnishing a reputation as a leading critic of the Obama administration on foreign policy, particularly over the events in Benghazi, Libya. He's suggested that former Secretary of State Hillary Clinton disqualified herself from the presidency by declining to appear on Sunday news programs in the days after the attack, leaving then-U.N. Ambassador Susan Rice to the task.
"I want to know, is it true that Hillary Clinton could not appear on the Sunday shows on 16 September because she was tired?" Graham said. "Because you can't be president of the United States if you're unable to speak to the American people about something that happened on your watch five days after the attack."
Graham has also criticized the Obama administration over Ukraine: "It started with Benghazi. When you kill Americans and nobody pays a price, you invite this type of aggression. #Ukraine," he tweeted, though he offers a more folksy touch when campaigning in his home state.
"I've got one rule of thumb — any world leader riding around on a horse without their shirt's got a problem. We can handle that guy," Graham said of Russian President Vladimir Putin during a lunch with the Charleston Rotary Club.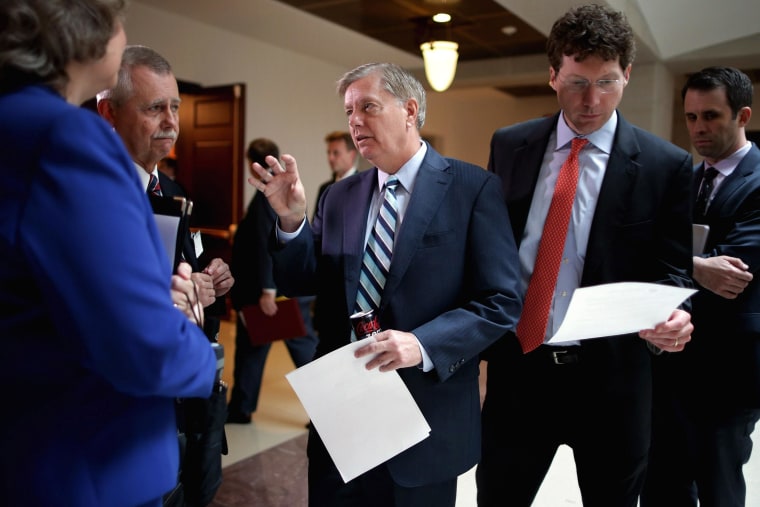 While Graham's personality is often jovial and light, his political chops are anything but. Nearly every serious, well-known political operative in South Carolina has ties to Graham, and he has a well-earned reputation as his own best strategist. In 2002, he won Strom Thurmond's old seat — the first time in nearly 40 years there was an open Senate seat in South Carolina — without a primary opponent. In 2008, he faced relatively minimal opposition in the primary.
And this time, no member of Congress or statewide elected official stepped forward to challenge him. Graham has carefully cultivated those relationships, particularly with members of the U.S. House; he's close with House Speaker John Boehner and, as the state's senior senator, has particular say in awarding plum political prizes like federal judgeships. All of that helps.
"I'm not discounting the candidates I have," Graham said when asked why there weren't stronger candidates running against him. "But I think the people I work with — you know, the delegation — understands how our delegation delivers for the state. There's a lot of mutual respect."
I'm a Republican who believes that there's a role for the government.
This reality has given him some latitude on the campaign trail. During a day of events in the Charleston-area Low Country, he pitched himself as a conservative who believes there's still a role for government in society.
"My sister went to college with Pell grants, and I can tell you there was a time when Social Security survivor benefits meant the world to my family. If not for that money coming in to help pay the bills, we would have had a hard time making it," he said. "I'm a Republican who believes that there's a role for the government."
And he insisted that the Republican Party needs to work with Democrats to govern the country.
"If we get the Senate back, what the hell we going to do with it? We're going to govern this country. We're gonna not make the mistakes that we've made in the past," he said of the GOP.
It's still entirely possible that Graham could lose in a runoff, when turnout is notoriously unpredictable; the runoff would be held two weeks after the initial primary. A one-on-one contest would elevate one of his challengers out of the pack and give outside groups an opportunity to mount an assault against him. South Carolina's voters have changed their minds quickly in past elections, both at the presidential level and in statewide contests. Haley, the governor, was polling a distant third only a few months before her victory in the 2010 Republican primary.
But for now, Graham has the upper hand. If he wins, what lesson will he learn?
"I would take it as, keep being Lindsey," he says. "I'm running as me."
Clayton Collins of MSNBC's "Morning Joe" contributed to this report.