Democratic leaders in Congress will move on newly drafted articles of impeachment as soon as next week against President Donald Trump if he doesn't first resign, House Speaker Nancy Pelosi said.
The news comes as Pelosi, D-Calif., reiterated her and presumptive Senate Majority Leader Chuck Schumer's, D-N.Y., demand in a letter to her caucus Friday afternoon that Vice President Mike Pence invoke the 25th Amendment to remove Trump from office before President-elect Joe Biden's inauguration.
Pelosi also said she spoke to Joint Chiefs of Staff Chairman Mark Milley on Friday morning about preventing Trump from launching a nuclear strike. "The situation of this unhinged president could not be more dangerous, and we must do everything that we can to protect the American people from his unbalanced assault on our country and our democracy," she wrote.
This live coverage has ended.
Read the highlights:
— Twitter permanently suspends Trump's personal account.
— Read the full text of draft of new articles of impeachment against Trump.
— Trump says he won't attend Biden's inauguration.
— Clyburn says House should make Trump only president to be impeached twice.
— No evidence of antifa involvement in Capitol mob, FBI says.
— Troubled by Capitol riot, Cabinet officials DeVos, Chao resign.
More than 200 lawmakers support removing Trump from office
More than 200 members of Congress are calling for Trump to be removed from office either through the 25th Amendment, impeachment or the president resigning. That's up from 100 lawmakers on Thursday morning, hours after a pro-Trump mob stormed the Capitol.
The group of lawmakers includes House Speaker Nancy Pelosi, D-Calif., and presumptive Senate Majority Leader Chuck Schumer, D-N.Y., who publicly urged Vice President Mike Pence yesterday to meet with the president's Cabinet and invoke the 25th Amendment. Pelosi made clear that the House is prepared to move forward with impeachment if Pence decides not to take action. He said Thursday he opposes using the 25th Amendment. 
Rep. Adam Kinzinger, R-Ill., is the lone Republican explicitly calling on Pence to invoke the 25th Amendment, though Rep. Steve Stivers, R-Ohio, said in a local TV interview Thursday, "If the Cabinet decided to do that, I would not oppose it." 
Day after clashing with pro-Trump mob, Capitol officer dies
A U.S. Capitol Police officer has died a day after clashing with a pro-Trump mob at the Capitol.
Officer Brian D. Sicknick was injured while engaging with protesters Wednesday and returned to his division office, where he collapsed, Capitol Police spokeswoman Eva Malecki said. He was taken to a local hospital where he died about 9:30 p.m. Thursday.
Sicknick, who joined the Capitol Police department in 2008, is the fifth person to die from Wednesday's violent clash in Washington.
FBI offers $50,000 to find DC pipe bomb suspect
The FBI on Thursday announced it is offering a $50,000 reward to find the person responsible for two pipe bombs at the Democratic and Republican national committee headquarters on Wednesday when there were riots by a pro-Trump mob at the U.S. Capitol. 
The bombs, which did not explode, were discovered at the two headquarters after reports received around 1 p.m. Wednesday. United States Capitol Police said that its bomb squad "determined that both devices were, in fact, hazardous and could cause great harm to public safety." They were disabled and turned over to the FBI.
Law enforcement is now trying to identify the Capitol rioters, and the FBI Washington Field Office said earlier Thursday it had received more than 4,000 tips.
The Democratic National Committee and Republican National Committee headquarters are a short distance from the Capitol grounds.
Capitol rioter who put feet on Pelosi's desk got PPP loan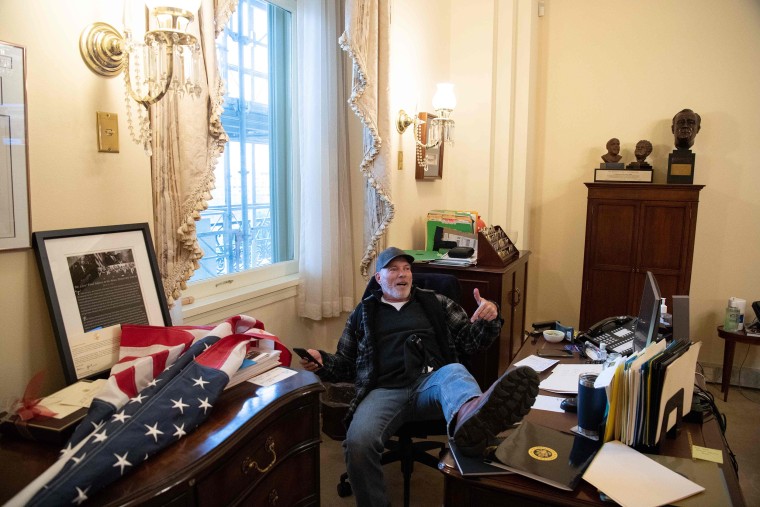 Richard Barnett, the Capitol rioter photographed with his feet on a desk in House Speaker Nancy Pelosi's office, received a $9,300 forgivable loan under the Paycheck Protection Program last April, records show. 
An independent glass and glazing contractor in Gravette, Arkansas, Barnett was an early participant in the federal program that aimed to help small businesses survive COVID-related shutdowns and continue paying their employees. In his PPP application, Barnett, 60, said the loan would preserve one job, presumably his own, and was based on total payroll costs of $44,640 at his enterprise. 
Barnett did not mention receiving government assistance when he bragged to The New York Times about breaking into Pelosi's office and leaving her a nasty note. 
Efforts to reach Barnett were unsuccessful.